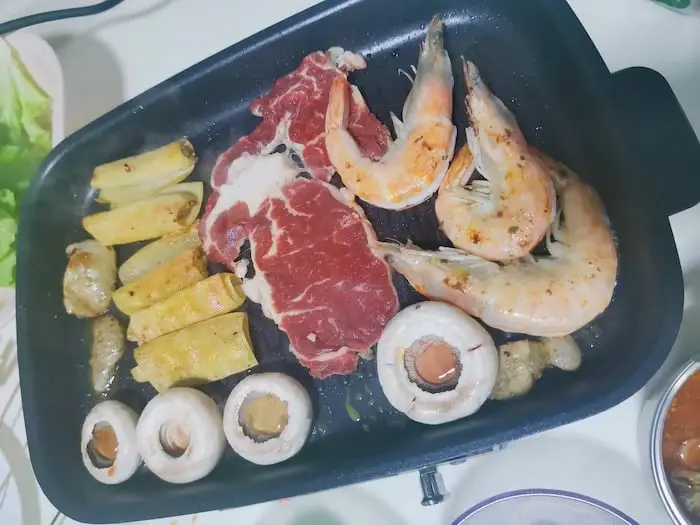 If you love barbecue but don't always have the time to fire up the grill, your may want to consider a smokeless grill. This device allows you to grill foods indoors safely, since you use electricity to prepare your food instead of charcoal or propane. The indoor grill is also an ideal device for preparing food if you're new to cooking or want to find a new way to make some of your favorite dishes without the excess fat.
So how does a smokeless grill work? The equipment typically comprises a cooking surface, non-stick grill plate, heating element, drip tray, glass lid, electric fan, and fan cover base. The cooking surface may be capable of heating up to 1200 watts. The grilling job is performed by an advanced infrared heating technology that cooks food evenly without creating a lot of smoke.
A smokeless grill also reduces the amount of oil splattering as a result of burning fat, and the oil is collected in a drip tray instead of falling on a hot surface, thus reduced smoke. The fan at the bottom is powered by a turbo-speed smoke extractor technology. It sucks up the odor and smoke with the help of a smoke recycling system.
The grilling steak or bacon produces smoke anyway, but it is perfectly captured and absorbed by the n-built abstraction fan. People living in apartments are elated with the use of smokeless grills because it not only keeps the affair smokeless but also enhances the taste of grilled food. Let's take a breakdown of the different parts of a grill that works at keeping it smokeless.
Smokeless Technology
User reviews of various products reveal that there might be slight smoke in a few models so we would call this a virtually smokeless technology powered by the Turbo Speed Smoke Extractor that attracts every bit of smoke using water tray and electric fans. This allows users to grill indoors as there's no risk of propane fills or charcoal smoker.
Griddle & Grill Plates
The unit typically consists of two replaceable plates covered with ceramic non-stick coating. These surfaces are mostly textured, thus you get good grill marks on the food. Furthermore, the non-stick surfaces ensure that the food does not stick to the surface.
Glass Lid
The tempered glass lid creates a perfect seal over the cooking food, thus the hot air gets locked inside. As a result, the flavor, smoke, and tastes have no space to escape. All this gets infused into the food, resulting in an extremely flavorful delicacy.
In-built drip tray
This special in-built tray is designed to accumulate the oil, grease, and food droppings from falling on a hot surface and reduces smoke as a result. It also makes cleaning easier and most feasible after a delicious dinner.
Consistent results
Unlike a traditional grill, you will never face issues of charred food, uneven cooking, or undercooked meat. This appliance gives you consistent results with food just like the one prepared at restaurants. You get the same aroma, taste, and texture every time.
Cooks and Grills in less time
The smokeless grill cooks food in less time when compared to the conventional grills. This is mainly due to the cast aluminum construction which heats up food at a rapid pace and also cools down quite instantly.
A versatile and economical option
The smokeless grill can cook any type of food at a much economical rate. You don't have to worry about fuel running out as the appliance is electric-powered. Just plug the cable in a power source and the grill will do the rest. Plus, most of the parts are dishwasher safe.
Perfect use of wattage
As the smokeless grills are electric-powered, the appliance uses 1200 watts-1400 watts on average. This temperature is enough to make the meat juicy, tender and flavorful. The time needed for cooking different foods will vary and the glass lid will let you keep an eye on the food while it's being cooked. 
Before you purchase a smokeless grill, it's important to get some information on how to use the appliance and which foods you can prepare using the grill. While you may know there are some safety precautions to keep in mind when using a traditional grill, there are a few other tips to be aware of when you're grilling indoors.
However, smokeless grills are significantly safer than propane or charcoal grills and will make cooking and cleanup easier, which makes the device appealing for cooks of all skill levels. Here are some important things you'll need to know before you become the owner of a smokeless indoor grill so you can enjoy using the appliance and prepare all the foods you love easily and healthily.
What Does a Smokeless Grill Do?
A smokeless grill sears and grills your food without charcoal, propane, butter or oil. All you have to do is heat the surface of the grill, place your food on the surface of the cooking unit, and cook it to your desired texture and temperature.
To use the grill, insert the temperature dial into the side of the cooking surface and plug the other end of the into the wall. Wait a few minutes to allow the surface of the grill to heat evenly before adding your food to the grill.
The indoor grill also gives you the ability to cook barbecued and grilled foods without having to brave cold and rainy weather. If you live in an area that doesn't have long summers or extended periods of warm weather, this appliance is a wonderful choice for satisfying your grilled food cravings in the comfort of your home.
Benefits of a Smokeless Grill
A smokeless grill makes cooking easy. Even if you don't have lots of experience in the kitchen or on the grill, you can prepare any type of food on the surface of grill. Whether you want to switch to a meat-free or more plant-based lifestyle or want to prepare grilled gourmet foods like seafood and steaks, you can use the indoor grill to accomplish your culinary goals.
You can also reduce the fat content in your foods when you use the indoor grill. Since the surface of the cooking device is non-stick, you don't have to add butter or oil to the surface to cook your foods. Most indoor grills are made from ceramic, so you can make virtually any kind of food on the grill and easily remove it.
How You Can Use a Smokeless Grill
The smokeless grill is convenient to use and is a great way to make the grilled foods you love without having to worry about assembling an outdoor grill and lighting charcoal or working with propane to prepare your meal.
To use your smokeless grill, you simply heat the grill according to the setting you prefer. For instance, if you're grilling fruit for a dessert, you may want to keep the heat on low. However, if you're preparing chicken or steak, you might want to turn the heat up higher to ensure the meat is cooked thoroughly. For vegetarian meats and fish, it may be best to cook these foods on a medium temperature to keep the food from burning or cooking too quickly.
You use the smokeless grill the same way you would an outdoor grill in terms of using the surface to cook the food with a heat source underneath. However, since the indoor grill doesn't require propane or coal, you simply plug the device into an outlet and allow it to heat up, similar to a hot plate.
The surface of the indoor grill is non-stick in most cases. This means you don't have to add oil or butter to the grill surface. All you have to do is place the food on the grill and turn it over as many times as you want to thoroughly cook the food and create the grill marks that make you feel as though you're getting authentic barbecue.
When you're choosing a smokeless grill, you should select the device that provides enough surface area for you to cook the amount of food you want. For instance, if you live in an apartment alone or with a spouse or roommate, a smaller indoor grill is ideal, since it allows you to easily prepare one or two servings of food with ease. If you cook for larger groups of people because you have a big family or like to entertain friends and loved ones, a grill with more surface area will allow you to cook barbecued foods quickly so your guests won't have to wait long to enjoy the delicious food you've prepared.
Cleaning and Maintaining Your Smokeless Grill
Once you've prepared your meal on the smokeless grill, you can simply turn the device off, wipe it with a damp cloth, and then wipe it again with a dry cloth. This removes all the food debris from the grill. Remove the surface of the grill and wipe the drip tray with a damp cloth then a dry cloth. This gets rid of all the excess oil that drips from the food and settles underneath the grilling surface.
Some indoor grills are dishwasher-safe, so you can place the surface and drip tray in the dishwasher to enjoy these parts are thoroughly cleaned. Be sure to remove the temperature dial and all cords from the tray and surface before placing it in the dishwasher to prevent damage to the grill.
Be sure to check your outlets and the condition of all cords for the smokeless grill to ensure there are no shortages or damage. The indoor grill is a safe way to cook, but your electrical connections and the grill itself must be intact to prevent electrical fires.
Smokeless Grill Recipe Ideas
Once you purchase a smokeless grill, you'll have lots of options for preparing healthy meals. You can make some of the meals that you've enjoyed in restaurants in a way that reduces fat so you can stick to your health goals without giving up flavor.
You can prepare a gourmet steak dinner by grilling the steak of your choice on the grill surface of the device. On the flat, griddle surface of the device, you can sautee spinach with butter, garlic and cream on low heat. You can also slice potato thin and add these to the griddle surface as a delicious, fat-free side dish for your steak dinner.
Adding a pat of herb butter to the steak after taking it from the grill and preparing a side salad makes the meal complete.
You can make the steak dinner even more delicious by using your indoor grill to make a healthy yet decadent dessert. Slice pears and peaches and place them on the grill surface on medium to low heat for a few minutes to create grill marks on the fruit and bring out the natural sugars in the fruit. Once you take the fruit from the grill, use it for a topping for ice cream or top the fruit with whipped cream. Add a few fresh mint leaves and sprinkle with cinnamon and sugar for a dessert that is full of flavor and low in carbs.
If you're in the mood for seafood, you can prepare salmon or shrimp with your smokeless grill as well. Before placing the seafood on the grill or griddle surface, marinate it with liquid smoke, lemon juice, honey and paprika for anywhere from two hours to overnight. Set the grill to low or medium heat and place the seafood on the grill for up to 12 minutes on each side. You can also use the lid for the indoor grill to lock moisture into the seafood and ensure that the fish or shrimp is cooked all the way through.
Remove the salmon or shrimp from the griddle and place it on a bed or arugula dressed with sea salt, lemon juice and olive oil.  You can also grill additional vegetables like asparagus or broccoli, or even add fruits like lemon slices and strawberries to the salad. For more protein, add a few sliced almonds or walnuts to the griddle surface to roast the nuts slightly before using them as a salad topper.
Chicken tastes great on the grill, and if you've just purchased a new indoor grill, you can use it to prepare your favorite chicken dishes. If you're in the mood for jerk chicken, you can soak chicken breasts in a jerk marinade of thyme, sea salt, olive oil, scotchbonnet peppers, garlic and parsley for at least 30 minutes. Use the grill surface to cook the chicken, flipping the chicken breast back and forth until the meat is cooked evenly. Add the chicken breasts to a salad or a side of rice and peas.
The grill is also great for preparing grilled chicken for fajitas and tacos. After grilling the chicken breast on the grill surface, place it in a enchilada sauce marinade or a mixture of taco seasoning and olive oil. Allow the meat to soak up the flavor for as long as you like and add it to tortillas or make a taco-inspired salad.
The indoor grill is great for making veggie bowls or stir-fry as well. Select your favorite vegetables and place them on the griddle surface with the seasonings of your choice. You can make the meal lower in carbs by chopping pieces of cauliflower and searing them to make "rice." After you prepare your vegetables, you can add cubes of chicken breast or tofu to the griddle or grill surface to add more protein to the dish. Top with your favorite sauces and garnish with green onions and parsley for a healthy dish that is filling and full of flavor.
If your family loves having burger night, you can easily prepare delicious burgers on the indoor grill. Whether you want a traditional beef burger, turkey burger, salmon burger or even a veggie burger, the smokeless grill can do the job.
You can make frozen burgers on the grill (just be sure to defrost them a little first), or homemade burgers with the meat of your choice with fresh ground meat. Add garlic powder, onion powder, salt, pepper and liquid smoke to the meat to give it the authentic grilled flavor. Form the burgers according to the size you want and use the lid for the smokeless grill to lock in the flavor and ensure your burgers are juicy and cooked to your specifications.
You can also grill the onions, tomatoes, mushrooms and other vegetables you want on your burgers to add more great taste to your sandwiches. You can even toast the buns for your burgers. Just add a little butter or olive oil to the bread and place the buns and cook them on the griddle surface to give the bread a golden-brown color and more flavor before you serve the burgers.
While you can grill or cook fruit on the smokeless grill for dessert, you can also prepare your fruit in this way to top oatmeal or yogurt.
As you can see, there are plenty of options when you want to know how to make mealtime more interesting. The grill isn't just for grilled or barbecued foods. You can give any food a smoky, more intense flavor without having to cook with oil. After you prepare a few meals on the grill successfully, you'll likely gain more confidence in your cooking abilities and enjoy getting into the kitchen more.
Smokeless Grill Recommendations
Now that you know what a smokeless grill does and how you can use it to prepare a variety of meals, you may be convinced that purchasing one is the right decision for you and your family. If you're excited about learning how to prepare new foods and want to make sure you can grill your favorite entrees and desserts no matter the weather, you'll make the most of your smokeless grill. Here are a few recommendations for smokeless that can make shopping for this device a little easier.
This Charles Oakley smokeless indoor grill is great for grilling your favorite vegetables and meats. You can also use the device for searing. If you like preparing foods like ribs, grilled steaks, pulled pork or burgers all year, since you won't have to worry about grilling outside during the colder months of the year. You'll get the same texture and flavor when you grill and sear your meat as you would if you were using an outdoor grill. The smokeless indoor grill makes those appealing grill marks and gives food a char-grilled texture and you can place the device right on your kitchen countertop. The grill doesn't generate smoke, so you can cook without all the mess that comes from traditional grilling.
The Hot Shot Indoor Electronic Smokeless Grill (buy now) has dual cooking surfaces – a flat griddle plate and a non-stick grill grate surface. Both surfaces are non-stick and provide restaurant-quality cooking surfaces for you to make your favorite foods like eggs, pancakes, salmon or steak. This device also acts as a panini press so you can prepare your favorite sandwiches with bread that has a smoky, pronounced flavor. You can even use the grill plate to get grill marks on the foods you love to barbecue such as chicken, steaks, hot dogs, and even veggies and fruits.
If you don't have much space in the kitchen and still want to enjoy grilled foods as often as possible, you'll love the Hot Shot because it's portable and compact. The device is easy to plug in and use in the kitchen, or you can take it to a picnic area while you're camping.
You can also take the device to the backyard so you can eat outdoors without the hassle of setting up a conventional grill. All you have to do is hook the grill up to a power source and prepare your food without having to worry about smoke.
The smokeless grill also has a drip tray to make cooking less messy. This device's tray will catch all excess oil, liquid or fats while you're cooking. The parts of the grill are removable so it's easy to wash the grill by hand or place the device parts in the dishwasher. You won't have to worry about scrubbing and soaking the grill tray after you've prepared your barbecued foods.
The smokeless grill is also designed for even heat distribution and you can adjust the heat according to how you'd like your food to be prepared. The device has 1200 watts of power and uses airflow technology as well as a fan for capturing smoke to reduce hot smoke. This allows you to cook your food thoroughly while ensuring safe food preparation.
The indoor electric grill by Deikfeatures double-sided heating (learn more) to retain flavor and keep foods from drying out. The heating plates on the indoor grill has 360-degree heating and allows you to preheat your food 50% faster to ensure your meals are especially flavorful. You can grill and sear meats and vegetables with the device. The grill is great for indoor use during the fall and winter when you want grilled food but don't want to prepare your meal outside.
The device has an inner hole in the center of the grill that helps to remove up to 50% of fat from meat. The cooking surface is non-stick and grains and collects all excess great into a drip tray to make each recipe healthier. The Deik electric indoor grill also includes a grill spatula.
This device performs four functions. It's an electric grill, panini press, contact grill, and sandwich maker. It's the perfect tool for making gourmet sandwiches and preparing meat like fish, chicken and steak. You can also make paninis with the indoor grill and prepare your favorite burgers and vegetables.
It's easy to make every element of your meal using the device, which helps you cut down on cooking time. You can even grill for up to 6 people at once, so it's easy to prepare healthy, delicious meals for a large family.
If you don't always have time to clean the kitchen or you want to make kitchen clean-up a breeze after a long day at work or school, the Deik electric indoor grill is the perfect appliance to use. The device is easy to clean and heats up quickly so you can get a meal on the table in a matter of minutes.
The indoor electric grill from Diek comes with a grill spatula and drip tray. The company also provides customers with 24-hour customer service in case you have any questions and concerns about using, replacing or repairing the grill.
This indoor barbecue grill has infrared technology and reflectors that direct heat to the cooking grid of the grill. This allows you to prepare food that is tasty and grilled evenly. The device has a grip try so that fat and oil will drip from the cooking surface. The tray also keeps the underside of the cooking surface cool so the device won't produce smoke during the cooking process.
You also don't have to adjust the heat. The device heats quickly and gets up to 446 degrees F, which was the ideal temperature for searing and cooking your favorite meats, fish and poultry. The indoor grill leaves the food tender and juicy on the inside, so you'll feel like you're eating at a quality restaurant.
The Philips Smoke-Less Indoor Barbecue Grill (see price) ensures that your food isn't cooked in its own fat, since the grease is separated during grilling. The voltage is 120, so the grill is especially powerful and will thoroughly cook meats to give you a low-fat, high-protein meal.
The grill is also very easy to clean; you can remove all food stains from the device in less than one minute. All you have to do is wipe the grid clean or put the cooking surface in the dishwasher.
This indoor grill only takes one minute to assemble so you can spend more time preparing food and less time trying to figure out how to put a new cooking device together. The items has 1600-watt power, a die-cast grid and non-slip feet to keep the electric grill in place on your countertop for safe cooking.
One of the best features of the Gotham Steel Smokeless Electric Grill (learn more) is the nonstick ceramic surface. The cooking surface heats evenly to brown and cook food to perfection.
The indoor grill is very easy to use and has a detachable temperature dial and heater with 4 settings for cooking: warm, low, medium and high heat. The device also has cool-touch handles and a heat-proof frame to ensure your safety while preparing food. When you're finished preparing your meal, you can pull the grill apart for easy cleaning and storage.
The smokeless electric grill also has a removable grease catcher that fits snugly and is coated with ceramic to reduce smoke production from burning grease.
According to the manufacturer, the indoor grill is also dishwasher-safe with the exception of the temperature dial.
With this indoor grill, you can serve up to 15 people. The grill has 240 square inches of grilling surface, so it's perfect for preparing food for large groups.
The grill also has a temperature indicator light for safe cooking and a nonstick coating that is durable and easy to clean. You won't have to use oil or butter, so you can reduce the fat content in your food without sacrificing taste.
You can use the grill indoors or outdoors and the device has a removable stand. You don't have to let the weather dictate whether you'll prepared a grilled feast for your family and friends. You can easily control the temperature. The probe allows you to choose from five heat settings, so you'll get delicious results, whether you're preparing steaks, chicken, vegetables or fruit.
The indoor grill is approved for apartments since it's fully electric and allows you to make quality grilled meals, without propane or charcoal.
How Does a Smokeless Grill Work? When you open and close the lid vents, you can control the moisture content of your food. Just turn the lid handle or vent clockwise to allow air in for drier cooking. If you turn the lid handle counterclockwise to hold in the moisture to make burgers and steaks juicier. The light on the temperature control probe will turn on and off so you can use it as a thermostat to maintain proper temperature during the cooking process. condensation may collect on the lid during cooking, so you can remove or add the lid as needed to achieve the consistency you want during cooking.
Related Article:
11 Best Bread for Grilled Cheese
Charcoal Grill Vs Gas Grill : Pros And Cons
Stainless Steel Vs Porcelain Grill Grates