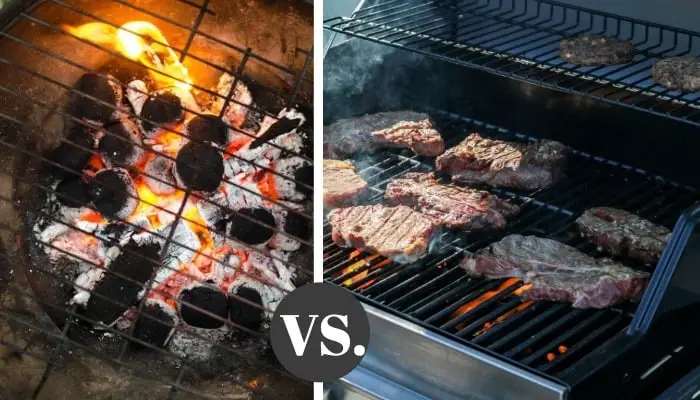 When talking about grilled food, we love to rave about the smoky aroma, perfectly charred exterior, rich texture of meat, heavenly taste, and so on. So, which one do you think does justice to the barbeque ideologies – the charcoal grill or the gas grill? Well, that's one of the longest running debates between #teamcharcoal and #teamgas.
The war between both these parties on message boards may sometimes get hotter than the combat between Apple and Android users. With both charcoal loyalists and gas enthusiasts standing firm with their strong opinions and claims, it can be tough for a customer planning to buy his first grill make a choice without feeling confused.
So, if you are someone who's in the market looking for a good grill and are confused which one to buy, or you are planning to switch from gas to charcoal, or charcoal to gas, but are unsure then we have sorted things for you. Read on to find detailed information on Charcoal Grill Vs Gas Grill with their pros, cons and recommended products to hit the nail in the right place.
Before going ahead, let me tell you that each individual has his own views about how to barbeque and what grill is the best to achieve perfect results. What is BEST for one person might not be the same for the other, hence we will not get into that. There's no right or wrong way to fire up your food, and it all depends on personal choices.
Our aim is to lay the cards open in front of you so that you can see, compare, and then make an informed choice. After all, there's a lot of money put into buy a good grill and if it doesn't give you expected results at the end of the day, all the effort is wasted. So, read on to get to know both charcoal grill and gas grill closely and here's a table to start with.
| | | |
| --- | --- | --- |
| Features | Charcoal Grill | Gas Grill |
| Starting price | Over $100 for a good model | Over $350 for a good model |
| Flavor | Rich smoky flavor, cooks slowly | Lacks smokiness, cooks quickly |
| Temp | Up to 700 °F | 200°F to 600°F |
| Temp Control | Needs experience | Easy to maintain right temp |
| Wait Time | 30 mins to heat charcoal | 10-15 minutes to achieve cooking temp |
| Smoke | Produces a lot of smoke | No smoke, separate smoke box may be used |
| Assembly | 30 mins maximum | Takes  a few hours |
| Cleaning | Remove ash frequently | Clean the grease tray |
| Maintenance | Simple and cheap parts | Complex design, pricey parts |
| Cooking time | Takes more time and patience | Easy to start and cooks faster |
3 Types Of Cooking Done With Grills
Cooking outdoors in the backyard or a camping site under a sky has its own magic. However, the type of cooking you do in the kitchen and what you can rustle up in a grill varies a lot. So, for the beginners, here are the three main types of cooking you can aim to accomplish with grills.
First is the high-heat direct radiation cooking in which the meat (mostly steak) is directly placed on the fire to get that perfectly charred texture outside. There's no lid and the meat is allowed to cook on the flaming heat and get burnt slightly.
Indirect heat-smoke roasting is the second type wherein the lid is closed and the warm convection cooks the food. The hot airflow is heavy and infuses food with a flavorful hardwood smoke that many charcoal purists rave about.
Indirect heat-convection roasting works for roasting whole chicken or duck. In this method, the main heat source is on the side and the food cooks slowly by warm air circulating. The lid is closed to ensure that heat distributes well and the meat gets cooked uniformly.
Pros and Cons Of Charcoal Grill
There's a reason why the purists so strongly hoot for charcoal grills and it's that charred texture with a smoky aroma, something that can't be replicated exactly in a gas grill. Apart from this, there are several other benefits that make a charcoal grill a good investment, and some downsides that may make you want to consider buying a gas grill instead.
Pros:
It's much more affordable
If you have a strict budget and you want a really good grill then charcoal is a better option as you can buy it for less than $100. Even if you choose to go for the pricier models with more features, they will be competitively priced and more affordable than their gas counterparts. So, if you use your grill sparingly, only for special occasions, a less expensive charcoal grill may be a good choice.
It is also more portable
With a charcoal grill, you don't have to worry about carrying a propane gas. Hence, you can easily take them with you while camping or tailgating. You can find small-sized charcoal grills that can make a few burgers. They can be easily packed and taken on an RV.
It helps you achieve a very high temperature
If you want your barbeque to become really hot enough to perfectly sear and grill meat then charcoal is a better choice. With a good amount of perseverance and practice, you can achieve up to 700°F by stoking the coals. This is much hotter than most models of gas grills can ever get.
It gives you that authentic grilled flavor
It may be hard to tell who came first chicken or an egg, but you can definitely tell that the charcoal grills were the most authentic and ancient tools for grilling before gas-grills were invented. As a result, the purists consider it the King of real barbeque. So, if you are the type who prefers the authentic char-grilled taste of steak the charcoal grill is the answer
It does not cause many flare-ups
When food is cooked on a charcoal grill with coals to provide heat, it does not cause flare-ups like an open flame in gas grills. This makes the charcoal models comparatively safer to use but in both cases you must take care of the safety tips.
It lets you control heat better
As there are no dials to control the heat, you can remove coals from certain areas to tone down the temperature. This creates a favorable setting to sear the protein first and then get back to complete cooking in the cooler areas.
Cons:
It may require a charcoal chimney
This is related to the convenience of cooking. While the charcoal purists don't mind and do this extra step with great pleasure, others who have less time to barbeque may find it time-taking. A charcoal chimney costs about $15 and it's a hollow metal cylinder with handles and a grate inside. While it's simple to use, this is an extra bit if the equipment that is not needed in a gas grill.
It's messier and requires more cleaning
Cooking outdoors is an enjoyable experience and there's no kitchen stove, oven, pots or pans to deal with. However, barbequing in a charcoal grill can turn out to be messy with a lot of ash, grease, sauce, and food droppings. With a gust of wind, you may have ash all over your yard, deck, patio, or on your food. Thus, it requires a good amount of post-dinner cleaning.
You may need more coal
If your cooking session extends longer than you expected, you may need to add more coal to the fire and spend more time stoking to achieve the perfect temperature. With gas grills, you have instant fuel so there's no time wasted in firing up your food.
Lacks additional features
Unlike the modern gas grills that come with a plethora of convenient features, the charcoal grills are mostly basic in nature. So, if you are in for just good grilling without any extra features then charcoal is a good choice.
It is often considered as illegal
In some apartments or neighborhoods, the use of charcoal grills is banned because of the high heat. The fact that you can't quickly turn it on or off is looked like a security threat in many areas. There have been instances of cinder and ash carried by wind and igniting wooden things in the surroundings. So, make sure you check for any restrictions on the use of charcoal grills in your area before buying one.
Related Article: How Long Does A Charcoal Grill Stay Hot?
Pros and Cons of a Gas Grill
Gas grills came later but the reason why they are now a strong competitor of charcoal grills is the sheer convenience of using them. You don't have to wait for the coals to ignite and heat to reach it's maximum. Just turn the dial on and you are ready to grill – it's as easy as that! Plus, look at the wide range of features and extra tools – it's almost like you are doing your master's on grilling food. Let's take a look at the various pros and cons.
Pros
It's simple and easy to use
You have used stove and ovens in the kitchen, and a gas grill is not different. You just need to operate each burner with the dial to turn on the heat, lower heat, or turn it off. It also gives you the freedom to multitask. You don't have to worry about heat getting too high or not enough, so there's no need to stand near the grill. Just set it and keep checking in between while you chat with friends or make other preparations for dinner.
It is easier to clean the mess
Most gas grills are designed in a way to enable all leaks and grease to flow into a special tray. In the end, you just need to pull out the tray and clean it. Cleaning the grill grates once in a while also helps in keeping the appliance in good condition.
It cooks food relatively faster
While most manufacturers recommend a 30-minutes time for the gas grill to get really hot, it's safe to start grilling in about 15 minutes of turning on the gas burner. This means you can have your food on the table really quick, which gives you more time for several other things in life.
It brings versatility to your table
Cooking with a gas grill gives you the power to barbeque delicate foods like vegetables, fruits, and fish other than steak. If you are not a fan of smoke flavor getting infused in the food or don't like the meat getting charred, a gas grill is a good choice for you.
It comes with many accessories
The gas grills are the contemporary barbeque appliances that come with many additional accessories such as side burners, tool holders, smoke box and so on. If you like the smoky flavor but still prefer a gas grill for its convenience then we would recommend that you add a smoke box to replicate that effect.
It adds moisture to food
According to gas grill enthusiasts, this appliance prevents dryness by giving off steam that adds moisture to the food you prepare. Thus, it keeps the barbequed meat softer and more delicious.
It aids in temperature control
Contrary to a charcoal grill which needs the practice to be able to adjust and control temperature, it is easily done in gas grills by simply turning the dial. You can go from intense heat needed for searing to slow cooking without having to worry about how many hot coals to remove.
Cons
It's pricier than charcoal grills
Unlike the affordable charcoal grills, you will need to shell out at least $200 for an entry model. To get decent and durable stainless steel grill, you will need to spend at least $500 and some of the expensive top models can go up to several thousand dollars.
You will need fuel
Another factor that adds up to the cost of using a gas grill is fuel. You may either use a natural gas line or a propane tank filled with liquid fuel. As it involves a lot of expense to add a gas line to the outdoor area, many people opt for the propane tanks instead. 
It is not portable
If the grill is hooked with a gas line then you will not be able to take it anywhere. The heavy propane tanks also limit mobility. Plus, some gas grill models are bulkier and take a lot of space, hence not fit for all spaces.
It involves the risk of fire hazard
While there are safety concerns with any type of cooking, you need to be more careful when using a gas grill as it involves propane gas. You must always check to ensure that the gas tank has no leakages and the grill should be at least 10 feet away from the deck or patio. There should be no grease on the grill to control flare-ups causing fire hazards.
Which is better – Charcoal grills or gas grills?
The final verdict depends on the specific needs of individual users, and it may vary from person to person. The things that work in favor of charcoal grills are the rich smoky flavor, the ability to reach a high temperature for searing meat, and long smoking times for pork shoulder and ribs. They are also much affordable and have higher durability even at low prices.
Things that attract us to gas grills are the convenience and ease of starting the fire, no skill needed to control temperature, low maintenance with a drip tray to collect grease, and ability to cook a lot of food quickly. Hence, we think both are winners in their own zones and they are preferred by people with different choices.
Top Recommended Products
Now that you are familiar with the pros and cons associated with charcoal grill and gas grills, we hope it will now be easier to make your choice. However, just choosing an option is only half the battle won because there are a plethora of models to choose from each category. To cut short your research work, we have reviewed several products and here are the ones we recommend. 
If you are looking for a light and portable grill to carry with you for picnicking or camping then the Char-Griller E22424 is a great choice. Made of durable and heavy steel, this tabletop unit features a 250 square inches of cooking space for grilling enough food for 2-3 people. It comes with cast iron cooking grates for enhanced durability and a stay-cool hood handle. There's also an easy sliding drawer to store the coal and ashes.
The removable ash pan makes it easier to dump all the collected grease and drippings. With two adjustable dampers, it is easier to control heat and when not used for grilling, it may be attached as a side firebox to a Char-Griller barrel charcoal grill by Pro Deluxe, Wrangler, Outlaw for Texas-style barbequing. Customers find it easy to assemble according to instructions and take it anywhere they like. Overall, it offers good value for money.
---
If your passion for barbeque food have you grilling every other day then Weber 14407001 (learn more) can be your perfect companion for good times. As the original Kettle grill, it comes with improved/ upgraded features such as hinged cooking grate to add coal while grilling and a one-touch cleaning system with ash catcher for a convenient grilling experience. The easy access to hanging tools and durable wheels make grilling more fun.
It has adequate grilling space to accommodate up to 13 burgers and the porcelain-enameled lid helps in locking the heat for longer. The built-in thermometer lets you measure the internal temperature and you can easily control the heat by adjusting the dampers. Customers find this affordable Weber charcoal grill just perfect to enjoy traditional smoky meat and cook enough food for a small family and friends.
---
If your small balcony or patio lacks the space for a large grill system, invest in this Weber 46110001 Spirit E-210 LP Gas Grill that is both compact and stylish. It boasts a sturdy stainless steel construction with cast-iron cooking grates and porcelain-enameled lid. The total cooking area of 450 square feet gives you enough space to grill food for a small family. Post cooking clean-up is also much easier hence it requires low maintenance.
 The heavy-duty swivel casters make the grill easily portable and the six-hooks make the design user-friendly with easily accessible grilling tools. Customers are happy with their purchase as the grill easily fits into their deck or balcony and provides good heat control and less messy cooking. Weber gas grills are slightly more expensive than competitor products, but at the end of the day, you get good value for the money paid.
---
Char-Broil has remained America's most favorite grill since 1948  and their 300 2-Burner Cabinet Gas Grill (learn more) is just what you need to barbeque in the backyard. It presents you with an adequate 300 square inches of cooking space on porcelain-coated cast-iron grates, plus there is also a 100 square inch warming rack with porcelain-coated grates for the extras. The main area can hold about 16 burgers while the secondary rack is good for toasting buns.
We love the stylish metal side shelves that provide extra work and preparation space, and they can be easily folded down for storage. There's also a lid-mounted temperature that helps in monitoring the heat to increase or reduce if needed. The convenient storage cabinet for propane gas keeps it easily accessible while out of sight. Customers love the gas grill which is slightly bulkier and pricier than others but still worth the price.
---
Common Grilling Mistakes To Avoid
#1. Not pre-heating the grill
This is a common mistake over-enthusiastic people commit but please keep in mind that you will not get the best results by hurrying into things. Allow the grill to get really hot for the meat to cook faster and stay tender and moist. Close the lid after the ideal temperature is reached to prevent the grilled meat from becoming dry.
#2. Getting your grill too hot
The hotter the better, isn't it? But, that's where you get wrong and you really need to tone down the heat a little bit. If the grill is too hot, you will have blackened sausages that are not well cooked inside but there's no cooler zone to put them without burning them further. To fix this, we suggest dividing the charcoal barbeque into two zones with an even distribution of coal on one side and a thin layer on the other.
#3. Not cleaning the grill
By not cleaning the grill before and after cooking a meal, you will compromise with the quality of food your grill. Over time, the dust and debris collecting on the grills can destroy the beautiful crust on the grates and it may also turn toxic for your food. A quick cleaning method is to run the grill on high for 10-15 minutes and remove the ashes with a metal brush. An alternative method is to use a non-toxic grill cleaner to wipe the residue and debris.
#4. Using meat straight out of the fridge
We have all done it some time or the other and faced the consequences too. If you put cold meat on the grill grates, it will take longer to cook and you may even have that cold-on-the-inside effect. Another issue is that there will a lot of sauce and moisture dripping from cold meat. To fix this problem, we suggest that you take the cold meat out of the fridge at least 30 minutes in advance.
#5. Not using the right marinade
This is another common mistake committed by even the most seasoned cooks. If you use the wrong marinade for meat, this can completely mess up the barbeque. So, avoid using sugar-heavy or high-citrus marinades that can easily get charred on the grill. Barbeque experts recommend marinating meat for several hours using a low-acid fruit puree or just Worcester sauce. Alternatively, you can skip the marinade and rub the meat with salt, pepper, and brown sugar.
#6. Forgetting to soak the skewers
We know kebab cravings can hit you any moment but unfortunately, this is not a type of dish that you can whip up immediately. There's a lot of preparation that goes into it before you get to cook your signature kebabs. Forgetting to soak the skewers will make the wood burn before your food is cooked, which is not good. You would definitely not want this when you have invited friends over for a barbeque party.
Related Article: 10 Tips for Grilling at Night ( in the Dark)
Related Questions
Is it okay to grease the grill?
No, this is not the right way to season the grills although many cooking enthusiasts do this. The grease you apply on the grills will not stay on it and drip down the sides risking a flare-up. What is left on the grills will also stand a chance of getting burned due to high temperatures. So, instead of greasing the grills, oil the meat, vegetables, and fruits before putting them on the grill.
Can I use lighter fluid to start the fire?
No one likes wasting time and using lighter fluid to start a fire may sound like a quick and easy solution, however, there is a caveat. Also known as boy scout water, the lighter fluid can lend an unpleasant flavor to your food. If you are using a charcoal grill, we would recommend that you simply use a chimney starter in the right way.
Why is it necessary to have some indirect heat while grilling?
Flamed kissed food is not always the best as they get blackened on the exterior but remain raw or cold inside. While cooking on an open flame helps you get that charred look, but you would need to transfer food to an indirect heating zone to allow it to cook thoroughly.