What comes to your mind when you hear 'grilled cheese'? A perfectly crusty exterior? Gooey inside with warm cheese oozing out of the bread? I know that makes your mouth water, but wait a minute. Are you imagining the pale white bread for all that goodness? I don't blame you and trust me, you are not alone!
Well, we know you have grown up eating grilled cheese made from white bread and they tasted like the ultimate thing. But, you know what? If you want to get a taste of that complex, sophisticated and mature grilled cheese, you need something sturdier than white bread.
Now is the time to make the switch and choose one of the best bread for grilled cheese. It's like the difference between eating a hastily cooked home food and the one served at fine dining restaurants. You will be surprised by the kind of difference a change of bread can bring to your favorite snack.
In this post, we will talk about the various alternative options you can try in the place of white bread to enjoy a grown-up and intricate grilled cheese. You will also find some of the best brands of bread you can buy online to make the perfect restaurant-like sandwich at home.
6 Best Substitutes For White Bread
1. Pullman Bread
If you are a white bread fan and find it difficult to dissociate yourself from it then pick the Pullman Bread, which is the crustier cousin of white bread. Although a step up from ordinary bread, it still retains the softness and airiness. It works as a great choice for those who wish to make a decorative artisanal sandwich. Sprinkle a few slices of extra cheese on the top for an extra-crisp exterior.
2. Multigrain Bread
Health-conscious? Well, we can't do anything about the 'cheese' in grilled cheese but we can at least switch the white bread with multigrain to inject some healthiness. The rich and hearty bread filled with the goodness of multigrain works as a perfect base for a delicious sandwich. Mix it up with different flavors of cheese for a mouthwatering treat.
3. Sourdough
If your tastebuds are up for a slightly more mature and tangy taste of bread then try the crusty Sourdough, the father of all grown-up cheese bread. Try it with flavored cheese and pepper jelly to fire up the taste.
4. English Muffins
Easy and quick, they are often considered as the best handheld meal on the go. Even though English muffins may not be the first choice when it comes to making grilled cheese, this underused option can turn out to be a hidden gem with its super-melty soft cheese.
5. Ciabatta
Love Italian, then why not try this Italian white bread that promises a spongy dream with a forgiving crust. Cut it into thick and hearty slices for a tummy-filling treat. Top it up with mayonnaise or flavored cheese slices of your choice and take a taste of haven. Buon Appetito!
6. Pumpernickel
Another great substitute for white bread is pumpernickel, the dark and malty bread that works as an excellent base for brightly flavored cheese, jelly, and chutneys. Use it for making the best-grilled cheddar and ham sandwiches.
Top Brands Of Bread For Grilled Cheese
If you are a bread lover and enjoy all things organic then try out the Martin's Potato Bread (see more) known for its super soft and creamy flavor. It is called organic because the bread is made from pure, unbleached flour. It also boasts a buttery taste that melts in the mouth and makes you feel like you are tasting a slice of the cloud.
The brand name Martin has been synonymous with quality and has remained a preferred choice in America for the last 50 years. They are known for using only the high-quality ingredients to make delicious bread and rolls.
Martin's Potato Bread is made from the best quality protein wheat flour, real cane sugar, nonfat milk, potatoes, vegetable oil, yeast, and butter in bakery products. So, if you want to get a taste of the famous Dutch flavor, order this enriched Bread from the comfort of your home to make delicious grilled cheese.
---
When you order the San Francisco Boudin Bakery Sourdough, you don't just get a regular bread but a slice of history with every loaf. The creators use a part of the original mother dough that they have nurtured for more than 150 years to start each batch.
These handcrafted Sourdough loaves are baked in the San Francisco bakery for up to 48 hours to get that authentic taste. The breads are shipped on the same day to ensure that you get them fresher and faster.
To enjoy the best flavors, keep the bread in a preheated oven at 375 temperature for about ten minutes. If the bread is frozen, first thaw it completely in room temperature and then place it in an oven for 10 minutes. Avoid using a microwave. Slice the loaves, add cheese slices and grill them for a mouthwatering treat.
---
If you have eaten grilled cheese made from white bread all your life, it's probably time to take your tastebuds for an adventurous ride. Try this delicious pumpkin-flavored bread mixed with spices to give a new angle to your favorite breakfast or snack. It's a great gift idea for Thanksgiving or any occasion such as BBQ nights!
The classic bread has remained a fall special with the customers but you can also use it to make grilled cheese any time of the year. As per the makers, they use the best quality and handpicked pumpkins in the recipes, along with other flavors such as vanilla extract, cloves, nutmeg, and cinnamon. The bread goes best with European butter and whipped cream.
We love the name 'Jumbo bread' and this size enables users to cut it into 8 pieces of one-inch slices. No preservatives are used in making the bread and only the finest ingredients are handpicked. The ingredients include flour, sugar, pumpkin, eggs, baking soda, soybean oil, cloves, nutmeg, cinnamon, salt, and baking powder.
---
This Swirl Raisin Cinnamon Breakfast Bread has remained one of America's favorite for generations and it's also one of the best bread for grilled cheese. Every slice of this flavorful golden-baked bread comes embedded with plump and juicy raisins and cinnamon swirled right into the loaf.
We love the fact that the product contains no artificial flavors and 0 grams trans fat. It also does not contain high fructose corn syrup content. The bread is double wrapped to retain the freshness. Some of the main ingredients include enriched wheat flour, raisins, water, sugar, soybean oil, cinnamon, and salt.
Use this classic bread to make Blue Cheese, Bacon and Fig Grilled Cheese. For this, you will need fig jam, four slices of cheese, crumbled blue cheese, and slices of cooked bacon. Butter one side of the bread and spread the jam on the other side, followed with blue cheese and bacon. Heat an iron skillet and heat both sides until the exterior turns golden brown or cheese starts melting.
---
If you love experimenting with different varieties of bread available to make your favorite grilled cheese then check out this challah bread from the house of Stern's Bakery. Traditionally used as a specialty food when celebrating Shabbat or any sandwich party, this long braided freshly baked pack serves as a great option.
Made from the highest quality ingredients, Stern's Bakery brings you the perfect combination of freshly sifted flour, whole eggs, sugar, and yeast. The premium-grade egg challah makes it different from other products you have tasted and one of the best bread for grilled cheese.
This family-owned bakery has been around for over a century and it's their dedication to the age-old traditional style of baking that has helped them sustain in market for so long. These egg-challahs are certified kosher, nut-free, and dairy-free. They promise quick and fast shipping.
---
If you have celiac disease then white bread is a complete no for you, but that does not mean you give up your love for grilled cheese. We recommend the New Grains Gluten-Free English Muffins (shop now) that are prepared in a dedicated facility, so there is no fear of cross-contamination.
Besides being gluten-free, the English muffins are also made from all-natural ingredients that are dairy-free, wheat-free, soy-free, egg-free, and nut-free. Hence, they are compatible with most other diets. We love the option of staying healthy but still being able to enjoy a filling portion of your favorite meal.
The muffins are also infused with the psyllium husk powder which improves the intestinal health and promotes regularity. The mildly sweet flavor and chewy crust on the outside make the bread taste great when toasted with butter and cheese in between. The muffins are also freezer safe so they can be thawed when needed.
---
If you are watching your weight, but love indulging in your favorite sinful culinary pleasure once in a while then do it slightly guilt-free with the low carb bread. This product from the stable of ThinSlim Foods Love contains zero net carbs in each slice, hence it does not cause any blood sugar impact.
As per the nutritional information, it contains 7grams of carbohydrates and 7grams of fiber. Some of the other ingredients include enzyme-rich wheat, patent flour, dextrose, canola oil, salt, enzymes, emulsifiers, ascorbic acid, almond flour, calcium propionate, flaxseed meal, guar gum, yeast, flaxseed, and olive oil.
As a low carb bread, it contains about 45 calories each slice, unlike other brands that contain a high percentage of extra calories and fat to enhance the taste. Thus, the Low Carb Bread is not just good for the dieters but also for the diabetics. It is significantly low in GI with no almond flour, no stevia, no soy or soybean oil.
---
If you recently moved out of New York and miss their food badly, the Dorothy Lane Market New York Rye is just what you need. Just about anybody who has a special corner for New York Rye loaf will love to order this product online.
The makers take pride in the fact that their bread is freshly baked from the scratch every day, using the highest quality ingredients like unbleached flour, water, and salt. No artificial flavors, no preservatives or bromates. They use a slow fermentation process that enables the dough to make the best of the wild yeast present in the air.
Each loaf of bread from the Dorothy Lane Market bakery is hand shaped by the bakers directly on the stone hearth. The crusty exterior, super soft interior, and amazing rye flavor makes it a perfect foundation for the Big Apple-style grilled cheese.
---
If you are health conscious then you will probably like the idea of using a low carb multigrain bread  for making grilled cheese. Check out the Chompies Low Carb Multigrain Bread which secures a place in our list of the best bread for grilled cheese due to its various health benefits.
On the nutritional level, the bread contains only 53 calories, with 1% total carbohydrate, 4% fat and zero cholesterol. Some of the main ingredients used in making the loaf of multigrain bread include wheat, soy flour, soy protein isolated, flax seeds, rye flakes, oat bran, unbleached whole wheat flour and so on.
Besides being low in carbs, the bread is also low in carb, high in protein, and high in fiber. Even if you are on a diet, you may excuse yourself once in a while to enjoy a heavenly grilled cheese made from this multigrain bread to feel less guilty. Other than being high in nutritional value, this product also has a good shelf life.
---
If you are looking for bread that is good for the heart, low in carbs, and sugar-free, then check out the SoLo Carb Bread Harvest Wheat. It contains 60 calories, 3 grams net carbs and 0 sugar. As an all-natural loaf, this is a healthy alternative for white bread and tastes great when used for making grilled cheese.
We love the fact that the SoLo Carb Bread is handcrafted by real bakers. It is made from the finest quality ingredients that include Omega 3 fatty acids, carbohydrates, sodium, and fats. The 'Clean Label' compliant ensures that this is one of the best bread for grilled cheese.
Those who are on a low-carb diet and find themselves bread starved or get hallucinations of baked goods must try this delicious option. Remember to freeze the bread as soon as you receive it, if you don't intend to eat immediately. Upon freezing, the bread can stay good for six months.
Tips For Making The Best Grilled Cheese
Well, we know you are a bit partial towards the classic grilled cheese combo that has remained the champion of your 'hungry times' for years. Although the traditional combo is hard to beat, this does not mean that you cannot improve upon your basic recipe comprising of white bread, American cheese, and melted butter. Here are a few tips to help you play with the flavors and enhance the taste.
Skip white bread and choose something else
It's okay to swear by your favorite grilled cheese made from white bread and we know it tastes heavenly. But, let it pass and give your tastebuds the opportunity to try something new. You can take this otherwise seemingly simple dish to a new level by simply improving your choice of bread.
We suggest that you experiment with the whole grain, multi-grains, and whole wheat varieties to enjoy new flavors. You may also try the sweeter options such as pumpernickel, sourdough, rye, and cinnamon swirl. Other good substitutes for white bread are waffles, focaccia, croissants, English muffins, and pull-apart rolls.
Know what to avoid
Grilled cheese tastes best when it has a perfect crust on the outside and super soft inside with gooey cheese. We suggest that you avoid thick slices of bread as this makes it difficult for cheese to melt. Also, avoid loaves that come with a lot of holes as the molten cheese will ooze out of the gaps.
Bread that is a day old or on the verge of going stale are the perfect option for making grilled cheese. The combination of fat and heat helps in infusing life into the bread.
Dump the butter and Mayo it up!
The standard method for making grilled cheese is to spread butter both inside and outside to get the best flavors. This not only prevents sticking but also enhances the texture of the sandwich. We suggest substituting butter with mayo to get that subtle tanginess.
The addition of mayo not only improves the flavor but also serves in browning the bread better. This aids in cutting the high-fat content of classic grilled cheese. If you are not willing to forgo butter, you may consider spreading butter inside and mayo outside.
Pre-toast the loaf or slice of bread
Have you ever wondered why the grilled cheese served at restaurants turns out to be crispier and more delightful. It's due to a little secret. They pre-toast the loaf of bread by placing it on the pan before assembling the sandwich.
To get best results, just toast it both sides until it starts browning. Now take those slices, add cheese and other fillings and put it back on the pan to toast both sides for 2-3 minutes. This will give you crispier and more flavorful bread.
Explore a different flavor
We know you are a bit partial to American cheese. Well, we all are! However, the world of delightful cheese varieties are worth exploring and they are waiting to melt between the slices of bread. You may choose fresh cheese like Feta and aged cheese such as Parmesan that doesn't melt easily.
We suggest that you pick the varieties that melt and these include young cheddars, Gruyere, fontina, Taleggio, Comté, and other types of jack cheeses. Please feel free to experiment with more than one variety of cheese to enjoy a satisfying experience.
Grate the cheese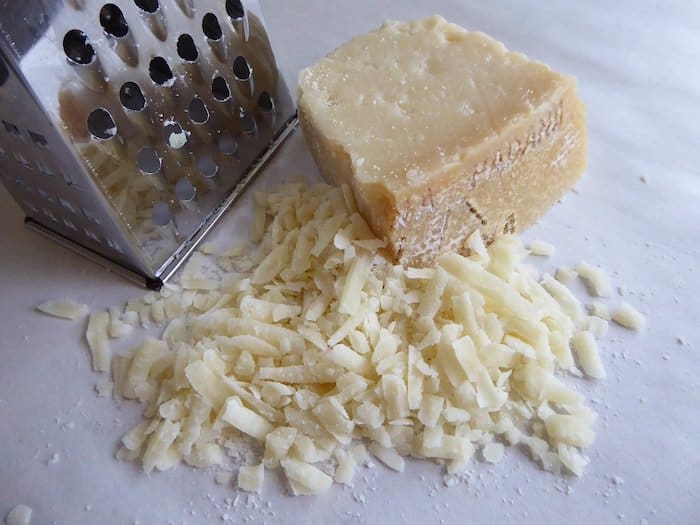 Besides the various other things that make good grilled cheese, it is important to determine the right quantity. There must be enough cheese to make your sandwich get that gooey interior, but not so much that it spills out of the sides after melting.
The ratio of bread and cheese will depend on the average size of the slices, however the accepted standard is 1/3 of a cup. Thin slices are a better choice than the thick ones, but for the best restaurant-like quality, we recommend grating the cheese.
Spice-up with side players
Cheese is certainly the star player of this dish but it can always share the limelight with other side players such as sliced ham, bacon strips, caramelized onions, Brussels sprouts, smoked paprika, thinly sliced mushrooms and so on.
You may also trade the butter for mayo, jam, honey, chutney, or jam. No matter what you do, remember that cheese should always remain the main focus. Avoid going overboard with your choice of fillings.
A little patience always pays off
We know that grilled cheese is your quick-fix food when your stomach is growling with hunger and you don't have the time to make an elaborate dinner. But wait, scorching the sides will leave a burnt and bitter taste in your mouth.
This is the time to think like a BBQ master and have some patience while the bread toasts to perfection. Try to keep the heat in low to the medium range while cooking. This ensures that the cheese melts to a perfect consistency while the bread toasts.
Try a Panini Press
If you have always used a skillet or grill pan to make your grilled cheese, give your Panini press a try this time. You will be surprised at how crisp and delicious your sandwich turns out to be. If you don't have a Panini press, don't worry. You can still create a better result by pressing down the sandwich with a heavy pan. Remember to flip and press again on the other side to get a perfect crust.
Steps To Make Grilled Cheese Using Sourdough Bread
If you have not used sourdough before, here's a quick recipe to enjoy a delicious snack using this type  of bread. For the recipe, you will need Swiss cheese, whole grain mustard, and ham slices.
Take four slices of Sourdough bread and spread a little butter on one side of each bread slice. On the other side, spread whole grain mustard, put a slice of cheese and then top it up with a slice of ham. Place the pain side of another bread slice over it.
Repeat the same for the second sandwich and then sauté them over a medium-heated grill pan. Flip the sandwich and continue until both sides turn crispy and golden.
Steps To Make Grilled Cheese Using Pumpernickel Bread
Use this recipe to make an appetizing Pumpernickel grilled cheese. You will need Brussels sprouts, sliced onions, cheddar cheese, smoked paprika, olive oil, salt, and pepper.
Sauté thinly sliced onions in 2 tbsp olive oil for 5 minutes. Add smoked paprika, thinly sliced sprouts and sauté for another 15 minutes. Season with salt and pepper to taste.
Cut the pumpernickel bread into 4 slices and spread butter on one side of each bread. Keep 1-2 cheddar cheese on other side and top up with the Brussels sprouts mixture. Now, place the plain side of another bread.
Put a large grill pan over low-medium heat and cook both sides, flipping once, until the cheese melts and the bread is perfectly toasted and turns golden brown. You may use a Panini press instead of a grill pan.
You may also want to see my previous article: How To Grill Frozen Burgers?
Related Questions
What is the best cheese for a grilled cheese sandwich
The pre-sliced cheese are probably the most convenient types and some of the most common varieties are cheddar, provolone, mozzarella, Gouda, and Swiss. However, if you want to break away from the traditional and try something new then use grated cheddar, Gruyere, Brie, Blue Cheese and Manchego.
What pairs well with grilled cheese?
If you love the cheesy bliss, here are some of the best side dishes that perfectly complement the grilled cheese. The vegetarian sides include tomato soup, arugula salad, sweet potato fries, cookies, and Brussels sprouts.
How long can a grilled cheese stay outside before it becomes unsafe?
This largely depends on the type of bread you choose and some of the products from the above list of best bread for grilled cheese can last longer. In general, most sandwiches can stay good for up to 2 hours at room temperature, or just one hour if the temperature is more than 90 degrees Fahrenheit.
Related Articles:
How To Make Grilled Cheese Without Butter?
Why Do Grilled Cheese and Tomato Soup Go Together?
What to Eat with Grilled Cheese (14 Sides)