We are reader supported. When you purchase through links on our site, we may earn an affiliate commission. Also, as an Amazon affiliate, we earn from qualifying purchases.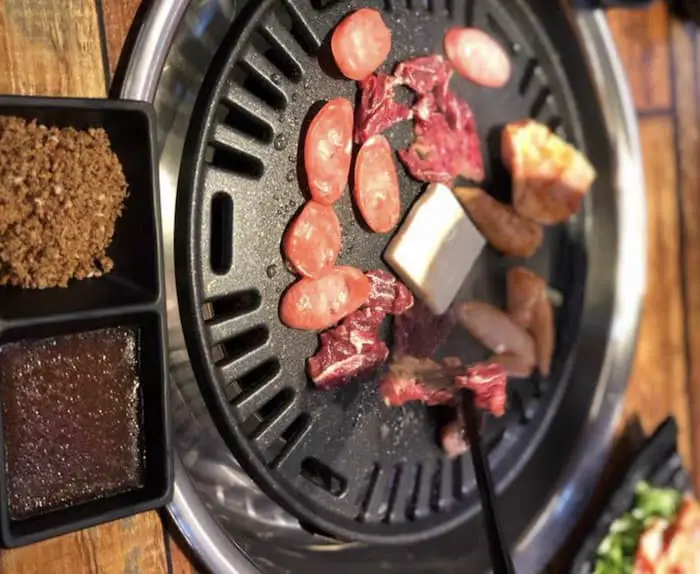 So, you had Korean style grilled chicken, pork, or beef at the restaurant and are now craving to make some at home. Korean barbeque is a great way to get together with friends, cook the food right on the dining table, and share the mouthwatering delights with fellow diners.
To replicate that tenderness, savory taste, and amazing aroma, you will need to invest in the best indoor grill for Korean BBQ. These authentic style grills are built in a way to make family dinner times more intimate. If you have decided to buy an indoor grill for your home, there's still a lot of homework to do.
We have eased your burden and done the research work to help you find the most suitable indoor grill available in the market. After spending several hours on research, we have finally handpicked some of the top products that we feel are the best in features, performance, and value.
Read on to find our unbiased review of the best Korean BBQ grills, and their comparisons to help you weigh the pros and cons of each product. We have also included tips and advice in this buying guide to enable you to choose the right one.
If you are in a hurry and don't have the time to read this till the end, we recommend you to buy the SEAAN Electric Grill that gives you the dual benefit of an electric grill and hot pot. With separate dual temperature control, this compact device can cook for 2-12 people.
---
With this electric grill from the house of LIVEN (check price) you can not only cook delicious Korean barbeque but also save the natural resources. The pot body and grill plate are made from die-cast aluminum material, and the unique shape ensures that the heat is distributed evenly throughout the cooking surface. The pot capacity is 1.6 liters and adjustable settings ensure that you can fry, grill, or cook as you please. The product works both as a grill or hot pot, so you can choose as per your needs.
This electric grill is made from food-grade material and the high-temperature resistance ensures that it cooks food well without charring, hence it's good for your health. Both the hot pot and baking plate are coated with a non-stick material that does not let food stick to the surface. It comes with a tempered glass lid that locks the heat and boils content quickly. The product comes equipped with a bottom cooling system that aids in boosting work efficiency and extending the service life.
Product features and specifications
Weight 6.8 pounds
1.6L capacity
Cast aluminum alloy
1300W power
Non-stick coating
Smokeless and healthy
Wave baking plate
Rapid temperature distribution
Bottom cooling system
Pot body bottom non-slip design
Improve work efficiency
Extends service life
User/ Customer review
People are extremely happy with their purchase because this product gives them the option to use just the grill, hot pot, or both with ease. Users find that the unit heats up quickly and distributes the heat really well to give you tender and deliciously cooked food. A few users have mentioned that the hot pot is small but it can still hold a lot of food for a small family. Some customers have said that the grill is difficult to clean but they don't mind the hassle.
Conclusion
As this is an electric powered grill, it saves gas and allows you to use it anywhere with an access to power source. This is a product grill to bring the family together at the dinner table and cook different items at once for everyone. Overall, we feel this is a perfect investment to enjoy various delicious food.
---
If you love eating traditionally prepared Korean BBQ without having to go to the restaurant every time, then you must get this stylish grill pan by CookKing (check price). Made from high quality and nonstick titanium coating, this is a sturdy grill pan that serves as a perfect cookware for your low-fat diet. As the pan is shaped like a pan with holes in the sides, the excess oil drips through these oils, making your food less fatty. It also helps in controlling your carb, cholesterol, and calorie intake, so that you stay healthy.
We are impressed to find this innovative style of cooking that can grill different types of meats, fish, and vegetables. It is a fun and wonderful way to enjoy a BBQ party. As the grill pan is lightweight, it can be used both indoors or outdoors with a gas top. Heat distributes evenly to ensure that food kept at every corner of the plate gets cooked perfectly and the non-stick coating prevents sticking.
Product features and specifications
Measures 16 x 2.3 x 16 inches
Weighs 3.5 pounds
Nonstick titanium coating
Innovative cooking style
Fat/Grease Draining System
Tabletop BBQ grill
Made In Korea
User/ Customer Reviews
Customers are extremely elated with this unique and an innovative style of grilling that enables them to make Korean style food right at home. Many people have claimed that the product turned out better than they had expected in terms of quality and performance. A few users have cautioned that although the grill pan made great food, the black coating came off when trying to scrub in the kitchen sink.
Conclusion
CookKing – Korean Traditional BBQ Grill Pan is an amazing little BBQ tool for those cozy and friendly gatherings with great food and good times. It can grill almost all types of meat and vegetables for a small group or a family of 4-5 members. Overall, it delivers an amazing price to performance ratio.
---
There's something magical about grilling food on a Sunday afternoon, and the best part is that you can do this on the dining table and be a part of the conversation too. Yes, with the IWATANI Smokeless Korean barbecue grill (see price), you can prepare delicious meat and vegetables without missing the fun. The grill plate is made from aluminum die-casting, hence it's both sturdy and lightweight. The body is powder-coated while the knob appliance plugs are made of ABS resin.
This smokeless barbeque grill gives you a burning time of nearly 217 minutes, which is more than enough to cook food for a large group. You will need Butane gas to fuel up the grill and reach a maximum temperature of 250 ℃. The unit comes with a Japanese manual, but most of the things are understandable with picture illustrations. You may watch a video to check how to use the barbeque. There's an easy path to drain off excess fat so that the food cooks healthy.
Product features and specifications
Measures 12.52 x 11.34 x 6.38 inches
Weighs 4.64 pounds
Japanese manual
Continuous burning time about 217 minutes
Compact and light
Uses Butane gas
Made In Japan
User/ Customer reviews
Most people find this little indoor barbeque grill extremely useful to make delicious food right on the table without any smoke. Although small in size, users feel that this tool does a good job at cooking evenly and food does not stick to the surface. Users have also commented on how easy it is to use as well as clean the grill after a great meal.
Conclusion
If you are looking for the best indoor grill to enjoy Korean barbeque anytime anywhere then this is a great deal. Although slightly expensive, the product works smoothly and delivers a performance equivalent to an expensive grill. The biggest advantage is that you can grill in your apartment without setting off the fire alarm.
---
If you have a large family or many friends who drop in at your home often for BBQ nights, you may consider investing in this Costzon Electric Teppanyaki Table Top Grill (see price). With a spacious 35 by 9 inches non-stick cooking surface, you can cook meat, vegetable, fish, and other types of fried dishes all at once. Due to the non-stick surface, it requires minimum oil for cooking and thus the cooked food is much healthier for the fitness freaks. The product comes with several extra accessories such as wooden spatulas, egg rings and so on for a happy cooking experience.
We love the fact that this indoor grill is powered by electricity so there's no hassle of buying fuel. The electric table grill comes with 5 different temperature settings that can be set using an adjustable thermostat. There are two handles on the side that are covered with an insulated material for easy moving without hurting your hands. It also comes with a 4 anti-slip feet that provide enhanced stability, and protects the surface from heat.
Product features and specifications
Measures 35 x 9 x 4.4 in
Weighs 6.6 lbs
Made from aluminum
Slide-out Drip Tray
Adjustable temperature
5 temperature settings
Insulated handles
Non-slip feet
2000 Watt electric heating tube
Easy to clean
Large cooking surface
User/ Customers reviews
People are highly impressed to find a product that they can use to grill food for up to 8 people at once. Many customers find it incredibly useful for a party as it takes just 10 minutes to heat and cook all types of food with ease. The adjustable temperature is also highly appreciated as it gives users the ability to slow cook when needed.
Conclusion
If you are someone who loves hosting BBQ parties, but don't like the hassle of having to change fuels and stand at the corner with the barbeques machine then go ahead and get this one. This, sleek, stylish, and extremely useful indoor grill is the queen of the party that you won't mind cleaning and taking it out every time you are hosting.
---
Are you the home chef who loves to cook and impress people with your culinary skills? If yes, then you must include the SEAAN Electric Grill Indoor Hot Pot (see price) in your kitchen for those delicious barbeque meals that you can prepare incredibly fast. This is a 2-in1 function tool with an indoor electric grill that can prepare steaks, pasta, pizza, and vegetables; and a hot pot with divider that allows you to cook two types of food. We love that the equipment comes with separate temperature controls, 5-speed temperature settings, and so on.
Made from Cast aluminum, the body is extremely sturdy and the non-stick cooking surface ensures that the food doesn't stick while cooking. It also uses less oil while cooking, hence it serves as a great tool for healthy cooking. There is an oil discharge port that collects extra grease, and it's easy to clean after use. As far as performance is concerned, the cooking surface heats quickly and the heat is distributed evenly to grill, fry, roast, boil, stew, and cook.
Product features and specifications
Measures 28 x 3.1 x 10 in
Weighs 12.25 pounds
Stainless Steel
Smokeless cooking
Non-stick coating
Visual Tempered Glass Cover
Anti-Scalding Protection
Oil leakage port + oil tank
User/ customer reviews
Most customers feel this is a smartly designed electric grill cum hot pot that cooks a lot of different styles of food at once for 5-6 people. Customers are impressed with the sturdy construction, tempered glass lid, and adjustable temperature settings that speaks of quality. While most users are happy with the performance of the product, a few have cautioned about small size and smoke while cooking.
Conclusion
If you love grilling indoors but don't want to worry about fuel then this electric grill plus hot pot is a perfect choice. The device is beautifully designed for easy and healthy cooking for family dinners or parties. Overall, a product that is worth your time and money.
---
Do you want to enjoy restaurant-like food at home and gather compliments from guests? This indoor electric grill comes from the family of Zojirushi, known for offering a new generation of products that make life simple and easy. The grill comes with a non-stick surface to cook steaks, burgers, chicken, fish, and vegetables right at home. The adjustable heat settings help you cook at different temperatures as needed. The cool-touch handle makes it easier to move the unit when hot.
The large non-stick grilling surface heats faster and the temperature may range between 176°F to 410°F. Food does not stick to the surface and the design directs extra grease to the drip tray located beneath the grilling plate for healthier cooking. We are impressed by the safety feature that ensures the unit does not start heating unless it is correctly installed. The large ceramic grilling surface disassembles for easy cleaning and the drip tray is dishwasher safe.
Product features and specifications
Measures 20.5 x 14.1 x 6.1 inches
Weighs 1.03 lbs
1300-watt Power     
176°F to 410°F heat range
English Instruction manual
Dishwasher safe
User/ Customer reviews
People have mentioned how it reminds them of the same taste of outside grilled food without the hassle of outdoor cooking and no smoke. Most users have confirmed that there was almost no smoke when making patties or steaks. However, a few customers have had a bad experience with the food taking too long to cook.
Conclusion
If you have a small family that loves to enjoy Korean BBQ food, this is one of the best indoor grills you can invest in. Although it lacks the bells and whistles of other competitor products, it gets the work done as expected. Overall, it gets a thumb up from us.
---
Things To Look For In The Best Indoor Grill For Korean BBQ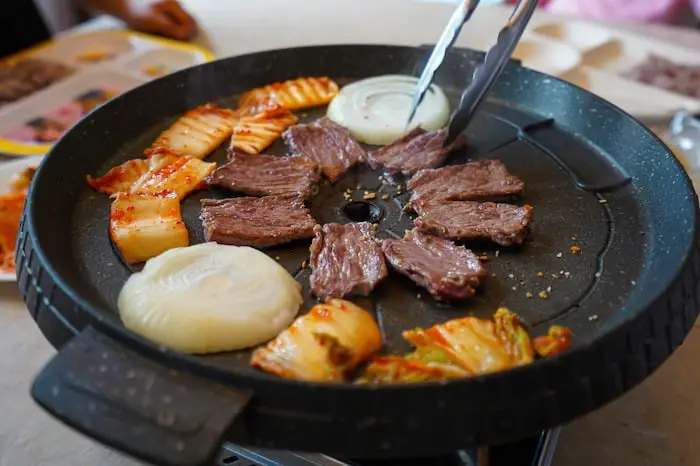 The indoor grill for Korean barbeque is slightly different from the traditional outdoor grills that you are used to. They come in a variety of shapes, sizes, and features. Hence, you need to consider a few things according to your specific needs, the number of family members and friends you love treating.
Plate diameter and material
The diameter of the plate determines how big or small the cooking surface will be, hence you need to choose depending on the number of people you will be cooking for. Most of the standard models meant for family dinner have a diameter ranging between 12 and 14 inches.
The material from which the plate is made determines the sturdiness and durability of the product. It also impacts the quality of future meals and the ease of cleaning. You will also need to think about what you will be grilling as different materials may give different results when used indoors or outdoors.
Grease pan
The grilling process can get quite messy with excess oil or grease dripping out of the food. You may want to look for a model that comes with a tray for collecting the dripping juices so cleaning does not become a chore. Besides preventing mess, a grease tray also protects the grilling unit from flare-ups.
Heat source
Any grilling device will need a heat source, which can be fuel or electric. While some of the BBQ grills come with their own burner, there are some that require a portable stove. An electric grilling device is extremely convenient and portable to use both indoors or outdoors as long as you have access to a power source.
Non-stick coating
This is another useful feature to look for in grilling devices to ensure that food does not stick to the surface of grills. It not only prevents stuck-on food from charring but also reduces the pain of cleaning later. A non-stick coating also reduces the mess, hence most of the grill manufacturers prefer to use this technology.
Grill power
For any grilling device, the power is mainly measured in BTUs, so this is an important element to consider when buying any type of grill, and a Korean BBQ grill is no exception. The quantity of BTUs will be higher for a larger cooking area. As the Korean grills are usually smaller than traditional models, you will not need very high BTUs.
Dimensions
The grills come in different shapes and sizes to suit the different requirements. So, depending on whether you have a small or large family, or you like hosting frequent get-to-gethers, you may want a product that solves your purpose. The grilling unit should fit in your kitchen counter or any other place where you intend to keep it.
Weight
The weight of your barbeque grill will directly influence the portability of the product. So, if you intend to move the grill around then make sure you consider this aspect while shopping. If you want the BBQ grill to stand at one place on your kitchen counter or table, then a heavyweight may not be an issue. However, if you wish to carry it with you while camping outdoors then you will need something that's lightweight.
Price
Finally, price is an important aspect that you cannot ignore. Some models with fancier features can be more expensive than others. So, consider how much you are willing to spend on the grill and then look for the options available in that budget.
Maintaining Your Indoor Korean BBQ Grill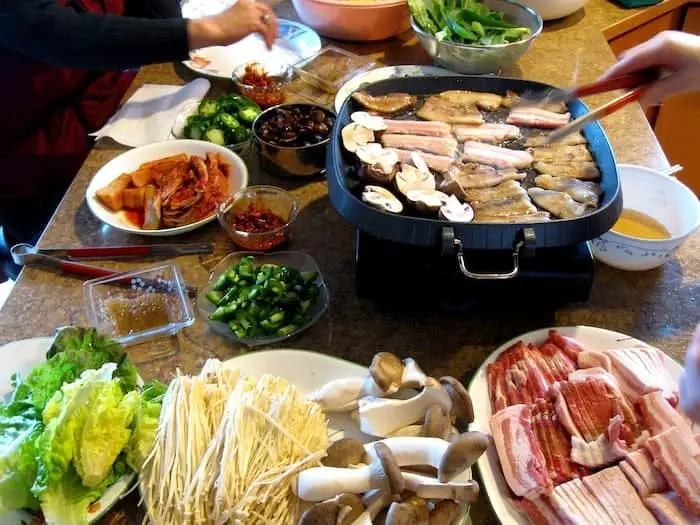 No matter which one of the above BBQ grills you choose to buy, one thing is sure that it's going to give you lots of delicious food and good times. When you own a Korean BBQ grill, take good care and maintain it well to add more years to your investment. Here are some quick tips to help you:
For any grill, it's extremely important to remove the mess and clean up after the party is over. It's not as daunting as you think as most of the parts can be disassembled and washed.
Clean the non-stick grill pan using just water and a sponge. Allow the stuck-on food particles to soften with water so that you can remove them easily.
If the food bits have dried on the pan, soak in water for some time and then gently rub with a sponge to clean the pan.
Make sure you do not use any metal scrubber for cleaning as this can damage the non-stick coating over the grill pan.
For the grill grates, if water and sponge are not enough, you may use a steel wire scrubber and dish wash liquid soap for cleaning.
Most importantly, make sure you wipe the grill pan with a damp cloth after every use. If you spend a few minutes cleaning, this will reduce the time needed for doing the dishes.
Related Questions
Are the Korean BBQ grills safe to use in an apartment?
These styles of grills are designed to be used indoors and can be safely used in an apartment. However, we would recommend that you keep the area where the grill is placed well-ventilated. Although most of these grills are advertised as smokeless, they may produce some amount of smoke.
What types of food can you cook on a barbeque grill?
You can cook a variety of foods such as steaks, burgers, veggies, and so on. The biggest advantage of using a BBQ grill is that you can cook mouthwatering meals right on your tabletop. Just keep in mind that the cooking surface and heat output is much smaller than regular outdoor grills. Hence, you may not be able to cook food for a big BBQ party but you can easily cook a BBQ dinner for your family.
What's special about Korean BBQ?
The Korean BBQ is a completely different breed with meat thinly sliced for faster cooking. They are often seasoned with a savory-sweet marinade including sugar and sesame oil. The American BBQ, on the other hand, is sweet and sour, and they include large cuts of seasoned meat.
What are the different side dishes for Korean BBQ?
Some examples of side dishes you can enjoy with Korean barbeque meals are pickled carrots, spicy green onion salad, white kimchi, spicy Korean coleslaw, Korean cucumber salad, cabbage salad, and Korean BBQ dipping sauces.
What are the main types of Korean BBQs
There are basically three different types of Korean BBQs – stovetop, electric, and charcoal. The stove stop styles are powered by propane or gas, and they have the ability to reach high temperatures. Electric BBQ grills use a heating element instead of flame and they can't reach a very high temperature as an open flame. The Charcoal BBQ grills get really hot but they need a heating time, and they can't be used indoors due to too much smoke.
See Also:
6 Best Grill Mat For Concrete Patio
Is BBQ Sauce Bad For You
How to Refurbish a Charcoal Grill?
How Does a Smokeless Grill Work?
How to Clean Korean Grill? (4 Ways)