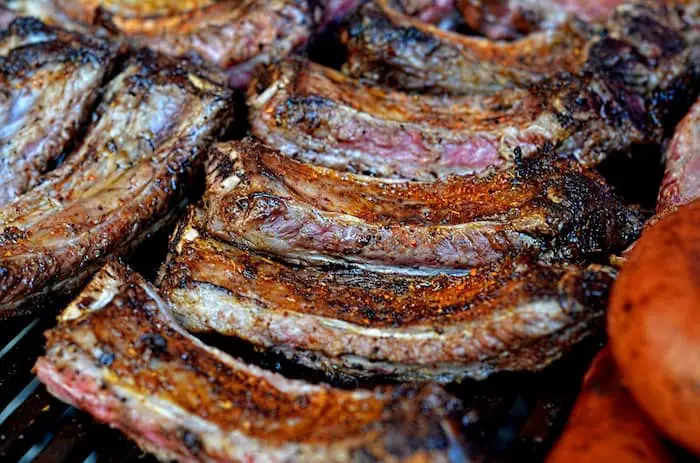 You look forward to the summer season for various things such as sunny time at the beach, and backyard BBQ with old friends and great conversion flowing. While it's hard to imagine roasted steaks and grilled chicken breasts without the signature BBQ sauce – do you know it has a lot of calories?
So, is BBQ sauce bad for your health? Yes, it is if you are watching weight or wanting to consciously eat healthy. Similar to ketchup, barbeque sauce contains a high amount of sugar and salt. Only two tablespoons of the sauce contains about 100 calories, over 10 grams of sugar and 22 grams of carbs.
BBQ sauce has an excessive amount of calories enough to convert a low-fat piece of grilled steak into a calorie bomb. Thus, it turns out to be a sure-shot way to sabotage your healthy diet. If you drench your summer delicacies with BBQ sauces without reading the label, you will end up loading on calories.
Let's delve deeper.
The bottled marinades and sauces comprise of vinegar, sweeteners, and seasonings. Any typical brand of barbeque sauce comprises of a tomato base blended with sweeteners and spices. Contrary to other sauces that serve as a condiment for fried foods, BBQ sauce is used with grilled food, both meat, and veggies.
Some of the popular BBQ sauce available in the market may contain anywhere between 45 and 70 calories in just two-tablespoon serving. You can find a high percentage of sugar (12 to 17 grams per serving) and sodium (200 to 350 milligrams), which is 14 percent higher than your regular intake.
While the added sugar itself is not a healthy option, there are some brands that may include highly processed ingredients such as high-fructose corn syrup. Some other brands may use preservatives and caramel coloring like sodium benzoate and potassium sorbate.
Does that mean we must avoid BBQ sauce altogether? Well, no! Avoiding the barbeque sauce completely will render the cooked meat tasteless and bland. It adds that zesty flavor, juiciness, and aroma, without which barbeque would not taste like it.
The key lies in making the right choices and reading the labels to know the calorie content in the product you are ordering or picking up from a store shelf. Here are some of the top five healthy and unhealthy BBQ sauces you must know:
Top 5 Healthy BBQ Sauce
#1. 365 Everyday Value Texas True Organic Barbecue Sauce
This is a spicy, tangy, and sweet BBQ sauce made from high quality and certified organic ingredients. Although it does eight grams of sugar, we consider it a healthy option provided you keep in check the amount you slather on your veggies and meat.
As per the American Heart Association (AHA), your daily sugar intake should not be more than six teaspoons or 25 grams of sugar for women and nine teaspoons or 36 grams for men. Other than the added sugar, we love that the sauce is low in calories and sodium.
#2. Stubb's Spicy Bar-B-Q Sauce
The Stubb's Spicy Bar-B-Q Sauce contains habanero peppers that add a spicy kick to it. The product does not contain any organic ingredients, but the good thing is that there's nothing artificial in the sauce. The two main ingredients are water and tomato paste.
If you are looking for a good lycopene source then this BBQ sauce is a good option. As per the nutritional info provided on the label, just two tablespoons of the sauce gives you 25 calories, four grams of sugar, and 250 milligrams of sodium.
#3. Annie's Organic BBQ Original Recipe
If you are a vegan that does not mean you cannot enjoy BBQ. To make your dishes tastier, we suggest that you try the Annie's Organic BBQ Original Recipe. This is a certified organic barbeque sauce verified by a Non-GMO Project for food containing genetically modified organisms.
This vegan barbecue sauce does not contain any preservatives, added colors, or artificial flavors. It is also gluten-free. Two tablespoons of the sauce provide about 35 calories, 6 grams of sugar, and 200 milligrams of sodium. It can be added to anything from veggie skewers to proteins.
#4. Bone Doctors' Carolina Bold Barbeque Sauce
With only 65 milligrams of sodium per serving, the barbeque sauce from the house of Bone Doctors' is one of the popular low-calorie and low-sodium pick. The label reads only a handful of ingredients and it feels like a homemade recipe for the health-conscious.
If you are looking to avoid tomato-based sauces, this can be a good choice as it includes apple cider vinegar and no water needed to dilute this traditional North Carolina-style BBQ sauce. A little slathering of this sauce on your summer delicacies can turn you into a grill master without compromising with the health of your family.
#5. Simple Girl Organic Carolina Style BBQ Sauce
This is a simple yet zesty vinegar-based sauce that does not contain any sugar or tomatoes. The hint of sweetness you can feel in the sauce comes from the organic and calorie-free stevia leaf extract used as a substitute for sugar. As a vegan and gluten-free option, this is a bonus for the diet conscious.
If you have not yet tried this Carolina-style BBQ sauce, you may find yourself using this more often than the standard tomato version. It serves as an amazing dipping sauce and it can also be used for seasoning various light snacks.
Make Your Own Homemade Barbeque Sauce
If you don't want to rely on the store-bought BBQ sauce, you may also consider making your own using some of the readily available ingredients. I have bought for you an easy-to-make homemade barbeque sauce that can help you reduce the bad impact of the sauce without compromising the flavor.
What you will need:
1/3 cup of sliced strawberries
1/4 cup of apple cider vinegar
2/3 cup of any unsweetened or fruit-sweetened ketchup
1/4 tsp of freshly ground black pepper
2 tsp of Dijon mustard
1/8 tsp of cayenne pepper
1 tsp of smoked paprika
1 tsp of ground black pepper Sea salt as per taste
Directions to prepare
Measure out all the ingredients and put them in a good quality blender
Puree the mixture and pour it out into a small saucepan
Simmer the solution over medium heat, reduce to low heat and simmer uncovered
Wait for 5 minutes or until all the flavors are properly combined.
Stir occasionally as needed and add a pinch of salt to enhance the taste
Serve the BBQ sauce immediately or keep it inside the refrigerator and enjoy up to 1 week
Six Tips To Make Your Barbeque Healthier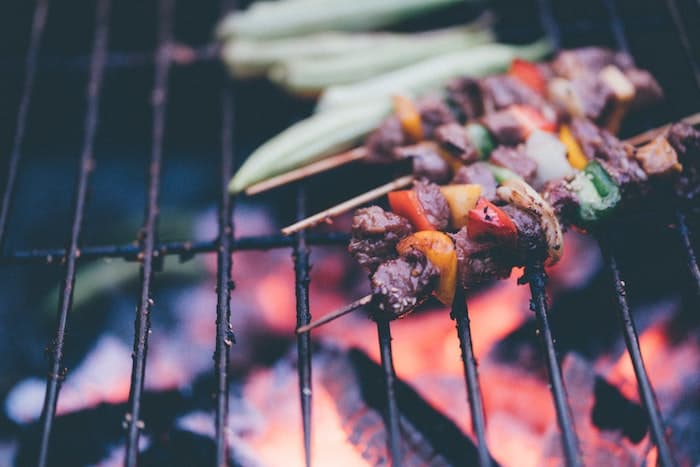 Firstly, skip the traditional BBQ sauce that is loaded with sugar and salt to avoid any unwanted calories. You may choose the healthier alternatives or make your own homemade BBQ sauce by substituting sugar with stevia or other alternatives. You may add liquid smoke to enhance the flavor.
To make your barbeque healthier, avoid processed meat by all means. We suggest that you skip sausages, brats, and hotdogs as they contain a lot of fat, calories, salt. Instead, opt for fresh meat such as freshly ground beef, chicken, or turkey from a local butcher or grocery's meat counter.
Give the mayonnaise a miss and opt for the low calories German-style potato salad instead. If you must have a creamy texture in your barbeque, check out macaroni salad and other non-fat mayo options like plain Greek yogurt to get a similar consistency.
Skip the sauce and enhance the flavor of meat by simply marinating them overnight. To do this, you simply need to coat the meat with a store-bought or homemade marinade. Refrigerate the marinated meat overnight and when the grill is ready, take it out and put it directly on the grill.
When using meat for grilling, we suggest that you trim the skin and fat content. This will drastically reduce the fat content. To enhance the flavor, we suggest that you rely on healthy sauces and marinades.
Rub some spices on fish, meat, or poultry to enhance the flavor without having to use too much sauce or salt. Alternatively, you may use a half cup of marinade for a pound of meat to flavor up. Suggested spices and seasonings include chili powder, cumin, cinnamon, garlic powder, rosemary or paprika.
Related Questions
Why is it important to clean the grill after use
All those things that make your barbeque delicious (sauce, marinade, juices) tend to drip and trickle on the grill. If left on after cooking, they can harden and become stubborn to get rid of later on. They may even become toxic when you try to cook your next meal. So, make sure you clean the grill after every use.
How to tell if the BBQ sauce has gone bad?
The best indicator for a barbeque sauce is the color and consistency. If it looks darker and thicker then it indicates that the sauce has gone bad. Generally, if the color of any sauce changes, there are higher chances are that the flavor will also change.
Can you get sick by eating old BBQ sauce?
Yes, an opened bottle of sauce can go bad after the expiry date has crossed. However, if the bottle is unopened and the bottle is kept in cool and dry shade, the shelf life can be up to one year. While the sauce will be fine to consume if unopened, the taste and flavor will probably change.
See Also:
5 Best Gas Grills For Beach House
Grill Pan vs. Skillet: Here Are The Differences
Are Electric Grills Worth It? Read This First!
How To Season An Electric Smoker