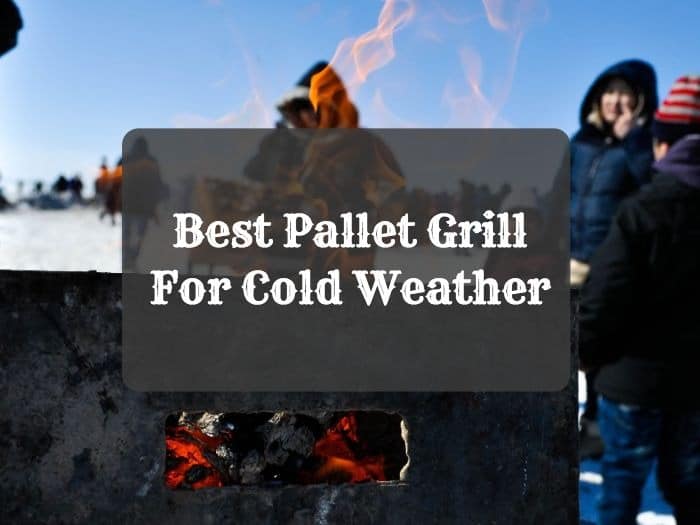 Smoked ribs and juicy steaks on your mind? Your cravings of the foods you grilled last summer are not going to wait for the snow to melt. The single digit in the thermometer and sheet of ice in your backyard should not stop you from the joy of grilling your favorite meat and veggies.
Let's get real and stop thinking that outdoor cooking is only for the summer season. With the best pallet grill for cold weather, you will not have to curb your cravings. However, getting a new pallet grill is not that easy as it seems as there are so many models and brands out there.
For a beginner, it may not be possible to go through and every product's pros and cons, shortlist and then choose the best. If you end up buying a wrong product not suited to your needs and unable to use in cold weather, then you will end up repenting later.
To ease your research and help you put your money in the right place, we have created a list of some of the bestselling pallet grills suitable for cold weather. Our team has spent hours reviewing each product, analyzing their pros, cons, and comparing with other products.
Read on to find our unbiased reviews of the top rated products available online. If you are too busy to go through all reviews and need to the best pallet grill quickly, we would recommend the Traeger TFB57GLE Pro 575 Grill. Although slightly pricier, this is one investment that you will be proud to make as it comes with Alexa-enabled features to help you control the temperature and timers with your voice.
We have also created a list of some of the most suitable BBQ insulated blankets that helps in maintaining a higher temperature without using too many pallets. It optimizes fuel efficiency in winter so that your grill does not get impacted by the cold wind and harsh weather outside. So, even when the temperature is dropping, you can still enjoy hot smoking ribs and steaks.
The Davy Crockett portable grill from the house of Green Mountain is what you need to get those barbecue nights rolling even in cold weather. It comes with a convenience tray, utensil hooks, meat probe, peak lid, and digital WiFi controller that helps you control the grilling unit with iOS or Android app.
The wood pellet grill also comes equipped with fold-able legs and Sense-Mate, a thermal sensor that helps in monitoring the grill temperature constantly. As the unit can run on 120AC or 12V with adapters, it works great for grilling in the backyard or taking it for camping or tail-gating trips.
As this outdoor grill uses pellets, you get the same smoky taste of traditional barbecue, plus the foldable legs make it easier to store or keep in the car's trunk. The manufacturer stands behind the product with two year warranty on any performance issues.
Product features and specifications
Weighs 68 lbs
110V or 12V with adapters
iOS or Android app
3 power options
Sense Mate
12V or 120AC
2 year warranty
User/ Customer reviews
Those who have got the Davy Crockett have said that this grill helped them go from a novice to pro level in a short time, and the more they cook the better they get with the settings and features. Users have also said that using the mobile app to control the temperature and other settings worked fine and they did not have to stand in the cold weather all the time to babysit the grill. A few customers have also mentioned that the customer support is responsive and quick to act.
Conclusion
If you wish to take guess work out of grilling and be able to use hot smoking and delicious barbecues even in chilling weather, we suggest that you use the Green Mountain Davy Crockett Portable Wood Pellet Grill (learn more). The unit is not only easy to use but has everything needed to help you grill professionally.
---
When the weather outside is rough and cold, but you are craving for barbecue chicken wings, the Green Mountain Grill can make it happen. However, you need a high-quality protection like this insulated grill blanket to cover and take care of your Davy Crockett Choice and Prime grill models.
This easy to use tarp is capable of accommodating any grill of smoker that features 219-square-inches of cooking surface. Covering with this blanket is extremely easy as you just need to sewn-in magnets to make your grill all-weather safe. The soft inner lining of the blanket further provides additional protection to prevent blemishes or scratches.
Product features and specifications
Measures 20 x 14.6 x 2.3 inches
Weighs 3.5 pounds
219 sq inches cooking surface
Complete security to hood and grill body
Heavy-duty materials
Insulated cover
Fits any Davy Crockett grill models
User/ Customer reviews
Most people have said that the grill blanket is easy to install and perfectly fits the Davy Crockett pallet grills to help maintain an even cooking temperature in cold weather. Customers have also said that it reduces the use of pallets needed to hold on to the desired temperature when it's cold outside.
A few users have said that the cover turned black from the soot coming out of the grill, but it was able to sustain high temperatures.
Conclusion
If you are looking for a thick, heavy-duty and properly insulated grill cover that does the job as expected then this is a good fit. With the perfect size and made from durable materials, this cover provides just the need of protection your grill needs to cook food comfortably when the temperature drops to a single digit.
---
Nothing compares with roasted meat infused with wood smoke, and the Traeger Grills TFB57PZBO Pro Series (see Amazon) does this spot on. Fooled by 100% natural hardwood pellets, you get the traditional wood-fired flavour and delicious taste. This 6-in-1 unit lets you roast, smoke, braise, bake, and bbq meat to apple pie to perfection.
The TFB57PZBO boasts a 572 sq. In cooking space that can easily accommodate 4 chickens, 5 racks of ribs or 24 burgers for a small get-together. It can maintain a suitable air temperature of 72 degrees Fahrenheit for even cooking. The Digital Pro Controller lets you set the desired temperature and forget it.
Made from sturdy stainless steel, this pallet grill sports a long-lasting powder coat finish, porcelain grill grates, and wheels. The spacious 18lb Hopper Capacity provides hours of cooking without the need to refill. The grill grates are easy to clean so that you do not have grease marks and stains from last grilling.
Product features and specifications
Measures 41 x 27 x 49 inches
Weighs 102.3 pounds
Steel construction
6-in-1 Versatility
572 square inches
18lb Hopper Capacity
Digital Pro Controller
Ambient air temperature 72 degrees F
User/ Customer reviews
Users are extremely happy with the power, performance, and durability of this pallet grill that provides an even cooking surface and no hazardous flame ups. Customers have also said that setting up the grill is easy following the instructions provided in the manual. A few users have warned that customer support is not very responsive and they take time to resolve issues.
Conclusion
This is well built, sturdy, and high quality pallet grill that is easy to assemble and simple to understand. It might take some time to get used to, but once you get a hang of it, you will not want to get back to charcoal or gas grill ever again. Although more expensive than other competitor products, the TFB57PZBO is well worth your hard earned money.
---
When it's freezing cold outside, but you still wish to enjoy a patio barbeque party on your Traeger Grill the BBQ Butler Smoker Insulation Blanket comes to your rescue. This cover is designed to trap the heat inside so that you can grill your food at high temperature despite the cold.
Due to this protective insulated smoker blanket, the grill uses fewer pellets to maintain desirable temperature and optimizes the fuel efficiency. It also protects the smoker from various outer elements, enabling it to function well even in harsh climates. With this insulated blanket, you can use your grill throughout the year.
Product features and specifications
Measures 22.5 x 11.75 x 2.75 inches
Weighs 4.99 pounds
Easy to install
Uses few pallets
Fits Traeger Pro 22 Series
Thermal Insulated Blanket
Maximize fuel efficiency
User/ Customer reviews
Most people are happy with this investment because although it costs more, it pays for itself by helping you save fuel costs and maintain a steady temperature even in snowy weather. Customers have said that the seams are sewn really well and it fits the grill really well. A few users have said that the cover has fiberglass splinters that tend to get attached to your fingers when touched, so be careful.
Conclusion
This is an essential grilling accessory for anyone living in a colder region as it helps you keep enjoying barbecue sessions even in freezing climates. We feel this is a well made insulating blanket that helps in holding the heat perfectly for roasting, baking, or smoking, and saves pallets too. Overall, a great value for money.
---
If you have a large and extended family that likes to bake, roast, roast, barbeque, and eat together then consider getting the Traeger Grills TFB88PZBO. This pro-series pallet grill comes with a huge 884 square inches cooking space, extra racks, digital pro Controller to help you cook like a pro.
With that kind of cooking space, you can easily make up to 24 burgers in the main rack and 16 burgers in the extra rack, or 8 chickens, or 7 racks of ribs. There are dual meat probes to help you check the internal temperature of meat to know when it's done. The saw horse frame added more stability to the grill.
Powered by 100% pure hardwood pellets, food cooked on Traeger Grills TFB88PZBO gives you an authentic wood-fired aroma. The all terrain wheels make it easier to move the grill and install it on any surface with locking casters. It comes with a cookbook and complete assembly tool kit.
Product features and specifications
Measures 22 x 59 x 49 inches
Weighs 163 pounds
884 sq. in. cooking capacity
Powerful steel construction
6-in-1 versatility
Porcelain Grill Grates
18lb Hopper Capacity
100% pure hardwood pellets
User/ Customer reviews
Users are mostly impressed with the fact that this grill has a huge cooking space that can hold a ton of meat without any issues. People also like the two temperature probes that enable them to use them both at the same time, if needed. A few users have pointed out that the digital control settings could be better.
Conclusion
If you are the kind who likes to don the cap of house master chef then the Traeger Grills TFB88PZBO can help you impress your family and guests too. Even though you pay a little more than regular grills, you know that you are getting a beat that will not only let you cook in large quantities but also deliver restaurant-quality meat. 
---
Are you someone who wants to keep grilling all the year round? This insulated blanket ensures that you don't have to pack up your Traeger Grill for storage as the winter arrives. It helps in maintaining a consistent temperature in your grill despite the cold weather or air temperature.
Due to its ability to retain heat, the Traeger Grills 10206 (show now) eliminates the need for using extra amount of pellets in the freezing temperatures. The blanket is not only well designed, but the size is also suitable for properly fitting Texas & 34 Series models.
Product features and specifications
Measures 35 x 2.7 x 15 inches
Weighs 10 pounds
Grill Year-Round
Fits all Texas & 34 Series
Consistency in Any Temperature
User/ Customer reviews
People are extremely thrilled to be able to use this blanket to cover their Traeger grill and make delicious meals even when everything around is covered in ice and snow. Users love that this insulated blanket is well made for the purpose and really helps in maintaining the right grilling temperature to cook food faster and save fuel too.
Conclusion
If you have a Traeger Grill, it's a shame to have it sitting and hibernating in the store room when it's Christmas time. This Insul Blanket helps you beat the cold weather and pull out the most delicious and juicy rib steaks and roasted chicken breasts when it's freezing outside. It's the perfect Christmas gift you can buy for a grilling enthusiast.
---
When you want to grill perfect and do it in style too, check out the Traeger TFB57GLE Pro 575 Grill that takes barbecue to a different level altogether. One of the biggest advantages of using a Traeger grill is that it allows you to achieve the authentic and coveted wood-fired taste.
The TFB57GLE comes equipped by a built-in WiFIRE that allows you to connect the grill with your home WiFi connection. By downloading the Traeger app on your smartphone, you can control the Traeger TFB57GLE by your voice to adjust temperature, monitor pellet levels, set timers, and so on.
This 6-in-1 versatile grills allows you to do barbecue style cooking faster or slower as you desire with precision. . It gives you a consistent performance that you can trust with wood-fired creations. The 575 square inches easily accommodates several burgers, ribs, fish, steaks, chicken, vegetables, or desserts.
Product features and specifications
Measures 40.7 x 26.7 x 53.1 inches
Weighs 103 pounds
575 Square Inches cooking space
Alexa enabled
WiFIRE Controller
D2 Direct Drive
Variable fan speed
Auto-ignition
User/ Customer reviews
Some users have said that they are so hooked on to these grills that they use it almost daily and cannot imagine life without the seamless voice-controlled feature and ease of use. People who have used other grills before have mentioned that Traeger's quality stands out from the rest and appears to be much superior. A few customers have said there's a learning curve for this grill that separates it from other grills but once you get used to it, there's no going back.
Conclusion
If you are looking for flexibility while grilling the perfect ribs and steaks, the Traeger TFB57GLE Pro 575 Grill is the sure shot answer. Although you end up paying higher for all the bells and whistles, they are not without a purpose. The wifi-connectivity and Alexa-enables features makes this grill one of its kind for your smart home. Overall, a great investment!
BBQ Insulation Blanket for Traeger TFB57GLE
We suggest that you use the same smoker insulation blanket made to fit the Traeger Pro 575, that we have reviewed above in number 4. The blanket is carefully designed in a way to minimize loss of heat, trap the heat inside the grill chamber and achieve higher temperatures for perfect grilling.
Customers have used the blanket successfully to maintain grilling temperature and cook food using less pallets. It is a must-have grilling accessory for all bbq enthusiasts who hate the idea of waiting until next summer to start grilling again.
---
Related Questions
Does cold weather affect grill
Yes, when the temperature outside the smoker drops, the inside of the grill also gets affected by it. Although it is true that metal absorbs a lot of heat, but it also absorbs cold. This results in lowering the overall temperature, making it difficult to cook in winter months.
Can you use smoker in every weather
Smoking in the cold and freezing temperatures present several challenges. When the temperature drops, you will need to make preparations to maintain the temperature and a blanket come handy. It also helps in protecting the smoker from other outer elements such as wind, rain, and precipitation.
 How to stay safe when grilling in winter?
Grilling inside the garage might sound like a good idea but we strongly advise against it as the hazardous carbon monoxide may collect in an enclosed area causing accidents. You must also ensure that the grill is away from vinyl siding and eaves so that there are no fire breakouts. Get bundled up and cover your BBQ with the blanket, and go out there to grill as much as you please!
See Also:
Can You Use A Propane Grill In Cold Weather?
Can You Use Pellets in an Electric Smoker
Grill Microwave Oven Vs Convection Microwave Oven
How Long Does A Charcoal Grill Stay Hot?