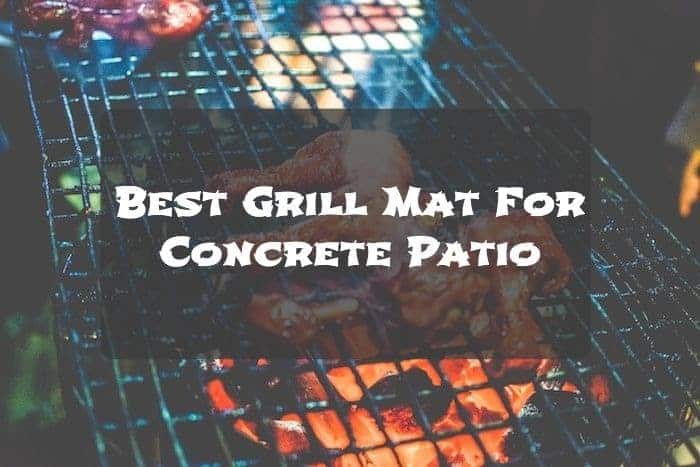 Holding a barbeque party for friends on your beautiful concrete patio may look like the coolest thing to do until you see the stains and damage done. You would certainly not want to have discolored patio flooring or get repair work done after every grilling session.
A grill may not appear to be a worthwhile investment at first. After all, it does nothing to impact the life or performance of the grill. However, when you look at the number of spills and dripping liquid it absorbs to keep your patio undamaged, you realize its true value.
The best grill mats for concrete patio not only protect the floor, but also make it comfortable for you to stand for long barbeque sessions. These mats are made from durable and leak-proof materials, and they are capable of withstanding high temperatures while grilling.
When choosing a grill mat, there are many things that you need to consider such as the size, which should completely cover the grill area, the material used, and so on. If your environmentally conscious, you may want to look for mats that are made from eco-friendly materials.
We know that it's not easy for you to compare dozens of brands and models out there to pick the right product. As a result, we have eased out the process by doing the homework for you. We have spent hours to review dozens of products and compare them to help you find what works best for you.
If you don't have the time to read until the end, we would recommend the Resilia – Grill and Garage Protective Mat (shop now), which is heavy-duty and extremely durable. It has an anti-skid base and water proof exterior. Cleaning the mat is a breeze, plus you can use it in under a grill and also in your garage.
If you are an ardent barbeque enthusiast who likes grilling every weekend, we suggest this 39" by 72" grill mat. It can easily accommodate most charcoal grills, ceramic grills, smokers, and fryers. This GrillTex mat (learn more) is designed in a way to protect most patio, deck, or garage floors from sauce, grease, oil, and water.
Made from 100% recycled rubber, this grill mat provides a much needed protective barrier between the grill and surface. Whether you are rustling up a quick meal for your family or cooking for friends, placing this mat under the grill can collect all the spills and splatters. Thus, your concrete or wooden surface stays stain-free and protected.
The synthetic rubber mat is highly heat resistant, so it can easily sustain high temperatures up to 500 degrees Fahrenheit. To clean the mat, you simply need to rinse with soap and water from a garden hose. The manufacturer backs it up with a one-year limited warranty against manufacturing defects.
Product features and specifications
Measures 72 x 39 x 0.11 inches
Weighs 8.8 pounds
100% recycled synthetic rubber
1-year manufacturer warranty
Anti-microbial
Heat resistant
Non-absorbent
Easy to clean
Made in the USA
User/ Customer reviews
Most users have said that the rubberized grill mat works as advertised and shields all types of floor from getting damaged from spills. Some users have warned that the rubber mat is thinner than expected for the price. A few customers have also warned that it can discolor a painted deck and there's a chemical smell when you open the box, but it goes soon after.
Conclusion
If you are looking for a high-quality grill mat that can easily accommodate standard size grills and absorb all the spills to protect your concrete floor, then this is a good choice. However, it may not be suitable for a painted wooden deck or rough areas.
---
Whether you have a gas or electric grill, sauce and marinade spills are common even for the most experienced barbeque specialist. You can protect your concrete patio floor with this 30" X 48" Premium Gas Grill Splatter Mat (learn more) from the house of Montana Grilling Gear.
Made from soft, absorbent, and PVC-free material, the grill mat is capable of easily collecting all the liquids (marinades, sauces, oils) spilling from grill grates. They fall on the eco-friendly mat and get absorbed, while the leak-proof backing ensures that the spilled liquid don't get through.
We love this mat because it not only looks great on the patio, but the size also perfectly accommodates most standard grills. They are capable of shielding most surfaces (patio or deck) from getting permanent stains, splatters, or damages that may require costly repair work later on.
Product features and specifications
Measures 48 x 30 x 0.12 inches
Weighs 11 ounces
Eco-friendly and PVC-free material
Absorbent fabric
Non-skid backing
Protect Decks and Patios
User/ Customer reviews
Most people are thrilled with how the soft fabric mat protects the deck to keep it looking like new. Users feel that the grill mat perfectly accommodates a standard grill and works well in all types of weather. A few customers have complained that it did not work for their composite deck, so you should be careful about using it only for compatible surfaces.
Conclusion
If you are looking for a grill mat that can protect your patio area form getting permanent stains or damage while cooking outdoors then this is a good choice. Whether you have a concrete patio or wooden deck, it should work fine for both, but remember to not leave out when it rains.
---
The sauces, marinades and juices are meant to enhance the taste of your food, not to damage the concrete patio floor. The Drymate Gas Grill Mat (see Amazon) is made of high quality absorbent material that soaks in all the mess to protect your expensive patio, deck, or other surfaces from grease, and food stains.
The mat sports a non-slip and skid-resistant backing that helps in keeping the mat in its place and prevents it from moving around. Made from high-quality polyester fiber, the grill mat is designed to last for long and withstand any type of barbeque mess.
As the mat is Phthalate and BPA free, it is safe for the environment. When the mat gets dirty, you can clean it by simply cleaning with water and soap. You may also toss it in the washer to get the best results, but remember to not use bleach and always hang dry.
Product features and specifications
Measures 29 x 60 x 0.13 inches
Weighs 1.75 pounds
Made in the USA
Easy to clean
Eco-friendly and durable
Non-Slip Water-Proof Backing
Safe for pets
Made from 100% recycled materials
User/ Customer reviews
People are happy and satisfied with using this grill mat to successfully protect their light-colored patio from getting ruined. Users have said that the mat withstands rough handling and take a lot of beating from numerous grilling sessions. A few customers have mentioned that although this mat does not look cheap, it is definitely not heavy duty.
Conclusion
This is a well-designed, light and easy to sue grill mat that lays flat on the surface and soaks any liquid spills on it without letting it get through. However, bear in mind that this is not a heavy-duty product so avoid leaving it outside in the rain. If used with caution, it gives you good value for money.
---
This Gas Grill Splatter Mat by Diversitech uses advanced technology that allows optimum absorption of high temp liquids dripping from a gas grill. Made from 100% recyclable materials, the gas grill mat has a heavy-duty absorbent surface that protects concrete patio and wooden decks from damage.
This grill mat serves as a reversible deck protector, so you may use both sides to trap grease and other liquids that drip from your gas grill. We love that fact that the manufacturer has taken care to design a mat that has a non-woven surface that will not stick or adhere to composite decking.
The mat comes in two sizes to fit 48-Inch small sized grills and -Inch for grills for patio or deck area. The manufacturer claims that the mat can absorb five times its weight in liquids. It can protect all types of surfaces including concrete, wood, stone, brick, slate, and composite decking. However, you must avoid leaving it outside to remain wet for a long time.
Product features and specifications
Measures 30 x 0.25 x 60 inches
Weighs 1 pound
100% recyclable material
Heavy duty absorbance
Compatible with all deck surfaces
Non-woven fiber material
User/ Customer reviews
Most users have said that the grill mat is durable and does not stick to the patio or composite deck surface, making it easier to use. People are also happy that cleaning the mat does not take too long, so maintenance is low. A few users have said that the mat feels thin than they expected and can blow away if there's too much find.
Conclusion
If you are looking for a well made and durable barbeque floor mat that you can use to protect your patio or deck from platters and hot drips then this is recommended. However, it may not be suitable for windy areas and make sure you don't leave it wet for extended periods.
---
Who likes to see stains and damages on their beautiful patio after an enjoyable barbeque session? Protect all surfaces with the help of this high quality and flexible grill mat made from waterproof PVC material. You may adjust the mat depending on the size of your grill to save from oil and grease.
The mat has just adequate absorbing capacity to take in all the liquid spills and drippings such as sauces, marinades, and melted fat. As the mat is waterproof, you don't have to worry about it getting soaked in rainwater if cooking outside after a drizzle.
Taking care of the rubberized grill, the mat is extremely easy and you just need to clean with water from a garden hose, to get it clean and looking new like before. It is specially designed for a gas grill and it is durable enough to take a lot of beating.
Product features and specifications
Measures 12.4 x 8.8 x 1.8 inches
Weighs 4.74 pounds
Made from PVC material
Easy to clean
High-quality deck protector
Tough and durable
No assembly needed
User/ Customer reviews
Most customers feel that this protective grill serves its purpose perfectly and provides a good cushion between the grill base and the concrete floor. Users have said that for the given price, they definitely got a good deal that is waterproof and absorbs the dripping liquid and juices. A few customers feel this could have been thicker and more durable.
Conclusion
If you are looking for a perfect grill mat that you can use with any standard size barbeque to protect the patio or deck then this is it. The mat looks good and does its job perfectly. At this price, don't expect it to last too long but you get good value for your money.
---
Resilia grill mats resonate with quality and they are loaded with a lot of benefits and key features to ensure liquid spills from the grill and chemical spills from a vehicle. Due to its strong slip resistance, endurance capacity, and textured patterns, it can also be used in the garage for parking.
As the grill mat is made from heavy-duty, phthalate-free and flame retardant PVC vinyl material, it protects a concrete or wooden surface from oil, grease, rust, charcoal, and so on. The grooved texture of the eco-friendly mat is useful in channeling the dirt and liquids dripping from the grill.
Made in the USA, this rubberized mat comes from a family-owned company. Due to its waterproof features, it is more durable for outdoor use. Taking care of the mat and cleaning it up is easy. Just wash off the dirt and liquid spills with a garden hose and it will look like new again.
Product features and specifications
Measures 48.2 x 4.4 x 4.4 inches
Weighs 11.33 pounds
Heavy duty protection
Easy clean up
Eco-friendly material
Made in the USA
Flame retardant and flexible
Decorative embossed diamond pattern
User/ Customer reviews
Most people have used the grill mat for various models such as Char-Broil Electric Smoker and Weber Genesis BBQ with full satisfaction. A few users have said that the mat comes rolled up and goes flat when unrolls and does not stick to the surface. A few customers have gone to the extent of calling this the best grill mat in the market.
Conclusion
Whether you are using a grill or a smoker, you need to use a heavy-duty and durable grill mat like the Resilia – Grill and Garage Protective Mat (shop now). Although it is not a flashy grill accessory, it is practical in use and extremely easy to clean with water. Overall, a great product you must have to protect your concrete flooring.
---
Related Questions
How far should the grill be from the house?
As per the United States Consumer Product Safety Commission, the grill should be at least 10 feet away from the house or any building. You should also avoid using your grill in an enclosed space such as a shed, garage, or porch.
Where should you keep a grill on the patio?
If you are grilling on a patio, you would suggest that you keep it on a clean and flat surface, away from any potentially flammable debris, such as mulch and rubbish bins. You should also keep the grill away from low lying trees, low hanging branches, and hedges.
Can I have a grill on my balcony?
Many states do not allow the use of grills on a balcony. The California Fire Code, for example, prohibits grilling on an apartment balcony or patio. Hence, we suggest that you find out more about your state laws regarding grilling at home before trying it. Even if you do, make sure you use safety tools protective accessories such as a grill mat, fire extinguisher, and so on.
See Also:
Is Grill Mat Toxic? Read This First!
How To Use Grill Mates Marinade?
How To Grill Frozen Burgers? Read This First!
What Is The Standard Grill Size?