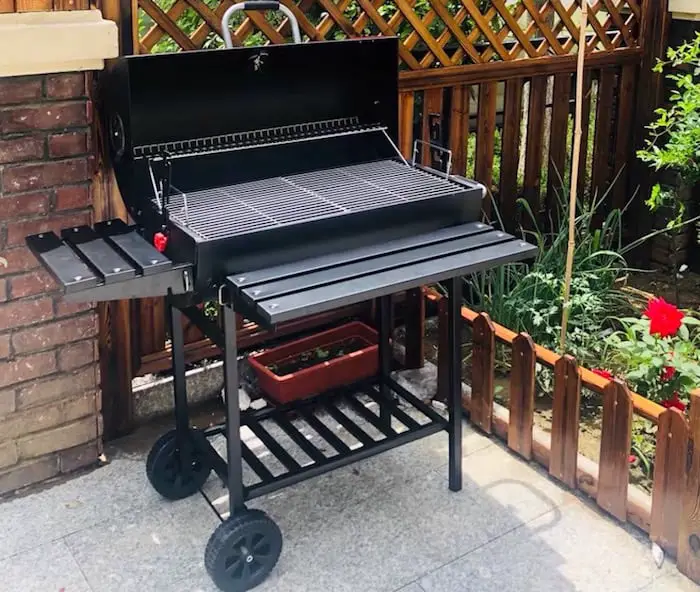 Is there anything better than the smell of freshly grilled salmon, juicy hamburgers, and hotdogs on a summer evening? If there is, I can't really think of any. Nothing says outdoor get-togethers better than grilled meats and veggies, but if your grilling experience gives you more rust and flare-ups than fun then you may need to get yourself a new grill.
So, what is the standard grill size to consider? A weekend use grill for making hot dogs and hamburgers should be at least 360 square inches (24" wide and 15" deep). The standard size of a grilling appliance meant to feed several mouths should be about 400 square inches. Larger models can go up to more than 1200 square inches.
The cooking area for grills is usually measured in square inches and includes the cooktop areas and warming rack. If you are buying a grill for the first time, 450 square inches is a good starting point for a family or for small get-togethers. To give you a better idea – a 450 square inch grill grate can accommodate more than 20 hamburgers at a time.
In the case of gas grills, the burners are an important factor to consider when determining the standard size. Two burners are standard, while four is ideal. However, you may want 5-6 burners for a large family or if you frequently enjoy entertaining a larger crowd.
Choosing the Right Grill Size
As mentioned above, the ideal size for each buyer may vary depending on his specific needs. Now that you know what the standard grill size is, consider the number of people whom you frequently plan to cook food for. This will help you determine how much grilling space is ideal.
If you are unsure about the perfect size for you, here's a quick guide to help:
200 square inches of the cooking area is perfect for 1-2 people (this is typically the size of small, portable grills)
450 to 500 square inches of the cooking area is adequate for a family of 4-5 members and can cook up to 20 hamburgers at once.
550 to 650 square inches works best if you have a large family or you like to entertain often.
Different Types Of Grills And Their Specifications
When buying a new grill, don't go by price or mere recommendations alone, but choose the model that best suits your style. Do you value speed and convenience more than anything else? Are you after that authentic smoky flavor? There are so many things to consider beyond just choosing between charcoal or gas grills. Read on to find out more about the different types of grills and their specifications.
1. Charcoal Grills
Also known as kettle grills, these are so named because they are powered by charcoal briquettes and firepower as a fuel source. They are an easy and fun way to enjoy grilled food in your backyard, while camping, or for tailgating. Heat distribution is designed in a way to give you a direct hot zone for browning and searing, as well as indirect heating zones to cook food more slowly.
Although cooking on a charcoal grill is more expensive and time-consuming than cooking on a gas grill, many people prefer the former. The unique charred flavor and aroma you get from food cooked on a charcoal grill make it particularly sought-after, especially when using natural wood.
Salient features
A traditional grill cooks at 700°F with no temperature adjusting knobs
Enhances the flavor of food with the smoky effect of charcoal
Fuel lights up quickly with the coal chimney starter
Takes time to heat when compared to electric or gas grills
Needs extensive cleaning because charcoal creates a lot of ash
Advantages
Cooking on a charcoal grill is best for the purists and traditionalists who long for that old-world smoky flavor in grilled meat and veggies. The only way to get that effect is by cooking with a charcoal grill. As coal burns at a much higher temperature than gas, it allows the grill masters to sear the meat easily. It also gives you that romantic charm that you can't achieve with contemporary gas grills.
Downsides
The high cost of charcoal and the time involved in preparing food using a charcoal grill makes it a poor choice for speed. You can't just heat it up and cook something on it when you are super hungry. Starting the coals and heating up the grill to get it ready takes about 45 minutes. When you are done cooking, you will also need to spend extra time cleaning the grill and removing the ashes.
Things to consider
The traditional charcoal grill is usually round in shape, with the kettle-style grills produced by Weber being among the most popular. While other companies later came up with different sizes and shapes, none provide that perfect smoky flavor like kettle grills. They are also best at retaining heat and ensuring shorter cooking times.
The horizontal barrel grill is another popular option,  which were originally built using steel oil barrels cut in half. If you attach a side firebox, they can also be used for smoking meat for longer durations at much lower temperatures. Some may come with a charcoal tray that can be lowered or raised to increase or decrease heat.
Similar to gas grills, charcoal grills also sport porcelain or plated steel bars. These should be able to give you those classic grill marks on food and the unit should be easy to clean. Iron bars are also a good option, but removing them for cleaning can be a chore. Stainless steel options are great but can be hard to find.
Price range: Basic models start from $100 and you can get a reasonable unit within the $150-250 range. Higher-end units may cost upwards of $2,000.
2. Propane or Gas Grills
Gas grills are the most common type of outdoor grills you can find in backyard parties and get-togethers. They may be fueled by natural gas or bottled propane that you can get from your utility provider. Most modern gas grill models are designed to use propane, but they can be converted to use natural gas quite easily.
If you use a 20-pound propane tank, it can give you 25 hours of grilling time and the cylinder can be easily refilled. Natural gas is comparatively less expensive, but you will need to install a gas line in your home. If you have access to a natural gas line, this is a much more convenient and affordable option. 
Salient Features
Grill heats up quickly and needs less cleaning time
Can achieve a temperature ranging between 400° and 600°F
Adjustable heat with temperature control knobs
Different heat zones for cooking, searing, and heating up food
May be used with wood pellets or charcoal for added flavor
Requires timely replacement and maintenance of burners, vents, valves, and heat shields
Advantages
This appliance works best for the impatient chef or hungry folks who want to heat up the grill quickly and cook food without much waiting time. With a gas grill, you don't have to worry much about the food being cooked through or about the cleanup later on.
Downsides
The biggest disadvantages of gas grills come in the form of flavor and price. As these appliances comprise of small smoker boxes, they produce less flavor than a smoker or charcoal grill. You can't get that smoky flavor without charcoal grills. Furthermore, even cheaper gas grills are more expensive than their charcoal counterparts.
Things To Consider
Lower-end gas grills usually come with black, aluminum bodies, and they tend to have one to two burners. Painted aluminum models will not corrode or rust easily, so you can leave them outside after a BBQ party without any worries.
For grates, I would recommend buying the porcelain covered grates that are made of steel bars. They can produce amazing grill marks and they are easier to clean, too. As you move toward more expensive models, you can expect to find a stainless steel body, 3-5 burners, and options for side burners etc.
Porcelain-covered bars are good, but I strongly recommend avoiding steel sheets. They look good when new, but the heat distribution is extremely poor, plus they are difficult to clean. Iron grates are superior in quality, but they need to be cleaned by hand. In general, stainless steel bars are the best overall.
Price range: Basic models may start from $100 and higher-end models may go for up to a few thousand dollars. Gas grills comprising of stainless steel bars can cost at least $5000 or more.
3. Electric Grills
Electric grills like this comprise of grill plates that run on electricity to cook food evenly without the need for fire. They are a great choice for apartments or condos where the use of gas or charcoal grills is not permitted. Both indoor and outdoor varieties of electric grills are available so you can even use them for barbeque parties. 
Electric grills are highly sought-after by city dwellers, as these appliances don't require anything except an electrical outlet located nearby. They are typically small in size, comprising of highly portable and tabletop models. Liquid smoke and marinades can compensate for the authentic flavors provided by coal grills.
Salient Features
No fuel expenses
less heating and cooking time
No preparation required and easy cleanup
Cooking method does not add any extra flavors
Advantages
Electric grills are the safest option for people who are prohibited to use gas or charcoal grills due to strict fire safety regulations in the neighborhood. Always remember to check the building regulations and local laws to ensure that the grill does not violate any official rules.
Downsides
While Electric grills are capable of producing results that look similar to their gas- or coal-powered counterparts, they do not produce the same taste as traditional grills. No matter how much you try to replicate that smoky flavor, it's mostly lost when cooking with electricity.
Things to consider: When you live a city apartment or condo, it is important to buy appliances that save space and offer more functionality, such as the George Foreman 4-Serving Removable Plate Grill.
Price range: The good news is that electric grills are quite affordable, and you can expect to find several models for less than $100, and some of the higher-end models with advanced features and accessories can go for up to $500.
4. Portable Grills
Portable grills (see details) are usually smaller in size, more lightweight, come with wheels, and are easier to carry from one place to another without much hassle. They are perfect for camping, tailgating, or simply for a get-together at a friend's place.
These models can be powered by both propane gas and charcoal. The main factor is that they are highly portable. You can also find portable grills that run on electricity. Some popular examples are the Weber 1141001 Go-Anywhere Gas Grill and Traeger Pro 780 Wifi Pellet Grill.
If you are looking for a portable option, I would recommend that you get a smoker that can cook food for a longer period of time at lower temperatures. They are similar to slow-cookers in terms of functionality. A charcoal or wood smoker can help infuse your food with more authentic flavors.
Advantages
If you enjoy spending time outdoors or having regular family picnics, then this is a perfect appliance to have in your car. They come in all of shapes and sizes. While there are considerably miniature-sized charcoal kettle grills available on the market, you can also find much smaller propane grills.
Downsides
The biggest downside of portable grills is probably the small size. You cannot cook food for a large crowd all at once, and if you are grilling food, you can expect to stay on duty all day!
Things To Consider
A portable grill should be lightweight, but it should also be durable. You would not want a model that falls apart right after the first outing. If you know that you will always be cooking for 4-6 family members or a large group of friends, look for a grill that has an adequate surface area to accommodate that amount of food.
Price range: You can find a portable outdoor grill for as little as $30, but they may not be durable. I would suggest paying a little extra to buy a good quality grill. Higher-end models with more features may go for up to $200.
Special Features To Improve Grilling Performance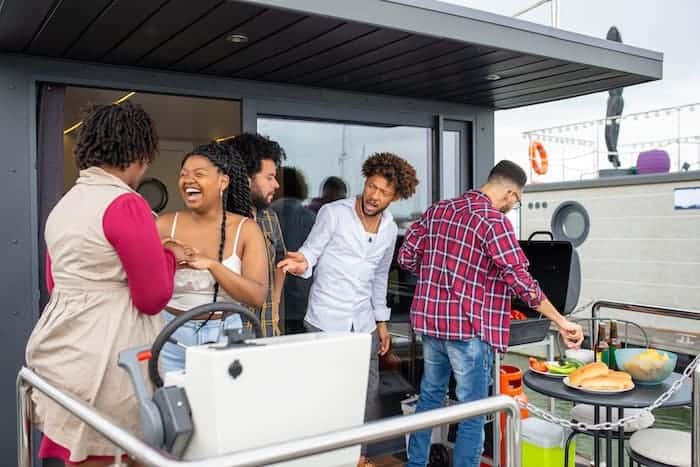 If you are planning to buy a new grill (be it gas-, charcoal- or electric-powered), you will find models that come with a wide range of special features. For the average consumer, it can be difficult to understand which features will be of most use. Therefore, I have broken down the details of some of these features for you to consider before making a purchase.
A metal burner shield protects the burner from dropping food juices. They also ensure even heat distribution.
Ceramic briquettes are lines at the bottom of the grill that absorb juices before they cause flare-ups.
Burner ports located on the sides of burners prevent clogging and flare-ups caused by marinades, food oils, or barbeque sauces.
Side shelves attached to outdoor grills help in keeping the plates and other grilling utensils together. You can also keep cooked and marinated meat or veggies here.
Electronic ignitions allow you to light the grill without any lighter or match, with just the push of a button. Heat-resistant handles also make cooking safer.
Built-in temperature indicators allow you to monitor heat without removing the lid. Grill thermometers help in adjusting the internal heat level so that food cooks at the right temperature.
Ceramic Rods arranged below the cooking grid aid in evenly distributing the heat. They also reduce the occurrence of flare-ups.
Indirect Cooking Ability helps in achieving the right temperature required for grilling more delicate foods such as chicken, fish, or vegetables
If you like to cook outdoors often, you should also invest in some grilling accessories such as grilling tongs, flavored wood chips, grill baskets, and grill covers.
Related Questions
Does grill design impact the grilling performance?
Grills vary widely in shape and size, and no two models are created equal. Some of the most common problems faced by even the most seasoned chefs include inconsistent temperatures, uncontrolled flare-ups, uneven heat distribution, and so on. The design of the grilling appliance and the presence of special features such as those mentioned above can help considerably in improving a grill's performance.
What is a searing zone?
The method of searing produces a gorgeous, burned crust that creates a delicious covering around the juicy interior of the meat. The searing zone typically comprises of a powerful burner that reaches very high temperatures to sear the meat, and then it completes cooking on the grill grate.
What is the purpose of a smoker box?
If you are a fan of traditional charcoal grilling, but your better half wants a gas grill, consider buying a model that comes with a smoker box attached. This helps in infusing grilled foods with a unique smoky flavor. Burning wood chips produces smoke that engulfs the food during the grilling process.
What is the use of a side burner?
Side burners are used as a convenient addition to prepare side dishes and sauces. They run on the same gas line or propane tank as the main grill. Besides cooking barbecue sides, they are also used for keeping the food warm over low heat.
How to clean a grill after use?
Most grill models come with a wire brush that should be used for removing food residue, ashes, and gunk post-grilling. Remember to always check the manufacturer's instructions before cleaning your grill. Grill grates can be cleaned by first using soapy water and then rinsing clean. For more stubborn stains, soak the grates in a solution of vinegar and baking soda, then scrub off caked food and rinse with water.