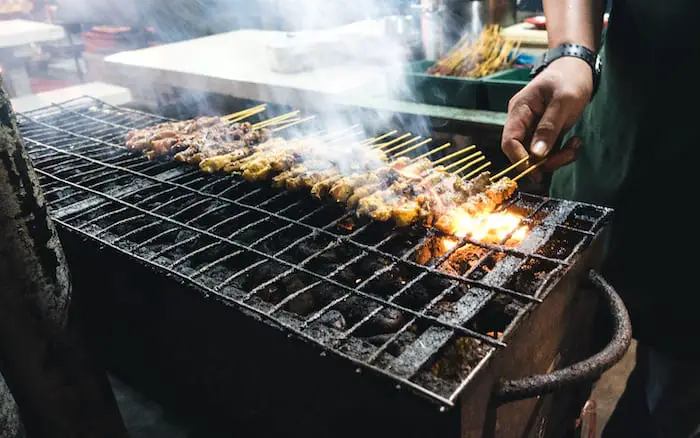 There's nothing like grilling on a lazy Sunday afternoon for your family and friends. While there's a lot to rave about the aroma, taste, and feel of enjoying perfectly grilled meat and vegetables while basking in the sun, no one likes the cleaning job post a great meal.
Sadly, there's no way escaping because if the grills are not cleaned properly, the equipment will not deliver an optimum performance next time. Good news is that you can make the task a tad less tedious and time-taking by using the best degreaser for grill.
The degreasers are created using a powerful formula to remove the toughest stains, grease, and dried food particles to make your grill grates shine like new. Most products these days are free of chemicals and toxins to ensure a safe and healthy outdoor cooking.
So, if you are in the market looking for the best degreaser to fight the stubborn stains, chances are you will be confused with so many options to choose from. We have made the decision making easier for you by taking care of the research part.
I have reviewed some of the best degreasers available in the market and selected a few handpicked products to help you choose the best one. Read on to find the unbiased reviews of each product along with the customer reviews and comparisons with competitors.
If you don't have the time to go through all reviews and need to quickly purchase a product then we recommend you to choose the Citrusafe Grill Cleaning Spray as it contains the power of citrus to give you an effective and natural cleaning. It leaves behind a refreshing smell that doesn't impact food and keeps your grilling area hygienic
This grill cleaner spray (see price) from the family of Weber does an excellent job of removing the caked-on stuff from stainless steel and porcelain enameled grates. It can save a lot of fuel that is uselessly wasted as a result of burning the stuck-on food. This charcoal grill cleaner is created to help you clean your grates to make them look like new in the safest manner possible. We are impressed to find that the product surpasses the international standards of biodegradability and has been certified as non-toxic. The USDA has also approved the grill cleanser as the safest product to use on charcoal grills.
The cleaner spray comes in a sturdy bottle with a safety nozzle. It is designed to work for all types of grills and cooking surfaces. To make the product work, you must first spray the degreaser over the areas that are soiled with marinades and grease. Allow the solution to penetrate the grease for at least one minute and then wipe clean with a wet paper towel. It does a great job at removing heavy build-up and grime. Just remember to turn off the nozzle before storing it.
Product features and specifications
Non Toxic
Contains 100% d-Limonene
Surpasses international standards
USDA-approved
Non-skin irritant
16 oz Cleanser
User/ customer reviews
Most users who own a Weber grill have used this degreaser/ cleaner and have been thoroughly impressed with the wonderful results. People are happy that this product is non-toxic and does not irritate the skin, hence it is obviously safe to use where you cook food. A few users have mentioned that it has a watery consistency and they wished it was thicker.
Conclusion
If you are looking for a safe yet effective degreaser that can remove the toughest stains on stainless steel and porcelain-enameled grills then this Weber product is the right choice. At this price, you get a good value for money and the brand speaks for itself.
---
Goo Gone is a trusted name in the cleaning industry and their grill and grate cleaner stands up to the expectations from this brand. The super-powerful gel works great on stained and coated grills to clean them like new and make the surfaces safe to use for preparing food. This effective cleaning solution does a great job at removing the toughest greases from the grills and grates to reduce flare-ups and smoke. It's safe to use on baked-on marinade deposits, caked-on food droppings, and grease.
While the Goo Gone cleanser (see price) is safe to use on all metal grill grates, racks, drip plates, and grill exteriors make sure you never use them on faux stainless steel or aluminum material. This biodegradable cleanser not only tackles the toughest stains but also prevents corrosion on the grill surface. To get the best results, let the grill grates cool completely before using. Apply the degreaser over the stains and caked food, leave for a few minutes and then wipe down with damp sponge or towel.
Product features and specifications
Contains 24 fl. Oz
Safe to use
Made in the USA
Super-strength gel
Formulated with Citrus
Useful for grates, drip pans, grill interiors
User/ Customer reviews
Most people have said that they are extremely impressed with the way this thing cuts through the grease and gives you an ultra-clean surface. Some people have mentioned that you may need to use a second coat of the cleanser to tackle the stubborn grime and caked-on food, but the degreaser does its job well. A few customers have said that unlike others who saw results in 5-10 minutes, they had to leave the grates covered in the solution for at least 20 minutes to get results.
Conclusion
If you are looking for a fast-acting degreaser that peels away grease to give you a clean and stain-free surface then choose this Goo Gone cleaner (see Amazon). As it's made of citrus, it leaves behind a light refreshing scent that does not mess with your grilled food. Overall, a great buy!
---
Keeping your home and appliances clean becomes easier when you have the right tools at hand, and the Stanley degreaser ranks high in our list of best grill cleansers. Based on a powerful phosphate-free and biodegradable formula, this product is capable of dissolving grease and grime in a matter of seconds to give you sparkling surfaces. It works with both soft and hard water to remove all types of stains and grease build-up. As a multi-purpose grill cleaner, it can also be used to clean cookware, broilers, countertops, tools, and equipment.
We are impressed to find that the Stanley degreaser (see price) is two times more concentrated than the competitor products and adheres with the highest quality standards. So, you just need to use half of the usual measurements to see caked-on grease and dirt dissolve within minutes. With just one bottle of 32 oz solution, you can enjoy the cleaning power of 32 gallons, hence this is also highly cost-effective. For extra convenience, you can find the degreases available in various sizes such as 1, 2, or 4 packages.
Product features and specifications
Comes in a pack of 2
Contains only 32 oz
Powerful biodegradable formula
Multi-purpose use
Trusted brand since 1931
Comes in different sizes
Dissolves grease in minutes
User/ customer reviews
Users are impressed with how little amount of the degreaser is needed to clean a large surface or grill grates with stubborn gunk. People have used powerful solution on everything from laundry to cleaning dishes with great results every time. Some customers have said that it's so concentrated that you can dilute and use, however that depends on specific user needs.
Conclusion
If you are looking for the best degreaser for grill grates to last for long and help you keep the house clean with minimal effort then get a Stanley cleanser today. The pack of two lasts a long time to give you a real good value for the money along with less time spent in post-grill cleaning.
---
Are you concerned about the toxic elements in a degreaser interfering with your food? Check out the Citrusafe Grill Cleaning Spray (see price) which comprises of the power of d-limonene or citrus compounds to bring for you a highly effective, and biodegradable cleaning spray. Manufactured by Bryson Industries, this is one of the finest degreases that is non-corrosive, non-flammable, non-toxic, and phosphate-free. We love the fact that Citrusafe does not compromise with safety to make its cleanser exceptionally powerful at cutting grease and stains.
With the help of a Citrusafe cleanser, you can do away with the step of burning your fuel just to remove the stubborn and dried food on the grates. As this degreaser is derived from natural ingredients, it does not irritate your skin. It can be used as a cleansing spray for microwaves, smokers, and cookers too. Citrusafe has a mild scent that does not interfere with the cooked flavors and cleans the grill naturally to improve the taste of your food.
Product features and specifications
Contains 23oz
Non-Flammable, Non-Corrosive, Non-Toxic
Biodegradable and Phosphate Free
Citrus-Based Degreaser
Great for gas and charcoal grills
Save money on fuel
Customer/ user reviews
Most people are in love with this degreaser and consider this a lifesaver after the grilling session is over because it takes so less time to remove the toughest gunk. People have also mentioned how safe it is to use as it does not contain any chemicals, hence you know your family's health is secure. Many people prefer buying this because it is biodegradable and environment-friendly without any toxic chemicals. A few users have cautioned that it is slightly overpriced.
Conclusion
If you are looking for a safe and effective BBQ grill cleaner that doe sits job as promised then consider buying the Citrusafe. Although slightly more expensive than other competitor products, this is a good investment to make if you like grilling often. Overall, we feel it offers a good price to performance ratio.
---
This cleaner and degreaser from the house of Zep Fast (see price) promise to take your grill cleaning efficiency to the next level. The fast and powerful grease-cutting ability of the product helps in easily removing the toughest stains, oils, grease, lubricants and caked-on food from the surfaces. We love the fact that the product has been pro-tested to work on plastic, metals, and various other surfaces so this one cleanser serves multiple purposes. Apart from cleaning the grill grates, the degreaser also works on grill exteriors, gutters, wheels, hard surfaces, and much more.
This Zep Fast 505 degreaser is a fast-acting formula that comes in a well-designed bottle with a nozzle to target the tough spots and stains using the trigger sprayer. As this product takes significantly less time to clean the surfaces and remove grease, it helps in keeping the working surface cleaner and healthier. Just apply the solution over the dried food, tough grease, and oil marks and let it work like magic to dissolve away all the gunk to give you a gleaming surface.
Product features and specifications
Come in a pack of two
Fast acting formula
Dissolves soils quickly
Removes grease, oils, and dirt
Can be used on grills, tools, and workspaces
Cleans metals, plastic, and hard surfaces
User/ Customer reviews
People who have bought this cleaner and degreaser have used the product for almost all types of surfaces with great end result. Users are happy to find a solution to get rid of the caked-on grease and grime over the grill grates after a grilling season. Most customers have mentioned that it helped them make the grills shine like new once again.
Conclusion
With the Zep Fast 505 cleaner and degreaser by your side, cleaning-up work does not look tiring or time taking anymore. With its quick-acting and powerful formula, this is clearly one of the best degreasers money can buy. It's worth the money you pay for it!
---
Don't want a great grilling session to end in tireless scrubbing? We have handpicked some of the best grill cleaners in the industry to make your task easy, so check out the Simply Kleen heavy-duty degreaser (see price). Although the name says, heavy-duty, it can be used for a wide range of domestic cleaning from grill grates and counters to grinders and machinery. It constitutes a powerful formula to cut through the most stubborn grease and stains to give you a shining and clean surface. The best part is that you can do away with the scrubbing and let the solution dissolve all the grease with ease.
This grill grates degreaser is specially formulated to work on all types of stains and gunk including oils, petroleum, fat, and grease. We love the fact that it can be applied to different types of surfaces, hence it works as an effective cleaner and disinfectant in nursing homes, hospitals, hotels, and manufacturing units. The solution comes in a one-gallon size jug and it lasts for a long time to give you a clean and healthy grilling session.
Product features and specifications
Made in the USA
Removes tough dirt and grime
Disinfects and cleans everything
1 Gallon size jug
Works on different surfaces
New-multiphase formula
Biodegradable and non-flammable
User/ Customer reviews
Users are impressed with the quick action and efficiency with which it cleans the grill grates, micro-ovens, and other surfaces. Some people have even used the product in their pressure washer and it delivered exceptional result, hence this is an all-purpose cleaner to have at home. Some customers have even remarked that their grills and kitchen counter never looked so clean.
Conclusion
If you are looking for a heavy-duty cleanser that takes the hard work and scrubbing out of cleaning grills then the Simply Kleen degreaser is a good choice. Just apply, leave for a few minutes to soak, and wipe down with a damp cloth or paper towel, and you are done. All in all, this is a multi-purpose degreaser for grills and all types of equipment and surfaces.
---
Different Ways To Clean And Maintain A Grill
Grills are our companion of good times with great food, wine, friends, and wonderful conversation flowing so it makes sense that we can take good care of these investments. While the degreasers and cleansers can make the cleaning task much easier, here are a few cleaning methods, tools, and appliances to show some extra loving care to your grilling equipment.
Gizmos and gadgets
If you look online, you will find a plethora of gizmos and gadgets available in all shapes and sizes to help you clean different types of grill. Some of our favorite and unbeatable cleaning tools of all times are a handheld wire brush, bottle-style brush, bucket, and some elbow grease. We recommend that you avoid any type of toxic cleaners as they can influence the taste, flavor, and health factor of foods cooked on the grill.  
You can make a natural cleaning solution at home by mixing warm water, a paste of baking soda, and vinegar, and some dish soap. If the grill exterior is made of stainless steel, bank on vinegar to give it a great shine. You may need a few disposable rags/sponges and a pair of hand gloves for the task.
Burn it using fuel
While this is an age-old traditional method to get rid of the stuck-on food tid-bits, we don't really recommend this method. Some people prefer the burn-it method by turning the flame at full temperature. When the grills cool down, dip the wire brush in a soapy solution and remove the carbon residue from the grates. In case of charcoal grills, the burned coals are simply dumped to the trash and the surface is wiped with a damp sponge or rag.
Soak the grates
This is another traditional method to clean the grates and in this method, the cooled grill grates, drip trays, and other removable parts are dipped in a bucket full of soapy water. They are allowed to soak for at least 15-20 minutes and then scrubbed lightly to get rid of the loosened grime and food particles. While this method works, it takes a lot of time and effort to clean, hence we prefer the grill degreaser/ cleansing solutions.
Use a vacuum cleaner
While the grill grates and other removable parts soak in the warm soapy water, you may use a wet/dry vacuum cleaner to suck up the gunk collected in the grill. Use a wire brush to loosen the dried up food, sauce, and marinades. Then use a vacuum to collect the loosened dirt. If your grilling equipment permits, use a hose to rinse clean the exterior after use.
Give a fine scrubbing
While the best degreaser for grill mentioned above saves you from the scrubbing job, a light scrubbing may be needed to loosen up the stubborn gunk. If the stains are too deep, make a paste of vinegar and baking soda and apply on the grill grates. Leave for 30 minutes and then scrub off. You may use a vacuum cleaner to remove the dried up baking soda residue.
Wipe the exterior
After you are done with cleaning the grill grates in whichever method you please, make a solution of soapy water and wipe down the exterior with a soft sponge or microfiber. Never use metal sponges or coarse pads as they may scratch the exterior surface.
Don't forget the accessories
When it comes to cleaning the grill, it's not just the grates which are of course the main part used for cooking but there are many other parts and accessories that help with successful grilling. These include the burner protectors, plates, burners, bottom tray, and so on. Use the cleaning solution to also remove any stuck-on dirt, grime, or food stains on them to add years to your equipment.
Tips For Cleaning Your Grill And Keeping It In Best Condition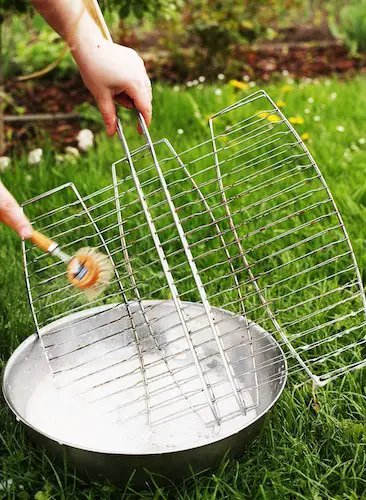 Always pick an overcast day for cleaning the grills. If you choose a hot and sunny day for the job, it can be hard for you to remove the streaks that cleaning solutions leave behind.
After you have cleaned the porcelain grates, check to see if there are any signs of chipping before putting them back into storage.
Check the burners of your gas grill for any signs of corrosion. If there is anything blocking the fame holes then it must be removed quickly.
The gas burner tubes are often inviting areas for insects or spiders to lay eggs. If the grill has not been used for a while, use a wire brush to clean the holes. A good quality wire bottle brush may be used to clean the inside of the tubes.
If your grill stands on the pavement area, we suggest that you keep a grill mat or tarp underneath the grates to collect any dripping grease, food, or debris. This will reduce the cleaning time significantly.
Make sure you clean the grilling equipment thoroughly at least twice a year and before every grilling season. If you are a grilling enthusiast and love cooking food outdoors often, we would suggest that you clean after every 5-10 uses.
Neglecting the cleaning part or leaving it for tomorrow or next time can shorten the years of your grilling equipment and may also result in accidents. So, use a fast-action degreaser for the grill when you are hard-pressed for time.
Keep safety in mind and never keep the grill in a garage, basement breezeway, carpet, or any other flammable surface. You must also ensure that you keep the grill at least 10-feet away from the house.
If you have gas grills, be careful when using the LP containers and make sure you always store them upright in a safe position. Never store them in your vehicle.
When you have kids and pets at home, be extra cautious while grilling and keep them away from a hot grill just like in case of a hot stove.
When hosting a barbeque party for friends, keep a spray bottle filled with water handy and don't put any decorations close to the grilling area.
Remember to turn on the gas only when the lid is closed and keep a fire extinguisher close by to handle any hazards promptly.
Related Questions
Is it safe to line the bottom of my grill with aluminum foil?
No, this is not a good idea. You should never line your grill with aluminum foil as grease may collect in the folds and lead to a fire. Reduce the time spent on cleaning grills by using one of the best degreases mentioned above.
Can you pressure wash a grill?
Some models like the Weber grill can be cleaned with a pressure washer. You just need to disconnect the propane tank, any electrical and connect the 15 or 25-degree nozzle to wash away the grime, grease, and detergent residue.
What happens if you don't clean the grill grates?
By not cleaning the grill grates, you will be exposing the fresh meat and vegetables to grime, gunk, and bacteria. This will become the breeding ground of germs and not only make your next cooking unhealthy but also reduce the lifespan of your grilling equipment. 
See Also:
4 Best Pellet Grills For Camping
3 Best Charcoal Grills For Kebabs
Can You Use a Charcoal Grill as a Fire Pit?