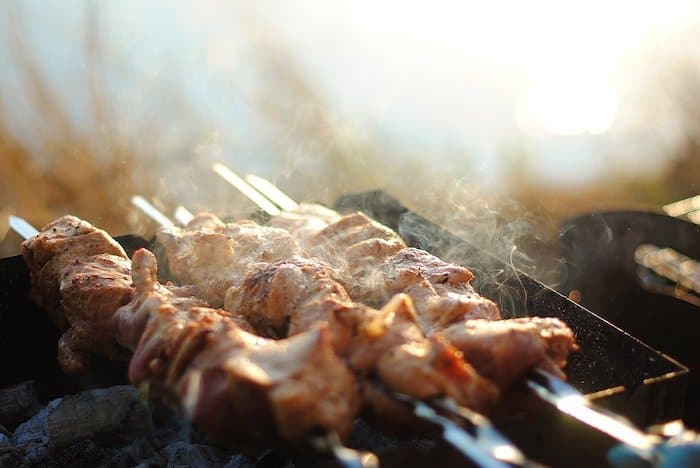 When you talk about grilled food, you can't miss out kebabs that scream summertime fun like nothing else.  There's just something about eating meats and veggies on skewers straight from the grill. Tender, spicy, and juicy, kebabs have a unique charm that attracts everyone with their aroma and taste.
If you are a grilling enthusiast then you must own the best charcoal grill for kebabs to treat yourself, your family, and guests with savory delights. Those who don't already have a charcoal grill and are out in the market to get one will find this post useful.
To make it easier for you to achieve the skills of a kebab maker of Istanbul or yakitori chef in Tokyo, we have compiled a list of the three best charcoal grills. We have reviewed over a dozen brands and models on the market to help you choose the one that suits you best.
Read on to find the complete review of each product handpicked by our team. If you are in a hurry to order then we would suggest our editor's pick – Charcoal Grill Barbecue Portable BBQ. It has a simple design and foldable legs make it easily portable to camping sites.
This portable charcoal BBQ grill is designed for your convenience while making kebabs at home. It includes four detachable legs that help make carrying the unit to the backyard, camping site, or any other place you want easy. It also comes with handles that make it easy to carry and store.
This barbeque grill works perfect for backpacking, camping, picnics, trailers, parks, tailgate parties, and grilling in the smallest places. Made from durable stainless steel material, the grill is resistant to high heat and corrosion, which make it very long lasting.
It is easy to assemble and set up the barbeque at any place, and taking it down after you are done with grilling is also hassle-free. The steel-plated cooking grates retain heat well and they are easy to clean too. The legs can be easily adjusted to match the height to your needs. 
Product features and specifications
Measures 15.9" L x 11" W x 8.8" D  (when assembled)                                                                
Weighs 3.78 pounds
Double air vents and ash catcher
Comes with all accessories
Detachable legs
Convenient handles
User/Customer reviews
Most people who have bought the product are pleased with the performance of the product as it works exactly as expected. Some people mentioned that the material appears to be a little thin but nevertheless, it is sturdy and durable. Users also mentioned that they were able to assemble the grill in about one minute.
Conclusion
The ISUMER Charcoal Grill Barbecue Portable BBQ (shop now) is a well-designed and sturdily built grill set that does not crack and lasts a long time, giving you many grilling sessions with friends and family. It can conveniently cook food for 4 to 6 people without any storing or assembling hassles. Overall, this little grill gives you great value for money.
---
This portable charcoal grill also by ISUMER is just what you need to get your summers sorted. It sports a detachable design with folding legs and side handles that make it convenient to transport the grill from one place to another to enjoy barbeque anywhere.
Made from high-quality rust-resistant stainless steel, this hibachi grill is built to last and won't rust even after several years of use. It is easy to clean and the anti-slip rubber at the feet makes the barbeque extra stable on whichever surface it stands.
The charcoal grill also comes with combustion vents that ensure good air ventilation for even heat distribution throughout the spacious cooking area. It makes the grill perfectly suitable for making kebabs, steaks, hamburgers, and other items.
Product features and specifications
Measures 28.7" L x 12.8" W x 26.81" D
Anti-slip rubber feet
Air ventilation design
Large grilling/cooking space
Two baskets for storing seasonings and foods
User/Customer reviews
Several users said that this portable charcoal grill is perfect for camping and outdoors as it is easy to assemble and the adjustable height makes it perfect for a camping chair. Many customers also said that the accessories and parts are easy to clean after use. A few customers mentioned that the compact size makes it perfect for use on a balcony or small patio.
Conclusion
The Charcoal Grill Kebab Grill Portable BBQ (shop now) is built for a family of four and comes with all accessories needed to assemble it at any place for a quick grilling session.
---
The third charcoal grill on our list is this Bestargot charcoal barbeque that is comprised of a foldable base, adjustable height grill stand, barbeque net, and storage bag. It is designed specially to grill enough food for 2-3 people and the foldable base makes it extremely portable to use.
As this charcoal grill is compact in size, it can be easily fit into any space and the handles make it convenient to carry from one place to another. Made from stainless steel, the grill is extremely durable and sturdy and will last quite a long time.
We love the flexible design of the unit that comes with three-level adjustments to make it convenient for all people to use. There is a tray with handles that can be removed and directly kept on the table to avoid multiple transfers of the food.
Product features and specifications
Measures 14.37" L x 13.58" W x 13.78" D
Weighs 19.93 pounds
Foldable design
High-quality stainless steel
Large cooking area with side handles
Flexible design
Easy to clean
Easy to assemble / separate
User/Customer reviews
Most users said that the size is really compact and easily fits into an RV although it's not for backpackers. Several customers said there is a catch tray at the bottom to collect any grease, oil, or ashes to ensure hassle-free cooking. People who have used the product said that the cooking space is large enough to fit several kebabs or 6-8 hamburgers.
Conclusion
The Bestargot Charcoal Grill Barbecue (learn more) is a flexible, portable, and adjustable kebab grill. If you are looking for a compact size that can fit into tight spaces then this is an ideal BBQ tool. At this price, we feel this is the best solution you can have for your grilling needs on the go.
---
Related Question
Why is it important to marinade before making kebabs?
While it may be tempting to transfer the raw meat straight from the fridge to the grill, marinating the meat can help you up the game. Even if you add a simple marinade such as lemon juice, olive oil, salt, cumin, and pepper, this can help bring out the best flavors.
What type of skewer is better – metal or wood/bamboo?
We prefer flat metal skewers over wood and bamboo ones as they can be reused and being flat stops the meat from sliding around. Furthermore, balancing metal skewers on the grill is more convenient for even cooking.
See Also:
6 Top Charcoal Grills for an RV
How Long Does A Charcoal Grill Stay Hot?
How to Refurbish a Charcoal Grill?
How to Get Charcoal Flavor on an Electric Grill?