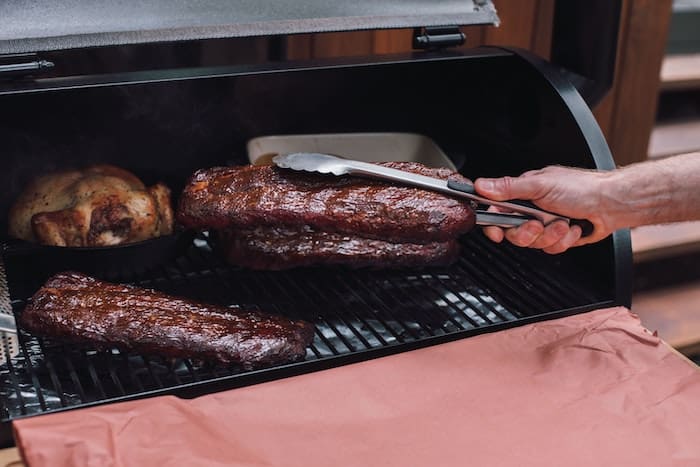 You don't have to wait for Thanksgiving to bring a turkey to your grill, but tackling one can sometimes be overwhelming. Many people get scared of having to look into a lot of things such as methods, proper thaw times, cook times, pellet grill capacities, and so on.
To make that perfect smoked hassle-free turkey any time of the year, we have compiled some really helpful tips and tricks. Most importantly we will help you choose the best pellets for turkey as this can create a lot of difference in the end result.
Our team has spent hours comparing and analyzing the different brands available in the market to take out the stress from decision-making. After careful analysis, we have chosen the three best pellets for smoking turkey. Read on to find a detailed review of each product.
If you are in a hurry to order then we suggest that you go with our editor's pick – Bear Mountain BBQ 100% All-Natural Hardwood Pellets for its gourmet blend. It gives that rich and smoky wood-fired flavor that goes with turkey, fish, and vegetables too.
To achieve that authentic wood-fired flavor and impress your guests, we suggest that you go with the trusted Traeger Grills blend of hardwood pellets (see Amazon) that come with an Orange Brine Kit. We love how this artisanal hardwood blend adds smoky and sweet notes to enhance the taste of your big bird.
Furthermore, let's not forget that all pellets are not created as equal and Traeger Grills PEL329 are made in American mills to give you that perfect taste every time.
Traeger has good experience under its belt to help you with mastering the hardwood pellets development with the right amount of moisture. This helps in maintaining the right burn-to-smoke ratio. As an all-natural product, it burns clean and does not cause any hazard to your health.
Product features and specifications
20lb Bag
All-natural pellets
Made in the USA
No Binders and low Ash
Oak, hickory, and maple hardwoods
User/Customer reviews
Most users said that the bag contains a good amount of high-quality hardwood pellets that are enough to smoke a big bird and last for a long time. People who have used the product are full of praise for the pellets and also the extra seasoning that made the turkey taste even more delicious. A few users warned that you should read the instructions before using the bag or else you may end up with a bad experience.
Conclusion
This is an all-inclusive kit that contains everything from quality hardwood pellets to seasonings and brine to smoke/cook your turkey to perfection. The kit is not only easy to use but also helps you discover the most authentic taste. Overall, we feel that it gives you a good price-to-performance ratio.
---
If you are looking for a secret to add that rich smoky flavor to your grilled turkey and achieve that restaurant-like taste then check out the Bear Mountain BBQ pellets. These pellets are created from a good selection of high-quality hardwoods and are free of any binders or fillers.
This mixture of 100% all-natural hardwood pellets pair perfectly with any fish, meat, poultry, or vegetable items. When you use this product, it infuses an all-natural, sweet, smoky, and robust flavor to the grilled dishes. The pellets can be used in gas, charcoal, or electric grills and smokers.
Made in the United States, these hardwood pellets come in different flavors such as hickory, alder, pecan, apple, oak, maple, cherry, mesquite, and more. The low-moisture BBQ pellets work well with most brands of grills, such as Louisiana Grills, Traeger, Green Mountain Grills, and Pit Boss.
Product features and specifications
Weighs 20 and 40 pounds
The balanced sweet, smoky flavor
Made from 100% All-Natural premium hardwood
No binders, fillers, or additives
Made in the United States
Infuse robust flavor and tenderness
User/Customer reviews
Those who have bought the product are extremely impressed with this custom blend of hardwoods such as hickory, maple, cherry, and oak. Some people also said that it delivers a good performance with classic barbeque items like ribs, Boston butts, and brisket. Users are also pleased with the consistency of the product that gives them a perfectly authentic taste every time.
Conclusion
Bear Mountain BBQ hardwood pellets (shop now) are undoubtedly one of the 100% all-natural products that promise to give you authentic smoky-flavored turkey every time. If you don't want to take any chances and desire that perfect flavor consistently then this product is certainly worth considering. Overall, this is a good investment for perfect grilling!
---
The next product on our list for best pellets for turkey is CookinPellets that are comprised of a perfect mix of hardwoods such as hickory, maple, cherry, and apple. The manufacturers claim that they use heartwoods from the center of the log and not the bark to make pellets.
CookinPellets only use the authentic four 100% hardwoods without any oil or fillers, hence they are perfect for short cooks and long smokes. It gets a good score for the smoky flavor, taste, and overall value when used for a longer duration too.
There is no chemical in the product, hence no smell when the pellets burn leaving only the authentic hardwood aroma to infuse into the meat.
Product features and specifications
Weighs 40 pounds
Top 4 hardwoods
100% all-natural
No oak or alder filler
Perfect mix pellets
User/Customer reviews
Users said that these pellets heated well and the flavor that came out of them was really nice and authentic, making their turkey taste delicious. However, a few customers have warned that these pellets leave behind lots of ash, which makes clean-up a hassle.
Conclusion
If you are looking for a quality bag of hardwood pellets at a reasonable price then the CookinPellets 40PM Perfect Mix (see Amazon) is a good choice. However, let's not miss mentioning that the product did have some quality issues in the past with customers finding chunks of plastic in them. You should keep this in mind before opting for the cheap pellets for turkey.
---
The fourth and final product on our list is the Genuine Jim Beam Barrel cooking pellets from the house of Ol' Hick Smoker. These 100% all-natural oak pellets promise to add a unique flavor to your grilled food. As there are no artificial flavors, you only get the authentic aroma of hardwood.
The Genuine Jim Beam Barrel cooking pellets come in a thick and tear-resistant bag that keeps the pellets safe. As they are made from actual Jim Beam bourbon barrels from Kentucky, you get to enjoy an all-natural cooking experience.
This 20-pound bag has enough pellets to last for a long time. It can be used for grilling, barbecue, baking, smoking, roasting, or braising your food. Besides grilling turkey, the smooth aroma of bourbon also fuses well with beef, seafood, chicken, pork, desserts, and more.
Product features and specifications
Weighs 20 pounds
100% all-natural oak
Premium pellets
No artificial flavors
The smooth taste of Jim Beam
User/Customer reviews
Several users said that they liked how these pellets added different flavors and a nice aroma to their cooking. Some people also mentioned that the smoke flavor is light and subtle, so not an issue for those who don't want it to overwhelm the meat. A few customers did warn that although these pellets are nice, they are slightly pricier.
Conclusion
The best thing about Ol' Hick Smoker Cooking Pellets (learn more) is that you get a nice unique aroma from the bag and while it is used, the smoke remains for the entire session. The heat is consistent and they burn well while producing a moderate amount of ash as expected. Overall, we think this is one of the best forms of traditional pellets that money can buy.
---
Tips To Smoke Turkey Perfectly In Pellet Grill
Use a thermometer to consistently maintain the right cooking temperature while smoking a turkey to get the best results.
We suggest using the right size of a turkey, which should be a maximum of 15 pounds for food safety reasons.
If you bought a frozen turkey then you need to thaw it and it will take about 2-3 days to defrost by keeping it in the refrigerator.
Don't leave a frozen turkey on the kitchen countertop as this can lead to bacterial growth that is harmful to your health.
For brining, mix half a cup of salt and half a cup of sugar in one gallon of water. Now, submerge the turkey into this solution and let the brine infuse into the meat.
After brining, make sure you wash the turkey with cold water several times and pat it dry with the help of paper towels.
Always preheat the pellet grill for 15 minutes at a temperature of about 225˚F. Coat the seasonings on the outer skin of the turkey and rub some canola oil over it.
In a preheated grill, let the turkey cook for at least 30 minutes per pound of turkey. So, if your turkey is 15 pounds then the approximate cooking time would be 450 minutes or 7½ hours.
Remember to take out the smoked turkey from the grill and let it rest for at least 15 to 30 minutes before serving to guests.
Related Questions
Do you need a brine solution to smoke your turkey?
It is not necessary to brine a turkey before smoking it as some store-bought ones already come pre-brined. However, some people prefer to brine in order to add some extra flavor to the meat.
Should you cover the turkey while grilling it?
No, it is not necessary to cover the grill with a lid while smoking your turkey.
How many pellets are typically used in a pellet grill?
On average, a pellet grill will consume nearly half a pound of pellets for every two and a half pounds of meat per hour, based on the smoke settings. If the settings are higher, you may need to add more pellets as the turkey cooks.