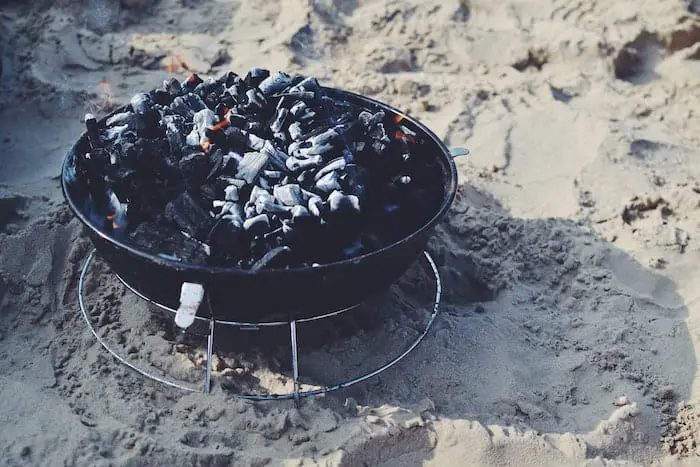 Is camping on your mind but you're wondering how to create a fire pit? Like many out there, you are probably also thinking about whether or not you can use a charcoal grill as an alternative. In this post, we will provide the answer to this question.
The answer is yes, you can recycle an old charcoal grill as a backyard fire pit to enjoy cozy evenings with your family or for use while camping. As we know, charcoal is essentially wood that has been burned in an area deprived of oxygen, but it can still burn more to generate heat. It also works as a good option if you are looking to use the fire pit for cooking purposes.
Let's take a Weber charcoal grill for example. When it loses its shine or starts showing signs of decay such as rusting, you know it's time to get a new grill. But what to do with the old Weber kettle grill? There may still be some life left in it, so why throw it away?
Charcoal barbecue grills are popular for their unique globe shape that works perfectly fine for use as a fire pit, with the help of a few other household tools. Aside from using the lower parts as an in-ground fire pit for gatherings with friends and family gathering, you can also grill hot dogs over it on a stick.
Let us show you how you can convert your old charcoal grill into a usable fire pit. However, please remember that this project is only suitable for Weber charcoal grills.
Steps To Convert A Weber Charcoal Grill To A Fire Pit
# Step 1
To use your Weber charcoal grill as a fire pit, you will first need to remove and set aside the dome, charcoal grate, and cooking grate.  
# Step 2
Next, you will need to remove the screws that hold each of the three legs and keep the Weber grill in place using a screwdriver. You will now need to pull each leg out of the tube that is welded to the bottom of the grill.
# Step 3
You should now take out the two screws that hold the handle to the side of the charcoal grill.
# Step 4
Take a measuring tape and measure the depth and diameter of the grill without the dome lid.
# Step 5
Now, dig a hole on the ground using a shovel and make sure that it is an inch deeper and an inch wider than your grill. For the Weber grill, it should be 18 inches deep and 25 inches in diameter, without using the dome lid. You will also need a hole that is 19 inches deep and 26 inches in diameter.
# Step 6
Now, you will need to close the vents that are located on the side of the Weber charcoal grill and lower them into the hole. Push the grill inside firmly to ensure that it is properly seated in the ground.
# Step 7
After you have set the Weber grill, you should now pour the ornamental rock or gravel around the outside perimeter of the grill to cover the gaps between the surrounding dirt and the grill. We would suggest that you spread a circle of ornamental rock or gravel around the edges of the grill over the ground. You may make this circle as wide as you want to give your backyard a decorative touch.
# Step 8
Now, place the charcoal grate into the Weber grill in order to support the wooden logs when you build a fire in the newly built fire pit. When not in use, remember to cover the fire pit with the grill dome to prevent any accidents.
Advantages of Having a Charcoal Fire Pit
If you are wondering why you should get a charcoal fire pit, then we have compiled some advantages to help you make a decision. Read on to find out more:
A place for small gatherings
If you wish to host a small gathering , a fire pit can become the main focus to add to the ambiance of the evening. Your guests can gather around to eat, drink, and have a fun time. It gives you a nice space to host guests for a memorable evening.
Cooking
Your charcoal fire pit can also be used in the summer to cook a variety of delicious dishes. It can come in handy when you need to grill hotdogs and steaks and roast marshmallows over the fire pit. You will also need a few accessories such as pots, pans, and grill plates.
Heat
A fire pit can give you a source of heat and warmth in your backyard for your family and friends to come for a get-together every now and then to bond over fun times.
Adds to home value
If you are thinking of selling your home, adding a fire pit to the backyard can considerably boost the property value. Homebuyers will be impressed when they see a modified or improved backyard, and the likelihood of them buying your property increases.
Tips for Fire Pit Safety
In the past few years, the backyard fire pit has been growing in popularity. While they are great for family gatherings and roasting marshmallows, you must also make sure to follow some safety tips:
Check the local law
Please bear in mind that different neighborhoods, boroughs, and townships tend to have different laws and regulations regarding open flames on the property. Make sure you check the local laws before building a fire pit in your backyard.
Beware of weather conditions
Always pay attention to the weather forecast before planning a gathering for family or friends around the fire pit. If there is a drought, then once again, you may not be allowed to have an open flame in the neighborhood.
Location and placement
Just like with grills, a fire pit should also be placed at a safe distance from your home. As a rule of thumb, make sure you keep it at least 10 to 15 feet away.
See Also:
7 Best Gas Charcoal Smoker Grill Combo
How to Get Charcoal Flavor on an Electric Grill?
How to Secure Your Grill from the Wind