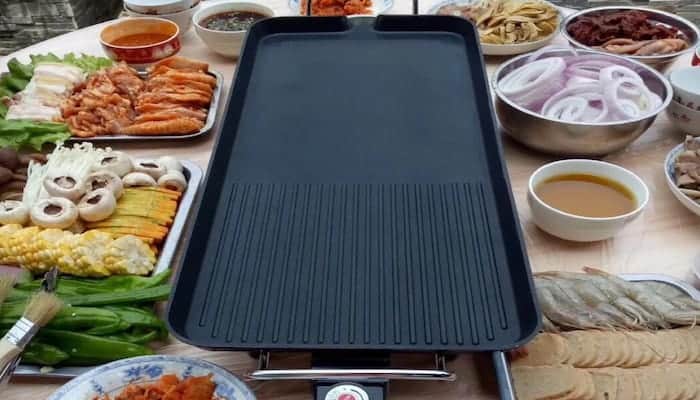 If you live for the joy of grilling and rustling up juicy steaks, pancakes, quesadillas, potatoes, seafood, fish, and veggies then you must invest in the best grill and griddle combo. Even if you make a simple breakfast on your griddle combo, your tastebuds will thank you for the wonderful experience.
While grills come in a wide range of shapes and sizes, the grill and griddle combos stand out for their versatility and ease of use. There are many other things you may need to consider when looking for the best-suited product for your specific needs, which we will discuss them later in the article.
As a first time buyer or someone who's looking to upgrade an old model, it's natural to get confused with so many different brands and models. To ease your decision-making and help you hit the bull's eye, we have created a list of some of the best grill and griddle combos.
After trying, testing, and reviewing several combos, our team feels that the Blackstone Grills Tailgater is the most durable yet portable unit powered by propane gas. If you are looking for an indoor grill and griddle, get the IKICH electric smokeless unit that has a non-stick 2-in-1 surface.
| | | | | | | | |
| --- | --- | --- | --- | --- | --- | --- | --- |
| Features | Blackstone Grills Tailgater | Royal Gourmet | Secura Smokeless | MegaChef Dual Surface | Hamilton Beach | IKICH Electric | MegaChef Dual Surface |
| Grill/ Griddle | 2-burners | 4-Burner | 2 in 1 Cast Iron Plate | Reversible plate | 3-in-1 plate | 2-in-1 Grill/ griddle plate | Reversible plate |
| Top surface | Barbecue Box / Griddle plate | Griddle Flat Top | Nonstick | Non stick surface | Nonstick | Nonstick | Non stick surface |
| Extra features | Adjustable Legs | Folding Legs | Glass Lid | Removable Glass Lid | Bacon Cooker | Cool-touch Handle | |
| Drip Tray | Yes | Yes | Yes | Yes | Yes | Yes | Yes |
| Cooking space | 16×16 inch | 584 inches | 15.5"x11.5" | 15″ by 11″ | 100 sq. in. | 16.73" x 8.94" | 15″ by 11″ |
| Dimensions | 52 x 24 x 38.5 inches | 66.1 x 21.8 x 43.7 in | 22.5 x 5.25 x 15.5 in | 19.5 x 14.5 x 4 in | 13.9 x 7.2 x 16.9 in | 18.9 x 10.6 x 7 in | 19 x 16 x 4 inches |
| Weight | 75 pounds | 103.6 pounds | 13.6 lbs |  6 lbs | 10 lbs | 6.7 pounds | 8.25 pounds |
| Material type | Cast Iron | Steel | Cast iron, Plastic | Aluminium | Plastic | Aluminum | N/A |
| Source | Propane | Propane | Electric | Electric | Electric | Electric | Electric |
---
Since 2015, Blackstone has been making reliable grills with griddles to bring families and friends together. Blackstone Grills Tailgater (show now) stands out for its portable setup that requires no assembly and can be used out of the box. It's the thing you will love to take out to parks, the woods, or your backyard for anytime camping. Adjustable legs enable you to cook on any terrain and still stay stable. The grill grates are made of cast iron, while the griddle plate is made of cold-rolled steel, with powder-coated exterior finish.
The unit is comprised of two hot burners that let you cook different styles of food simultaneously. Slow simmer on one side while cooking fast and intense cooking on the other. Put up the grill box and you can grill meat, fish, and veggies up to 500+ degrees to get those lovely grill marks. You may also reduce the heat and enjoy flat cooking on the griddle pan. Besides two different cooking options, you also have the liberty to remove either side to get access to the other.
Product features and specifications
Measures 52 x 24 x 38.5 inches
Weighs 75 pounds
Adjustable legs
Barbecue box
Two 16×16 inch cooking surfaces
Stainless steel H tube burner produces 15,000 BTUs
Cast iron burner can produce 20,000 BTUs
Satisfaction Guarantee
With Cover and Griddle Tool Kit Bundle
User/ Customer reviews
Most users are happy with the sturdy construction and adjustable legs of the unit, which doesn't make it feel cheap despite being a portable product. People are also impressed with the modular design that provides more cooking options, such as removing the grill box to use it as a separate propane stove.
Customers find this grill and griddle combo perfect for camping outdoors or for use at home. A few users cautioned about the screws and bolts coming out. Some were missing screws altogether and had to contact the support team who were quick to offer solutions.
Conclusion
Whether you are planning to go hunting, fishing, or tailgating, the Blackstone Grills Tailgater is a great companion to meet your outdoor cooking needs. If you have a big group or a large family, this product can handle different types of cooking and prepare a lot of food quickly. All in all, it gets a thumbs up from us!
---
When you want a portable BBQ that offers immense cooking space, and combines the benefits of a grill and griddle, check out this product by Royal Gourmet. We love how easy it is to install this unit in your backyard or rough outdoor terrains. It comes with double cooking surfaces that can be exchanged as per the user's convenience. Both provide a combined cooking space of 584 square inches, which means you can have chicken breasts cooking on one side and sear vegetables on the other.
The combo unit sports four stainless steel burners so that means four separate cooking zones, with 12,000 BTUs provided by each burner. We like the two side tables included in the design for additional workspace. Other accessories include a bottle opener and cart with hooks to store BBQ tools. The four caster wheels make it easier to transport from one place to another, and the folding frame makes it convenient to store. You just need to light up with the push of a button and enjoy good times outdoor.
Product features and specifications
Measures 66.1 x 21.8 x 43.7 inches
Weighs 103.6 pounds
Four gas burners
Griddle flat top
Folding legs
Versatile camping stove
Two side tables
584 square inch cooking surface
Grease drip cup
Dual cooking surface
User/ Customer reviews
Most users seem to like the sturdy construction, heat distribution, and overall performance of both the grill and griddle. However, one common issue faced by several customers is that the product came slightly damaged with a few parts bent or scratched, so the company really needs to improve the packaging and shipping.
The saving grace for most customers having packaging issues is that customer support is extremely friendly and helpful. The grilling unit comes properly seasoned, so users can use the product as soon as they have installed it. A few customers have cautioned that the combo unit is heavy and needs to be folded in order to transport.
Conclusion
If you ignore the shipping mishap often created by the company, this is one of the best grill with griddle combo money can buy. The product is not only brilliantly designed to cook great food for a large group, but it also feels sturdy and nice. Overall, a great product if you don't mind having a little patience to fix the bent parts and dismantle it while transporting.
---
If you don't want to get into the hassle of building and dismantling, then check out this cute little grill with griddle combo from the house of Secura. This smokeless indoor grill and electric griddle combo comes with a non-stick and reversible cooking plate measuring 15.5×11.5 inches. This gives you a large cooking space of 180 square inches to allow you to make a lot of food at once, and move them around with ease while grilling or BBQing.
This compact 2-in-1 takes less counter space and helps you with both indoor cooking and outdoor grilling. We love the design with a glass lid to prevent splatter and retain the heat for faster cooking. The cool-touch handles make it easier to use when hot and the removable grease channels are handy to drain excess fat. It runs on 1800 watts of power and comes backed with a 1-year manufacturer's limited warranty.
Product features and specifications
Measures 22.5 x 5.2 x 15.5 inches
Weighs 13.6 pounds
120V 60Hz
180 square inch cooking surface
Heavy duty cooking plate
Heating indicator light
Adjustable thermostat control
Cool-touch handles
Drip tray
User/ customer reviews
People are thrilled to find such a lightweight and portable grill and griddle combo that offers a reasonable cooking area, grills well (with some grill marks) and is easy to use. People find that the surface heats up really well with even heat distribution throughout. It also comes apart easily for convenient cleaning.
A few customers mentioned that the grease pan eats up valuable grilling space and grease often seeps to the bottom of the grill. However, you can avoid this if you buy lean cuts of meat. Some users have also complained that cleaning the mess after cooking is slightly challenging as small food particles get stuck at the backside of the grill.
Conclusion
The Secura Smokeless indoor grill (shop now) delivers amazing performance, considering that it's an electrical appliance. If you have a small family and wish to treat your tastebuds with some great BBQ food, this is a good investment. It can comfortably cook food for two. You get what you pay for!
---
Are you looking for an indoor BBQ unit that can help you prepare mouth-watering meals anytime? If you hate the hassle of having to set up and use a bulky grill, check out this product by MegaChef. It is a reversible indoor grill and griddle combo that sports a non-stick coating and glass lid design. Whether it rains or shines outside, this MegaChef appliance allows you to grill appetizing meats and vegetables for family and friends.
With this unit, you get a reasonable 15″ by 11″ cooking space on both sides and the adjustable temperature control lets you achieve desired results for different foods. The removable glass lid prevents splattering but it may be removed to accommodate any cooking style. As both a grill and griddle tool, you can easily flip the surface even when the grill is on. We also love how easy it is to clean the surface by simply wiping it down with a moist towel before switching to a new food.
Product features and specifications
Measures 19.5 x 14.5 x 4 inches
Weighs 6 pounds
Made from aluminum
Multiple tools in one
Dual cooking surface
Easy to clean
Removable drip tray
User/ customer reviews
Most people who bought this unit said that they were a bit skeptical because this product is so much cheaper than its competitors, but to their surprise it works just as good as its expensive counterparts. Users feel that it has almost all the features you can find in any good indoor grill and griddle combo out there.
While users are happy with the performance, heating temperatures, and deliciously cooked food, the absence of a drip tray makes it a pain to clean afterward. A few customers have cautioned that the entire unit needs to be lifted to clean the mess.
Conclusion
If you have a tight budget but still need the best grill and griddle combo to make delicious BBQ and other foods then this MegaChef Dual Surface unit (see Amazon) is the right choice. Overall, we think you get a really good price for the performance, but the unit may not be as durable as competitor's products.
---
Hamilton Beach stands for quality home appliances and this 3-in-1 Indoor Grill and Electric Griddle Combo promises to bring restaurant-style burgers, steaks, and bacon right at home. We love the smart design that includes a BBQ grill, electric griddle, and a bacon cooker in one compact form. With this unit, you get a 200 square inch non-stick cooking surface, which is enough to cook breakfast or dinner for a small family. Food comes out crisp and juicy, without creating a lot of mess.
Heat distributes evenly throughout the plate and the adjustable temperature control allows you to cook at both low settings and high heat settings up to 400 degrees. Despite being small in size, it can easily cook for a family of six. You can use it to make steaks, burgers, pizza, grilled cheese, pancakes, scrambled eggs, and more. It also works great for keto and paleo diets. The best part is that it is easy to clean the non-stick plates. The drip trays are removable and dishwasher safe.
Product features and specifications
Measures 13.9 x 7.2 x 16.9 inches
Weighs 10 pounds
Pre-heat light
Easy to clean
3-in-1 MultiGrill
Made from high-quality plastic
Kickstand for easy drainage
200 square inch non-stick cooking surface
Serves up to 6 or more people
User/ Customer reviews
It looks like people are happy with what this small and portable grill with griddle combo unit can do. It can fit 3-4 steaks or 6 burger patties at a time, the drip tray holds the grease well with no mess, plus the unit can be broken down into its parts for easy cleaning.
Many customers have used it to grill 4-5 times a week and even when grilling indoors, it never made the house smoky or activated the smoke alarm. People are happy that the food not only comes out delicious but it also looks good with nice grill marks.
Conclusion
If you want a small and portable BBQ that you can use multiple times a week and not have a hard time cleaning the mess, this product is the best bet. You will not want to use your outdoor grill unless you are hosting a BBQ party with lots of guests. Overall, a great buy!
---
---
If you are a fan of BBQ food but don't want to invest in bulky outdoor equipment, check out this indoor smokeless IKICH Electric Griddle and Pancake Grill by IKICH. We are impressed by the large-sized grill plate that provides an amazing cooking capacity. The electric griddle works perfectly for cooking meat and a variety of other food. The ease of using it indoors without making your home smoky means you can use it anytime without having to wait for summer.
This smokeless grill and griddle combo sports a 5-range adjustable thermostat with an easy temperature control knob. You can choose between 230-428°F depending on the type of food you wish to cook. We love the convenient design that merges a flat and textured non-stick surface to enable you to grill more food with ease. The removable drip tray at the bottom holds the extra grease and it can easily be pulled out for cleaning.
Product features and specifications
Measures 18.9 x 10.6 x 7 inches
Made from aluminum
Enhanced non-stick grill plate
Textured and flat zone
Precise temperature control
Removable drip tray
1600 Watts
Easy to clean
Smokeless performance
Great customer service
User/ customer reviews
Customers feel that this is a great tool they can add to the kitchen to make a variety of foods from grilled seafood and steaks to pancakes and paninis. People love the even heat distribution and perfect browning of grilled cheese and pancakes.
The lovely grill marks it leaves on food without turning the house into a smoke chamber is also highly appreciated. Buyers are also happy about the easy cleanup after a great family dinner. It is easy to pull apart the pieces and clean with ease. People prefer to use this griddle more than their frying pan.
Conclusion
Despite its small size, this is one of the best indoor grill and griddle combo (shop now) you can buy for a family of 4-6 people. As the device is practically smokeless and mess-free, you will have no qualms about using the unit several times a week. All in all, you will be happy to get good value for your investment.
---
Are you looking for a lightweight and reversible indoor grill and griddle? This dual surface unit is so lightweight that you can easily carry it anywhere in the house or take it outdoors. You get a large cooking surface measuring 15″ by 11″ to prepare a lot of food for a small family or a few friends. The unit can be used to cook meat, veggies, eggs, pancakes, and burgers.
The cooking surface can be flipped easily to cook on the plain surface or on the textured one that leaves nice grill marks on steaks and fish. The non-stick surface of the grill ensures that food does not stick to it and clean up after cooking is easy. Just take a damp cloth and wipe the pan before putting on the next food.
Product features and specifications
Measures 19 x 16 x 4 inches
Weighs 8.25 pounds
Reversible cooking surface
Easy cleaning
Lightweight and portable
User/ customer reviews
Most people are of the opinion that this thing cooks food really well and does a good job at making simple everyday breakfasts more enjoyable. However, users have confirmed that it is not a smokeless grill and it can activate the house smoke alarm.
Users are happy that the sauce does not stick on the cooking surface and food comes out well cooked, plus cleaning is hassle-free. Some customers have suggested using the grill and griddle combo on the patio area to avoid having smoke inside the house.
Conclusion
This mini grill and griddle combo unit is designed well and costs less than competitor's products. The dual cooking surface and large capacity make it a wonderful product. The only downside is that it does not have a smokeless feature, hence it is not suitable for people who are allergic to smoke. Otherwise, a good buy!
---
Best Grill And Griddle: Buying Guide
When you are looking for a product that includes both a grill and griddle in one compact format, it is first important to understand the difference between the two. Many people confuse the items so we have put together a quick and useful guide to help you make a better choice.
What is a Grill
There are two main styles of grills – cast-iron and plate grill that has spaces. The second option is the open-style which you find in restaurants where food is cooked over an open flame. High-quality grills will distribute the heat evenly and allow oil and grease to collect at the bottom. Food will have grill marks wherever it comes in contact with the bars or ridges.
What is a Griddle
A griddle is a type of hot plate featuring a flat and sleek metal surface, which gets a direct supply of warmth from beneath. Food cooks directly on the plate that is typically rectangular shaped. The size may vary depending on whether it is designed to use indoors, outdoors, at home, or in a commercial setting. They may be made out of a flat piece of steel or iron that matches the burner or fire.
Things To Look For In A Perfect Grill and Griddle Combo
Ease of transport
We call this 'portability' and the more portable an appliance, the more you will be willing to take it out on a whim for BBQ dinner and store it away quickly. Make sure the device is not a hassle to set up, use, clean, and store. This is a crucial factor because the more you use a unit, the more return you get on your dollars invested.
Easy cleaning
You will find different styles and designs when looking for a grill and griddle combo. Besides paying attention to how the design helps with performance, you must also look at how easy it is to clear the mess after use. Some models may come with several hard-to-reach areas that you cannot clean without completely disassembling the product.
Durability
The unit should be sturdy enough to take a bit of a beating and some rough handling, especially if you plan to use it outdoors. The legs should be steady on uneven terrains and the cooking surface should be able to accommodate different cooking styles other than just barbeques.
Versatility
The next important factor to consider is the versatility. Please bear in mind that the griddle-specific dishes or griddle-friendly dishes come in different shapes and materials. Whichever unit you buy should be able to deal with these differences.
Cooking space
Based on your specific needs, you may want to maximize the space available. Do you need a larger grill or a larger griddle? In some models, the grill may take more real estate and leave less space for the griddle. Choose a product wisely without sacrificing the ease of cleanup.
Related Questions
What type of food is best cooked in a grill and griddle?
The flat griddles work best for making breakfast foods such as pancakes, hash browns, French toast, and scrambled eggs. They are also good for making grilled cheese, burgers, and sandwiches. A grill is used for preparing BBQ items using lean cuts of meat, poultry, fish, sausages, and whole vegetables. Smaller items are skewered to prevent them from falling.
What are the ideal temperatures for both?
For grilling items, you will need a high temperature of minimum of 400°F or higher. Grills are mostly associated with smoke and heat, so they are used outdoors or built into a specially designed electrical smokeless device. On the other hand, griddles need a temperature of about 350°F.
Which is easier to clean – a grill or a griddle?
The flat griddle pan is much easier to clean than textured grills or grates. Grills may have additional areas with hidden openings and corners where food and grease get stuck. You will need hot water and a stiff brush to scrub a grill.
Related Articles:
How To Grill Frozen Burgers?
4 Best Ceramic Kamado Grill Options
7 Top Gas Charcoal Smoker Grill Combo
Why Do Grilled Cheese and Tomato Soup Go Together?
What Can I Cook on a Flat Top Grill?