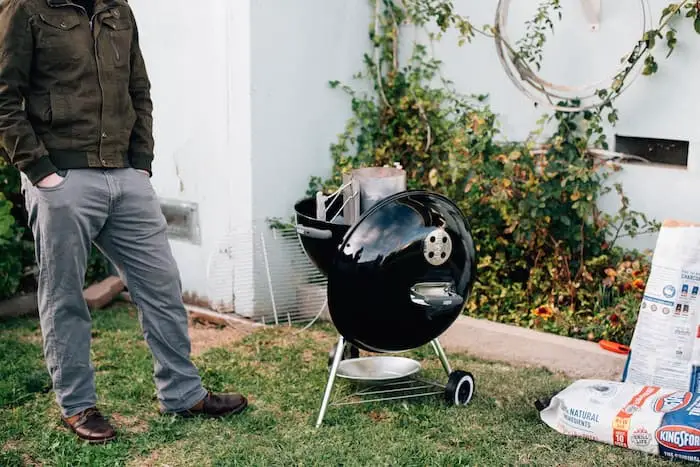 While it is not too difficult to install a grill, you need to do it the right way to prevent and avoid any potential damages to your grill and the surrounding property. That is why it is imperative to keep your grill in a stationary position. There are several safety precautions you need to consider to secure it from the wind.
For instance, how do you keep the grill from being blown over by the wind? Whatever method you use you need to understand that the main goal is keeping the wheels from moving. If there is any for the wheels to move there is a higher probability that it will roll over and cause damage even if you thought it was well secured.
This article will look at the topic deeply and offer you more insights on how you will keep the grill safe and get the most from your grill.
How to Secure Grill Cover from Wind
There are several ways for you to secure your grill cover from the wind. Firstly, you should make sure to buy the right sized grill cover. Grill covers have become very popular due to the protection they offer barbeques.
Before purchasing the cover, ensure you go for the exact measurements. If it is too tight it will stretch the seams and will rip over time. Moreover, if it is too large it will be sloppy and easily blown off by heavy winds.
To secure the barbeque cover, tie it up tightly at the bottom using a rope or buckle straps. The ties will serve to protect and prevent the cover from slipping or even being blown away by wind. Additionally, it will keep the grill looking new for a longer time.
Below are some of the best steps you need to follow to ensure the cover is tightly held onto your grill.
Look for cinder blocks, wooden blocks, or heavy paint cans. These materials will help you anchor the grill in place. Wrap the grill with strong and long bungee cords.
-Alternatively, you can tie together several short bungee cords to attain one long cord.
Ensure you tuck the cover under the lid.
-Place the cover on top of the grill
-Lift up the sides of your grill and tuck in the edges of your cover.
-Once you tuck in the cover it will be secure.
Place a strong magnet on the cover as it will ensure that the cover is secure and will not be blown.
-Placing a magnet works well if your grill has a small and light cover.
-Cover your grill as you would do on a normal day.
-Place the strong magnet on top of the cover.
You can also add a gust guard as it will ensure more protection to the cover.
-Start by wrapping the grill with the cover.
-Attach the gust guard clamps tightly on the covers.
-Fasten the rope or bungee cord under your grill.
Best Tools for Windy Conditions
A windy day will certainly give you challenges when grilling. Nonetheless, there is nothing you will not be able to overcome as long as you adequately prepare. Here are some of the ideas that you can use to protect your grill from the wind.
Barbeque Canopy
The same idea as a shelter or gazebo but it should be smaller. You can build the canopy using a metal frame that will be large enough to cover the barbeque.
Patio Umbrella
This is one of the cheapest solutions. Ensure you get a large umbrella and ensure it is tight enough to withstand high wind gusts. You can hold it down using buckets full of wet sand as they act as perfect anchors for tarps and umbrellas.
A Retractable Awning
Retractable awnings are another secure way to keep your grill safe from wind and they will also offer you plenty of shade during summer.
Tarp Tent
Using a tarp tent is a camping solution that has been in use for a long time. Ensure that the tarp you use is flame-resistant. Never use one that is made from plastic as it will catch fire and melt. Additionally, ensure that the tarp is over 6 feet above the grill. If the wind is too strong, it may carry the flames toward the tarp.
Permanent Covered Grilling Station
If you are always cooking outside, you should build a covered grilling station as it will offer you a permanent solution. Though it is an expensive venture, it will add to the value of your property if you do it right. Consult an expert who will be able to incorporate all your ideas.
Types of Grill Covers
Are Grills Safe to Use?
Yes, grills are safe to use. Well-manufactured gas grills have several safety mechanisms that ensure the gas is immediately shut off when the unit tilts. Additionally, there is an emergency auto shut-down button that helps you turn the grill off if a situation arises.
Nonetheless, you need to clean the grill regularly to get rid of leftovers of previous meals. There are also ash piles that serve as a reminder of the dirt that can form on your grill. Start by scrubbing the grates, empty the ashes and other debris, pre-heat the grates if you do not cover them with foil and you can also clean them with soap and water.
How to Choose the Best Grill Cover
If you want your grill to stay new for a long time you definitely have to buy a grill cover. Below are some of the factors to consider before buying the grill cover.
Material
Though the grill covers may look the same, they are built from different materials. Go for the one with the most durable material. Below are some of the most common types.
Polyester – This material is lightweightand you can use it in different kinds of weather as it is more durable. Additionally, it is treated with chemicals making it resistant to sunlight and water.
Vinyl – Vinyl is waterproof and is great for outdoor use.
Canvas – It is one of the best alternatives for polyester covers. Some canvas fabrics are so strong that they are fireproof. The price is also appealing as it costs less than polyester.
Budget
How much money do you plan to spend on the grill cover? You need to check the prices so that you get the one that fits into your budget.
Features
Does the grill cover feature handles or straps, pockets or air vents? Does it come with any other accessories? Air vents it will keep it rust-free whereas the handles will ensure you can easily move it around. Pockets are also great for storing the grill accessories.
Size
Grill covers do not have a standard size. You should know the size of your grill before buying one. If you end up with the wrong size it will not serve its purpose well. The company that made your barbeque will often tell you which of their covers will fit your grill perfectly.
Related Questions
How do I protect my Grill Cover?
The best way to protect your grill cover is to apply a spray-on fabric guard and let it dry before you use it. The guard will repel water and the heat from the sun ensuring your grill cover looks new for longer.
When Should I Cover my Grill?
Whenever you are not using the grill, you should put the cover on to protect it from the outside elements. Always wait for it to cool down first after grilling.
See Also:
How to Get Charcoal Flavor on an Electric Grill?
How to Light a Gas Grill without Ignitor (5 Steps)
How To Secure a Grill to Concrete
Electric Smoker Vs Pellet Grill: Here Are the Difference