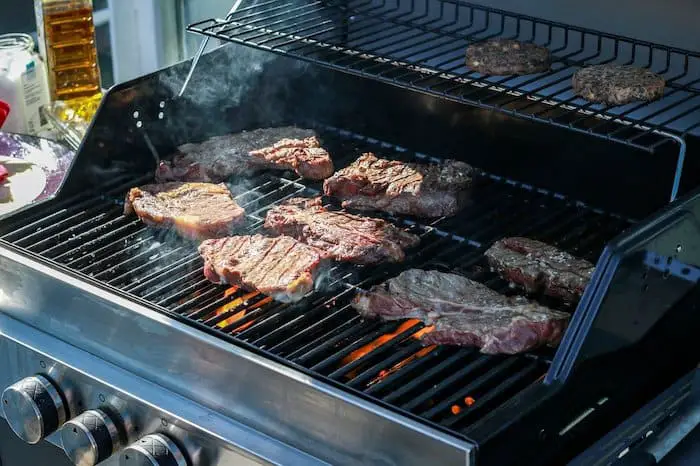 If you are here, it means you are looking for the answer to which barbeque is better: the Broil King Baron 320 or the Signet 320. If you poll barbeque users, they are mainly divided because they feel that both these models are the same on paper.
Both the Broil King grills are gas powdered and come with three well-built stainless steel Dual-Tube burners. They are also armed with the same Flav-R-Wave cooking system that helps in superior cooking performance, good power, consistency, and even heat distribution.
The main difference between the two lies in their looks, hence the customers' own perspective comes into play. The Baron 320 has a more high-end contemporary appearance with a sleeker top and handle.
The Signet 320, on the other hand, looks slightly cheaper than its counterpart. While performance-wise, the Signet 320 is unbeatable, the model falls short in terms of the overall look and exterior polish. There are also a few more differences that we will discuss below.
Total Cooking Area and Heat Output
If you look close, the Broil King Signet 320 (learn more) has a considerably larger total cooking space and much higher heat output. It features a total cooking surface of 625 sq inches, of which, 400 sq inches is primary cooking area. The 40,000 BTU main burner ensures the grill has enough power to heat the expanded area.
Besides the large cooking area, there is also heavy-duty cast iron cooking grids that can be reversed to give you nice grill marks on the meat. There is a grooved side to collect the juices. The Dual-Tube burners ensure even heating from front to back.
When compared with the Signet 320, the Baron 320 has a much more compact and lighter body. This is probably because the grill has a much smaller cooking area of only 440 square inches in total. It is capable of providing an output power of 30,000 BTU.
Difference In Features
Other than the cooking area and heat output, it's hard to find the differences between these models but we have still done the grilling for you. In features, we found that they are equipped with the Linear Flow valves and come with a Sure-Lite electronic ignition system for ease of use.
Both the gas grills can be turned on and off easily, safely, and quickly. Also, each of them features heavy-duty cast iron cooking grids that are extremely sturdy, solid, and very durable. They also have a pair of stainless steel side shelves that can drop down when not in use.
When we look at the additional features, we can see that the Broil King Baron 320 has a Dura-Bilt porcelain-enameled cook box, whereas the Broil King Signet 320 comes with a Therma-Cast aluminum cook box that includes a stainless steel lid wrap.
Now, let's look into both these model reviews a bit more closely to find out the pros and cons of each of them.
This is an entry-level three-burner gas grill with a powerful punch packed under the hood. It gets hot really fast and is able to achieve a much higher searing temperature that can beat most other reasonably priced gas grills out there.
The Signet 320 comes with removable zone dividers or steel inserts between the individual burners to isolate heat around each burner. It also helps to enhance the zone separation and on high heat, it can achieve a temperature of 800 degrees without any sear burner.
The downside is that all the burners even at a low temperature can run as hot as 490 degrees. However, this is not an issue for those who can create a moderate and indirect cooking zone for the lower temperatures.
As for the design, Broil King's proprietary Dual-Tube burners distribute the gas evenly throughout the cooking area. There is an inner feed tube that goes through the center of the burner. It allows the fuel to completely fill the burner tube before being exposed to flame.
The cast aluminum housing never rusts and it retains heat evenly. There is a high-profile lid and firebox that keeps the cooking grate in the middle. Sadly, the grease tray is small so it needs to be lined up very carefully with the three burners.
---
Setting up the grill turns out to be painstaking and time-consuming even with someone else's help, but once you are done, this grill will reward you with great backyard memories. This gas grill can be powered by either liquid propane or natural gas.
The cooking surface is slightly on the smaller side so if you are planning to grill several burgers for a large get-together, expect to spend some extra time. However, this is not to say the grill is tiny, because it can still fit about 15 burgers at a time.
The racks are cast iron and reversible: one side can give nice sear marks, while the other holds in the liquid. On the downside, remember that cast iron is prone to rusting so the product needs some care and maintenance.
The two side shelves are helpful for holding plates, seasonings, or holding utensils, and can fold down when not in use. We are impressed with how quickly the grill heats up, plus the Dual-Tube burners and the Flav-R-Wave cooking system maintain even heat distribution.
Final Verdict
Similar to its predecessor (Signet 20), the Broil King Signet 320 comes with dropdown shelves that can also be found on smaller grills. They are perfect for condos and apartment dwellers that are limited in space. The improvement from the Signet 20 model includes the handle and shelves.
The Broil King Baron 320 is a much smaller-sized grill that can cook delicious burgers and chicken wings without sacrificing any power or extra features. Although some people do complain of the tiring and arduous assembly, the compact size and performance are worth it.
While we think that the decision of 'which is better' depends on a person's specific requirements and preferences, the Broil King Signet 320 is a good choice if you need a wider cooking surface and more heat output to cook for more people. The Broil King Baron 320 is more suited for a single person cooking for themselves or a small family.
See Also:
Is It Safe To Use A Gas Grill On A Wood Deck?
How to Clean Korean Grill? (4 Ways)
How To Secure a Grill to Concrete