Think of grilled meat and your mind will conjure up images of rich grill marks on fish and steaks, perfectly browned and crusty surfaces. It's a pity when you start grilling with such a gorgeous vision and end up with food sticking on the grill grates when while trying to flip them.
It feels like the food has some kind of magnetic attraction to the grates and it's a shame to leave all that browned goodness stuck to the grates. Well, don't lose heart because today I will share you with a little secret that will help you grill like you always imagined.
The secret is to love you grills as much as you love grilling. Spend some time evolving the relationship you share with your grate and invest in the best oil for grill grates. Luckily, it doesn't take a lot to take care of your grilling equipment and the payback is priceless.
It does not matter whether you are using a top-of-the-line grilling appliance or cheaper equipment. With proper care and maintenance, your grill is sure to last many BBQ session of fun and great food. So, once the fire is set, the first thing you need to do is clean and season the grill grate.
The grates are the main point of contact for the food to be grilled so make sure that they are hot enough to remove any residue from the last session and get ready for what's coming. Let the grates heat up for 5 mins and then use some elbow grease to prevent food from sticking to the surface.
If you are still not sure about oiling the grates then you may want to check out the various benefits towards the end of the article. When you are convinced, check out some of the best oils we have handpicked, compared, and reviewed for you below.
For those who are in a hurry to order the best oil brand, we recommend Nature's Oil Rice Bran Oil (learn more) that comes in 6 different sizes for you to choose from as per your requirement. Plus, it comes with a high smoke point of 450°F to work great at cleaning and seasoning the grill grates.
| | | | | | | | |
| --- | --- | --- | --- | --- | --- | --- | --- |
| Features | Iberia | La Tourangelle | Massimo Gusto |  Nature's Oil | La Tourangelle | Happy Belly | Snappy Popcorn |
| Type | Vegetable Oil | Canola Oil | Pomace Oil | Rice Bran Oil | Grapeseed Oil | Canola Oil | Peanut Oil |
| Sizes | 96 Oz | 2 Sizes | 1 Gallon | 6 sizes | 3 sizes | 48 Ounces | 128 Fl Oz |
| Heart health | cholesterol free | cholesterol free | cholesterol free | cholesterol free | cholesterol free | cholesterol free | cholesterol free |
| Smoke Point | 425 °F | 375-450°F | 390-470°F | 450°F | 421°F | 375-450°F | 450°F |
| Servings | 192 | 34 | 252 |  N/A | 252 | 96 | 256 |
| Calories | 120 | 120 | 120 |   N/A | 130 | 120 | 119 |
| Taste | Light | Mild | Light |  Light |  Light | Light | Clear |
| Extraction method |   N/A | expeller-pressed |   N/A | Cold Pressed | expeller-pressed |  N/A | bleached and deodorized |
When you want the purest form of vegetable oil that serves its purpose without overpowering the taste of food, the Iberia 100% Pure Vegetable Oil (see Amazon) is a great option. This all-purpose and versatile oil is completely cholesterol-free, hence safe for those with a risk of heart ailments. It contains just 14 g of saturated and trans fat, plus it's one of the few non-fish sources of omega-3 fatty acids.
As the oil boasts a high smoke point of nearly 425 degrees Fahrenheit, it works as an inexpensive solution for frying and grilling. Besides being good for baking, sautéing, and light frying, it can also be used for making BBQ sauces, mayonnaise, and dressings. As the product mainly comprises of soybean oil with no added preservatives, it is one of the healthiest, gluten-free options around.
Product Features/ Specifications
96oz bottle
14 g of total fat per serving
120 calories
Gluten-free
Kosher certified
Contains soybean oil
User/ Customer Impressions
People are pleased to find that the oil is heart-healthy, cholesterol-free and rich in vitamins, minerals, fatty acids, and antioxidants. The fact that the oil has a neutral taste and does not impact the delicate flavors of grilled food is also appreciated by many users.  
Customers find the high smoke point of the oil a useful feature plus the multipurpose use makes it good for sautéing fish, meat, and veggies. Those who are health conscious but have a profound love for baking and grilling like that the product can be used as a substitute for margarine, melted butter, or shortening.
Conclusion
If you love grilling, you need the best oil for grill grates that does its job perfectly without altering the subtle flavors of food, and we feel the Iberia Pure Vegetable Oil (see Amazon) is spot on. It's safe for heart, light in texture and multipurpose, so it can be put to various uses other than just grilling. Overall, a recommended buy!
---
This organic Canola oil (see price) comes from the house of La Tourangelle, a family-owned company that continues its 150-year French tradition and legacy. They derive the premium quality oil from the finest ingredients using traditional methods. La Tourangelle's believes in retaining the natural taste and flavors at its best to bring you a cooking oil that is not tasteless or dull by any means. Besides grilling, it can be used for frying, sautéing, salad dressing, or making sauces.
Extracted from organic rapeseeds, a carefully bred variety of the mustard family, the ingredients are grown and processed without any chemicals or pesticides. The low amount of saturated fat and a good balance of omega 3 and 6 fatty acids make it a great choice for your kitchen. The makers of this organic oil encourage users to put this oil to diverse uses and try its limitless possibilities and creations.
Product Features and Specifications
16.9 Fl. Oz
artisanal oils
150-year old French heritage
Organic and non-GMO
Low saturated fat content
User/ Customer Impressions
Most people are happy with the role this oil plays in helping them grill meat and vegetable perfectly on the grates and come out smoothly without getting stuck. The neutral taste and light texture of the oil is also highly appreciated, plus the fact that it's created traditionally makes it a favorite among buyers.
While most users are pleased with the nutritional value and high smoke point of this oil, a few users have mentioned that the oil is too expensive and the container dents easily. Health-conscious individuals prefer it over other cheap products because it claims to be made from high-quality organic ingredients.
Conclusion
We are impressed by the idea of traditionally prepared oil that carries a family heritage and legacy of 150 years. A product that has sustained in the market for that long certainly has a lot going in its flavor. Although the oil is slightly more expensive than other competitor products, we feel that you get what you pay for!
---
If you have tried different brands of olive oil in the past and wished you could find one that works best for oiling grill grates then Massimo Gusto Pomace Olive Oil (learn more) is a great option. A product of Italy, it constitutes 100%% pomace olive oil. This combination serves great for oiling the grill grates without overpowering the taste of food. You just need to brush it lightly on the grates and the high smoking point helps in browning the food
We love the fact that this is a cholesterol-free oil with only 120 calories per serving. It contains 14g of total fat, 2g of saturated fat and zero trans fat. It is also free of sodium, sugar, and dietary fibers, and carbohydrates. Our team also likes smart and neat packaging. The metal container has pleasant green olive color on its body with product information on the front and nutritional facts at the back.
Product Features/ Specifications
Metal container
1 Gallon (3.875 Litres)
90% Pomace oil
10% Virgin olive oil
Made in Italy
Cholesterol-free food
252 servings per container
User/ Customer Impressions
People primarily use this brand of pomace olive oil for soap making or maintaining the grilling grates, and the product does a fair job in both regards. However, some users seem to confuse the product with extra virgin olive oil so it's better to read the product description well before ordering.
Some customers are not happy with the can design as there's just one small hole on the top and the oil tends to run over the container sides when pouring out. Hence, the lack of a proper spout is a bit disappointing. A few people think that the color is slightly lighter than other brands but it does a good job nevertheless.
Conclusion
Whether you are looking for an ideal oil for soap making or oiling the grill grates, this 100% pomace olive oil works perfectly. It has a light color and subtle flavor, perfect attributes we want in the oil used for cleaning and greasing the grates without altering the taste of food. At this price, it offers good value for money.
---
When you buy oil that you know will come in direct contact with food, you would want to be extra careful about its safety and authenticity, and this Rice Bran Oil by Nature's Oil (shop now) fits the bill just fine. For more than a decade, Nature's Oil has created a niche for itself in the aromatherapy and natural products industry. Rice Bran Oil is regarded as nature's best-kept secret, used for centuries to nourish skin, relieve stress, and grease grill grates to prevent food from sticking.
The product contains 100% Oryza Sativa (Rice) Bran Oil is made from high-quality harvests sourced from the reputable growers and distilled with great care to ensure premium quality. The manufacturer claims that they are able to source the best materials directly from farmers, which makes their products better than competitors. The resulting oil is rich in minerals, antioxidants, fatty acids, and vitamins, so when spraying or brushing it on the grates, you can be sure that you are adding good value to the food.
Product Features and Specifications   
100% Vitamin E and antioxidants Oryza Sativa
Comes in 5 different sizes
Odorless
Natural and certified
Made in FDA registered factory
GC Tested
User/ Customer Impressions
People who have bought from Nature's Oil are thrilled to find high-quality oil at a throwaway price, which is considerably cheaper than any competitor product. Users are also happy with the product package but some found the bottle a bit leaky, so make sure you don't throw away the rubber seal after opening the bottle.
Besides the great quality of the product, customers are also pleased with the customer service offered as one customer mentioned that the representative went out of the way to ensure that they were thrilled with the purchase. A few users have cautioned that there's no free refund available so that's something you may want to consider.
Conclusion
The Rice Bran Oil by Nature's Oil can be put to various uses, but if you are looking for an affordable oil to keep the grill grates happy, this is a good choice. Made by one of the leading companies in the industry, it offers decent quality for the price and does a good job of keeping the grates well maintained.
---
La Tourangelle is a name you can trust and a taste you can rely on to enhance the flavor of any dish without overpowering it. According to the manufacturer, it aids in bringing a slice of artisan excellence to your kitchen or outdoor cooking. We are pleased to find that the oil has a very high smoke point so you don't have to worry about the oil getting burnt quickly. If you love grilling often, this is a must-have item in the pantry. You can also use the oil for stir-frying and sautéing.
La Tourangelle oils (learn more) are specially created for those who aspire to become professional chefs or make restaurant-style grills at home. Besides being used for grilled meat, the oil also works well for a cheese plate, pasta, and salads. The product is derived from non-GMO and all-natural high-quality grape seeds, expeller-pressed to give you handcrafted oil. The resulting product is a light and neutral oil containing high levels of antioxidants and polyunsaturated fats.
Product Features and Specifications
Comes in 3 sizes
All-natural ingredients
Very High Smoking Point
150-year-old French tradition
Organic and non-GMO
Neutral flavor
Family-owned company
User/ Customer Impressions
Customers are pleased to find a brand of grapeseed oil that is hexane-free and expeller pressed to bring high-quality oil used for cooking, cleaning, and seasoning. People also love the container which is opaque and BPA free, plus the ratio of price and performance is amazing. It is also appreciated for its healthier and safer attributes.
Some users prefer this grapeseed oil over olive or vegetable oil because it has a high smoke point and high percentage of polyunsaturated fats and vitamin E. It also has a clean and light taste that is almost flavorless, thus it doesn't alter the subtle taste of grilled fish, and at the same time prevents it from sticking to the grill grates. A few customers have reported the oil smelling rancid after some months, so you may want to store it well or buy only as much needed.
Conclusion
This is a high-quality vegan and gluten-free oil that is ideal for everyday use. The clean, light texture and hardly-there flavor makes it a perfect choice for seasoning the grill grates. With a very high smoking point, you can now have perfectly browned exteriors and aesthetically pleasing grill marks, at an affordable price.
---
When it comes to cleaning grill grates and seasoning them with oil, most experts recommend Canola Oil for its high smoking point and neutral flavor. If you are looking for high-quality Canola oil to last the entire grilling season then consider this product by Happy Belly (see Amazon). Besides being used for grilling, it also works great for frying and cooking. As per the nutritional information, it is cholesterol-free and contains only 14g total fat and 0g Trans fats per serving.
The high smoking point of Canola oil makes it ideal for seasoning grill grates as the oil does not burn quickly and sustains heat long enough for your food to grill perfectly. However, be careful to not put water on hot flaming oil as this might cause injury. Health-conscious users will love using this oil for greasing baking dishes and grill grates because of its light taste and nutritional value.
Product Features and Specifications
128 Ounce Size
Cholesterol-free
0g Trans fats per serving
100% canola
Light flavored
120 Calories
High Smoking Point
User/ Customer Impression
Those who have bought the product are happy with the ability of the oil to sustain high temperatures without getting burnt or overpowering the taste of food. People are happy to buy a large container at an affordable rate because the oil can be put to various uses other than seasoning grill grates. The quality of the oil is highly appreciated and some users call it better than vegetable oil.
Customers have mentioned that the oil is easy to pour, but a few users are not happy with the packaging. According to them, the oil should always come in an opaque container in order to prevent oxidation.
Conclusion
Canola oil is no doubt a preferred choice for seasoning and cleaning the grill grates, and Happy Belly does a good job at meeting the diverse needs of customers. As a lightly flavored oil, it offers a good value for money but purchase only if you think you can consume that quantity in a reasonable time frame.
---
When it comes to the best oil for grill grates, some people swear by Peanut Oil and we find this product from Snappy (shop now) worth considering. Although the manufacturer advertises this product as ideal for making popcorn, it serves well for cleaning as well as oiling the grill grates. The natural nutty flavor is subtle and it enhances the taste of grilled food without overpowering.
The high-heat stability of the oil makes it ideal for versatile uses in the kitchen, other than seasoning grates. It can also be used for frying, sautéing, and baking. We love that the oil requires no melting, hence it can be used at room temperature. The product contains 100% peanut oil, without any cholesterol, added color, trans fat, or saturated fat.
Product Features and Specifications
128 Fl Oz Size
Pure Peanut Oil
No melting required
Non-GMO
zero trans fat
Cholesterol free
Mild Nutty taste
High heat sustainability (450°F)
User/ Customer Impressions
People are elated with the purchase and the results they have achieved by using this oil for making popcorn, seasoning grill grates, frying, and so on. Most users are happy with the mild nutty aroma that increases the flavor of the grilled food. At this price, people are happy to get a well packaged one-gallon oil that can be used for long.
A few customers have mentioned that they received the package with a broken cap and oil spilled out of the bottle. Given the fact that this product cannot be returned nor you can get a refund, it is important to take these factors into account
Conclusion
 The oil is refined in texture and healthy for the health of your family. If you have been looking for a clear and light oil you can use for cooking needs that require high heat sustainability, this product will do an excellent job. Overall, we recommend this product if you don't mind the slightly nutty taste.
---
Best Oils For Cleaning And Seasoning Grill Grates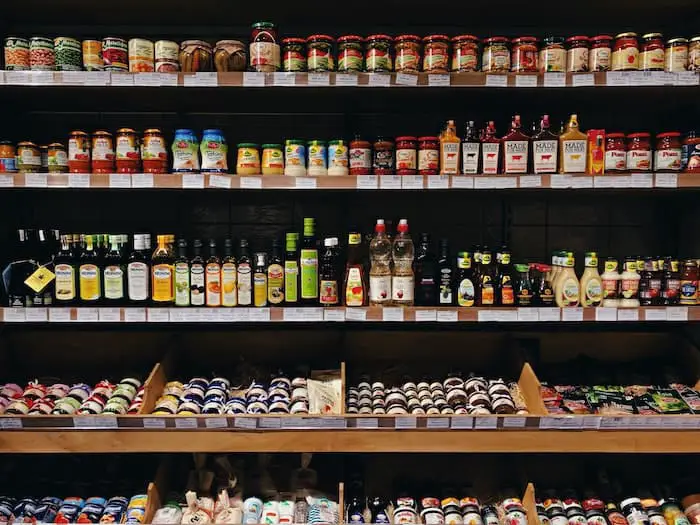 When you are looking for the best oil for grill grates, you will come across several options in the market. While most of the oils mentioned below have a high smoking point, they may differ slightly in their aroma, flavor, and nutritional information, so I present this guide to help you make a suitable choice.
Peanut Oil
This is a light golden oil with a smoking point of approximately 450°F. It is often used in Middle Eastern and Asian cooking for its versatility and health benefits. With its high smoking point, mild nutty flavor, and smooth texture, it serves as a great option for seasoning the grill grates. We recommend the Snappy Popcorn 1 Gallon Snappy Pure Peanut Oil and you can read our review.
Vegetable Oil
This is an easily available option and comprises of a blend of several refined oils. It has a neutral taste and the smoking point is 428°F. When you want the best oil to put on grill grates, high-heat sautéing or frying, Veggie oil is your best buddy. We recommend the Iberia 100% Pure Vegetable Oil and you can read our review to find out more.
Canola Oil
Derived from the rapeseed plant, this oil is similar to vegetable oil in terms of color, flavor, and smoke point. However, this oil goes rancid within a year. The smoking point of canola oil is 375-450°F and we recommend the La Tourangelle Organic Canola Oil for its traditional extraction process. You can read our review.
Grapeseed oil
This oil has a pleasant light green color and it's usually preferred by restaurant chefs to clean and oil the grill grates. It has a smoke point of 420°F that does a good job at perfect grilling without overpowering the taste of meat or herbs. We love the La Tourangelle Grapeseed Oil for its authenticity and ability to turn your kitchen into a culinary studio.  
Avocado Oil
If you are health conscious, you may want to use avocado oil also known as the 'good fat' for oiling the grill grates. It has a significantly high smoke point of 520°F. It can be used for various types of cooking so it's a useful item to have in the pantry. Remember to store it in a cool and dark place.
Corn Oil
If you ever go to a commercial kitchen where a lot of food is fried and grilled daily, you are sure to find corn oil for its neutral flavor, high smoke point, and low price. With a high smoke point of 450°F, Corn oil is a must-have item in the pantry of those who do a lot of grilling.
Sunflower Seed Oil
Although this oil is typically considered as the hero of searing and sautéing, the high smoke point of 440-450°F also makes it good for seasoning grill grates. Pressed from sunflower seeds, the oil does not turn rancid so fast and can be used for several grilling sessions. Remember to store in a cool and dry place.
Pomace  Oil
This is a light and clear textured oil extracted by pressing olives. We recommend the pomace olive oil for grill grates. It has a high heat sensitivity with a smoke point between 390 and 470°F depending on the quality of the oil. If you are looking for a pomace oil brand, check out our review of Olio Carli Pure Olive Oil.
Related Questions
What can I use to season grill grates?
You may use a paper towel or brush to brush the grill grates and coat them with the best oil of your choice. You can place the coated grates in a 400-degree grill or 400-degree oven for 40 minutes.
How much oil is enough to coat the grates?
Dip the paper towel or brush in a little oil and wipe it evenly on the grates. Avoid using too much oil as this can cause flare-ups. Use a pair of tongs like this when using a paper towel for seasoning.
What other accessories do you need for grilling?
Besides a good grill brush and tongs, you will need a few other essential accessories such as a pair of good spatulas, a fish turner, and a nice carving board, and a carving knife. With these BBQ gears, you will soon be able to grill like a pro.
See Also:
How To Secure a Grill to Concrete
Charcoal Grill Vs Gas Grill: Pros And Cons
Can I Grill Inside My Garage? (Detailed Explanation)
Can You Use Oven Cleaner On A Grill?