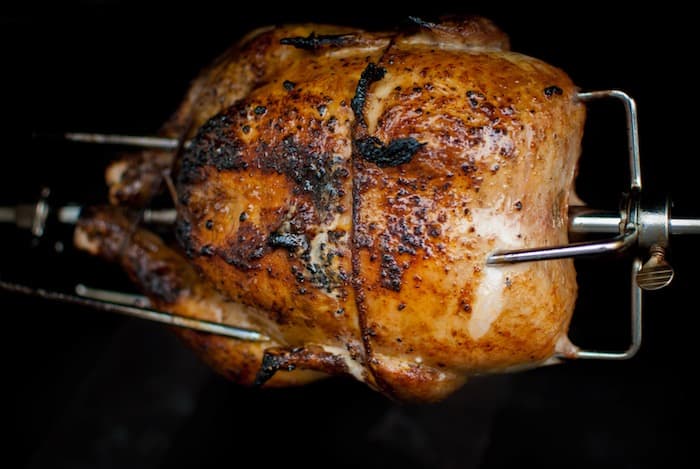 A grill with a rotisserie can take your barbeque to the next level. Whether you want to enjoy full-blown camping in the woods, start a business, or turn your backyard into a grilling haven for family and friends, the best grills with rotisseries can be a real game-changer.
As a meat lover, you will love the versatility a rotisserie burner can add to your gas grills. It allows meat to slowly revolve above a cooking grate to create the most succulent, tender, and self-basted meat full of rich flavors and bursting with aroma.
The current market is so flooded with grills that have rotisseries that it can be hard to find the perfect product to suit your space and requirements. To make your task easier, we have reviewed more than a dozen grills online and carefully compared them to each other to create a list of the 7 best products.
Read on to find our reviews that are based on the grill features, user experience, specifications, and other details. If you are in a hurry to place an order, go with our editor's choice – Weber Summit 7171001 E-470 (learn more) that has everything from a large cooking space and rotisserie to flavoriser bars and grease management system for mess-free grilling.
When you want to make juicy, flavorful, and aromatic restaurant-like steak at home, the Broil King 958344 Regal S590 Pro Gas Grill can make your dream come true. It includes patented dual-tube burners, Flav-R-wave and stainless steel cooking grids that are much heavier than ordinary grills.
The high-quality and durable grills provide good heat retention and leave delightful sear marks on the food. The main burner (55,000 BTU output) provides a primary cooking area of 625 square inches, while the side burner and rear rotisserie burner allow users to cook more food for guests.
We love the LED-lit control knobs that make the controls easily visible when grilling outdoors at night time. It also adds an alluring glow to the outdoor kitchen area. Made in North America, the gas grill comes with a 10-year warranty on burners and a 2-year warranty on parts and paint.
Product features and specifications
Measures 62.5 x 24.8 x 49.2 inches
Weighs 217 pounds
Made in North America
56% durable cooking grids
55,000 BTU main burner output
Side burner 10,000 BTU
Rear rotisserie 15,000 BTU
Total space 1,000 square inches
Cool blue LED-lit control
10-year warranty on burners
Rust-resistant zinc coated steel components
User/ Customer reviews
Most people are thrilled with the professional appearance of the product yet the ease of installation and use. Users have said that the burners light up like a breeze and the cooking grids along with the rotisserie offer a lot of cooking space for a small gatherings. A few users have warned that despite taking good care of the product and covering it well while storing, the burners showed signs of rust.
Conclusion
This is a stylish and well-built grill made from the finest materials. It's sure to add a lot of sophistication to a patio or backyard. Setting up the unit is easy and the roasted food comes out pretty well. Overall, we feel that the Broil King 958344 offer a perfect blend of quality and price.
---
The brand Weber needs no introduction in the world of grilling, however, the Weber 45010001 (learn more) is a step ahead of all the models we have seen from this company. It features an improved GS4 grilling system with infinity ignition, burners, and porcelain-enameled bars that have set new standards in the world of backyard cuisine.
Every aspect of the GS4 grilling system is uniquely designed to provide easy management and use with a satisfying backyard grilling experience. The burner tubes installed throughout the grill give you smoke infused food that cooks evenly and offers hassle-free cleaning. You will need to get a rotisserie separately.
There are three main burners that provide an output of 30, 000 BTU-per-hour, and total cooking space of 529 square inches. The left side table with a width of 42 inches provides extra working space and can be put down when not in use. We love the open-cart design with extra room for keeping tools and two large wheels for portability.
Product features and specifications
Measures 52 x 26 x 57 inches
Weighs 107.8 pounds
Liquid Propane Grill
Porcelain-Enameled Cast Iron Grates
Open cart design
4 color options
Folding side table
Warming rack
3-Burners 30, 000 BTU
Side Tables with Integrated Hooks
User/ Customer reviews
Both the professionals and novices are impressed with the Weber 45010001 that offers flawless ignition and solid control. Users have said that the grills get hot pretty quickly, achieving the 500 degrees mark in just a few minutes.
People seem to love the reversible design of grill plates that are thicker on one side and thinner on the other. A few users have said that there are no ledges at the back or front, which means hot dogs can roll off the grills.
Conclusion
As mentioned earlier, Weber grills are undoubtedly one of the best and it does not disappoint this time too. Everything from the design to assembly is spot on, and by adding a separate rotisserie you can further enhance the cooking space and performance. Overall, we feel that this is one of the best gas grills money can buy.
---
If you would like to get a Weber unit with the attached rotisserie then we recommend the Weber Summit 7171001 E-470. The unit comes with four stainless steel burners that provide a large cooking area for a big family or friends. It comprises of one main burner, one flush-mounted side burner, one rear-mounted rotisserie burner, and a sear burner.
Powered by liquid propane gas, the Weber Summit 7171001 includes two stainless steel work surfaces, six tool hooks, and lighted control knobs for easy functioning. The primary cooking area of 468-square-inch is perfectly complemented by the golden brown rotisserie at the side. The 112-square-inches warming racks help in keeping the food warm.
The flavorizer bars grab drippings that sizzle and smoke, thus adding flavor to the food. Extra juices that don't evaporate into smoke go down the grease management system for mess-free cooking. The unit comes with an LED tank scale display that lets you see the level of the fuel. The manufacturer stands behind the product with a 10-year limited warranty.
Product features and specifications
Measures 38.6 x 30.5 x 52 inches
Weighs 245 pounds
580-sq in Total Cooking Area
Rotisserie System with Flip-Up Motor
LED Tank Scale Display
lighted control knobs
Six tool hooks
Innovative Flavorizer bar system
Grease management system
10 Year Limited Warranty
User/ Customer reviews
People are thoroughly impressed with the solid construction and robust design of the grill with a rotisserie that delivers exceptional performance every time. The sear zone gets really hot and users have mentioned that the chicken roasts were the best they have ever tasted.
Customers are also happy with the ease of unpacking and assembly, while some were able to use free assembly services, others could do it themselves by following the instructions. Users also appreciate how well the temperature can be controlled and the easy availability of replacement parts.
Conclusion
The built, features, and performance of this Weber grill are spot-on to re-establish your faith on this brand. With adequate cooking space and working area, this all you need for a large BBQ loving family or entertain a small group of friends. Overall, we feel that this sturdy grill with rotisserie delivers more than what you pay for!
---
Whether you are a professional grill master or a beginner, you will love the BBQ Creations B-007 (see Amazon) for its outstanding design and simple operations. It comes with a dual side-mounted charcoal tray capable of providing a variable level of heat by just moving them on and out.
The Patent Pending design helps in regulating the roasting temperature to prevent flare-ups, plus the fat and juices from dripping the meat fall into the bottom collection tray. The charcoal infuses a smoky flavor to the meat and stays hot on the side to keep your food warm for a long time.
The battery operated rotating spit motor can run for 12 hours and evenly roast up to 30 pounds of meat. It also works great for making a delicious beef roast, pork roast, prime rib, turkey, lamb leg, and multiple chickens at once for a party. The BBQ grill can also accommodate many hamburgers and hot dogs.
Product features and specifications
Measures 28 x 8.5 x 22 inches
Weighs 16.96 pounds
Stainless-steel rotisserie/BBQ grill
Dual sliding firebox
Temperature-controlled charcoal cooking
3V wireless motor
User manual
Good Firebox ventilation
Nickel plated, stainless-steel rotisserie rod
Foldup legs for portability
User/ Customer reviews
People who love the traditional and authentic charcoal flavor in their food are absolutely thrilled with this grilling unit. Users have mentioned how easy it is to assemble this grill and take it down to store away until next use, making it perfect for camping. Customers also find it easy on the cleaning and maintenance part with great cooking experience.
Conclusion
This small sized BBQ Creations unit packs a bigger punch with easy portability, assembly, awesome aroma, great smoky taste, and hassle-free cleanup. If you are a beginner but wish to roast meat like a pro then consider getting this BBQ Charcoal Grill (shop now) to make your dreams come true.
---
If you have both meat and veggie lovers in the family, we suggest that you get the Rib-O-Lator Barbecue Rotisserie with separate trays that you can dedicate to veg and non-veg food items. This versatile unit includes both medium and large gas grills, 22-inch kettles, and drum smokers.
With this BBQ rotisserie, you can prepare a variety of food such as steaks, fish, burgers, pork butts, pork loins, desserts, nachos, appetizers, and veggies. Made from sturdy 304 stainless steel, each tray is 17 inches long and 5 inches wide, installed using 21 inches brackets.
We love the fact that this barbeque rotisserie can be installed in a few minutes and you can then turn your motor to see the plates rotate at an amazing speed. This results in even cooking through the indirect heat and the food comes out moist, tender, and succulent.
Product features and specifications
Measures 20 x 12 x 10 inches
Weighs 5.69 pounds
Made from 304 Stainless Steel
22-inch Weber-style Kettles
WSM 55 gal Drum Smokers
Dishwasher safe trays
User/ Customer reviews
Most users found this little Barbecue Rotisserie easy to set up on your existing spit rod and ready to use in a few minutes. Customers have warned that the food should be evenly distributed on the trays or else they will spill, plus the balance needs to be adjusted as the food cooks and loses weight.
People are happy that food cooks on both sides simultaneously giving you soft, delicate, and juicy results every time. A few users have warned that customer support is not very responsive.
Conclusion
If you looking for an easy to use and battery operated rotisserie that you can carry with you while camping or tailgating then the Rib-O-Lator Barbecue Rotisserie is a great choice. At this price, you get a Ferris wheel of meat that gives you mouthwatering results every time!
---
This LEX 485RSIBPSS gad grill from the Napoleon stable comprises of six burners producing total 74,000 total BTU's and a grilling space of 815 square inches. It includes uniquely designed wave-shaped cooking grids that promote even heat distribution and prevent food from falling. It gives those exceptional sear marks on succulent roasted meat.
There are large side shelves that serve as adequate space for preparation and staging, while at the same time safeguarding the infrared sear station. You can also find a cutting board and integrated ice bucket on the right-side shelf, allowing for more preparation space. It does not include a rotisserie but you can get it separately and attach it to the unit.
The BBQ grill can be easily ignited using the battery-free ignition. The infrared heat helps in producing high temperatures in the cast iron cooking grid and integrated sear station to help you cook a variety of meat, fish, and veggies. The grill's storage cabinet also has ample space to store all your barbeque tools and accessories.
Product features and benefits
Measured 28 x 62 x 50 inches
Weighs 165 pounds
Large side shelves
Battery-free ignition
Napoleon rotisserie capable
Heat to 1800°F in 30 seconds
Six burners offering 74,000 total BTU
815 square inches grilling area
Wave Grids for better heat distribution
User/ Customer reviews
People are impressed with the fact that the grill is made from 304 stainless steel material and the grids pre-heat in less than 4 minutes. Users are impressed with the side burners that make amazing steaks and pork chops, plus they also recommend using Napoleon rotisserie. A few customers have also mentioned that customer support is nice and friendly.
Conclusion
If you are looking for a great looking grill that lets you cook a lot of your favorite stuff with ease and store cook drinks too then the Napoleon LEX 485 BBQ Grill (show now) is a must-have. Besides being great looking, this unit comes with a lot of useful features and is an incredibly versatile machine. Overall, we highly recommend using it with the rotisserie.
---
When talking about the best grills, the Char-Broil 463377319 certainly deserves a mention for its four stainless steel burners capable of producing 36,000 BTU's of heat. It offers a cooking area of 425 square inches to accommodate a lot of food for a large family or group of friends.
The main cooking area that is 23-inches wide by 18.5-inches deep comprise of rust-resistant porcelain-coated cast-iron grates. They prevent the food from sticking on the grates and are extremely easy to clean too. It comes with a reliable electric ignition to the fire up the grills and they achieve maximum temperature within minutes.
The porcelain-coated grease pan is highly durable and it can be easily removed for cleaning. We love how the burners emit flame from the top to facilitate even cooking of meat from all sides. The cast-iron grates are also rust-resistant, hence the unit is built to last.
Product features and specifications
Measures 50.4 x 24.5 x 45 inches
Weighs 92.8 pounds
425 sq. inches main space
150 sq. in. warming rack
10,000-BTU side burner
Lid-mounted temperature gauge
Stainless steel side shelves
User/ Customer reviews
People feel that this is a nice looking budget grill that comes with an attractive stainless steel finish and is easy to clean. Users have mentioned that the firebox and shelves are slightly flimsier than competitor products, and they cannot take a lot of weight. A few customers have also said that the grills not fit well and they make a lot of noise while cleaning.
Conclusion
If you would like to include a grilling den in your backyard without burning a hole in your pocket then the Char-Broil 463377319 (see Amazon) is a great choice. This stylish and versatile grill offers sufficient cooking space for a small barbeque party. Add a rotisserie and you get everything you can probably find in a high-end grill without spending that much. Overall, it delivers good price to performance ratio.
---
Related Questions
What are the types of food you can cook on a rotisserie?
You can make a plethora of food such as roasted chicken, leg of lamb, prime rib roast, rotisserie turkey, pork roast, beef roast, and so on. The best type of meat includes tender beef cuts cylindrical in shape such as boneless prime rib or tenderloin cuts.
Which is the ideal temperature for cooking chicken in a rotisserie?
The ideal temperature for cooking chicken is between 300 F and 350 F, and it takes about 20 to 30 minutes to cook a pound of meat. It will take approximately two hours to cook a 4-pound of chicken meat. We suggest using a thermometer to check the temperature.
See Also:
6 Best Grill And Griddle Combo
How to Tell When Grilled Chicken is Done
Grilled Chicken VS. Fried Chicken (Here's The Difference)
Can You Grill Frozen Chicken (Breast)? Read This First!