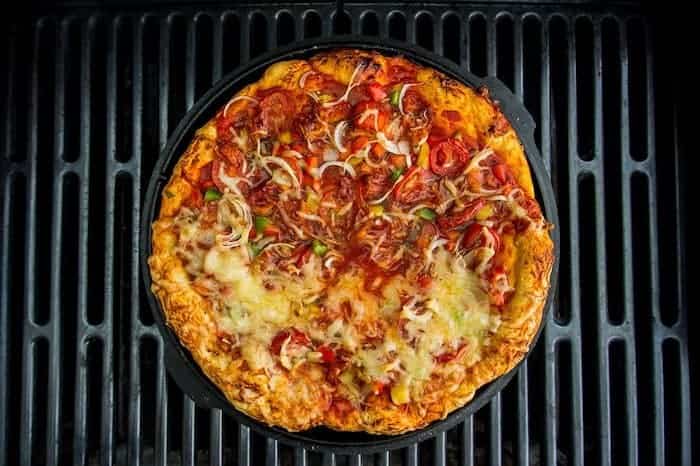 Yummy bursts of cheese, tomato sauce, arugula, and grilled pizzas – does that make your mouth water already? Well, you don't have to go fine dining at an expensive retardant to enjoy these as you can make them at home on your best gas grill pizza oven.
Some years ago, a pizza oven in an outdoor setting sounded ridiculous. Pizza houses had no other option but to wind up their kitchen oven to the typical 450 degrees. But, thanks to rapid cooking, versatility, and portable ovens, outdoor pizza has become a reality and growing on-trend.
After all, who wouldn't like to have their own little private pizzeria in the backyard? Plus, these gas grill ovens can do much more than just make pizzas. You can use them for roasting chicken, searing steaks, and even baking your favorite cookies.
Finding that perfect gas grill pizza oven out of dozens of brands and models requires an expert. Hence, our team has spent hours reviewing and comparing products available online to create a list of handpicked gas grill ovens.
Read on to find our unbiased reviews of the products and if you are in a hurry to order then we suggest that you look at the quick summary offered below. Also, don't forget to check out the things to consider before ordering a gas grill.
Quick Summary
The KettlePizza Gas Pro is a sturdy and well-built pizza oven that looks great and makes perfectly crusty pizza every time. It can sustain a lot of heat within the enclosure and evenly distribute the heat to ensure that all vegetables come out properly grilled. Slightly expensive, but the pizzas are worth it.
If you want to be a happy camper with perfectly homemade pizzas even in the woods then the Camp Chef Artisan Pizza Oven 90 is a great option. The oven is not only well made with several accessories to go with, but the pizzas also come out awesome. Overall, a great value for camping trips.
The Only fire Universal Stainless Steel Pizza Oven Kit is a thoughtfully made product that can be used on any gas grill to make homemade yummy pizzas at any time. While this is a great looking and well-performing pizza kit for the price, we hope it includes some kind of instruction and recipe book too.
If your family loves pizzas and bread, the BakerStone O-ABDHX-O-000 Original Box Kit Pizza Oven is a must-have for you. It takes about 2-4 minutes per pizza so you can quickly feed a large family or a group of friends. The bonus point is that the pizzas come out tasting really good and crusty. You get what you expect from it.
Best Gas Grill Pizza Oven: Things To Consider
While we recommend all the products reviewed below, let's not forget that every person has an individual taste and requirement that may vary. Hence, here are some things to consider to ensure that you get the best.
Performance
The portable gas grills can create high temperatures of mild heat. To ensure a full range of versatile cooking experience, good performance will depend on how low the heat can get. The more heat, the crunchier the crust of pizza will be.
Despite the need for heat, the biggest constraint of cooking outdoor is to control the fire and ensure that it does not get overboard and cause any damages.
Quality
Insulation is an important criterion that should not be missed when looking for the best pizza ovens. You need to choose a product with the best insulation material that is capable of absorbing and radiating the heat.
The exterior materials such as stainless steel play an important role in the countertop or freestanding designs, due to its weather resistant capability.
Features
To use a high-quality pizza oven, you need an accurate thermometer so that temperature management can be done with ease. Some of the modern and unique features in the outdoor gas grill ovens include sliding doors, quality accessories and so on.
Now that we have learned about the various things to consider, let's take a look at the individual reviews of products handpicked by our team.
This outdoor pizza oven kit from the stable of KettlePizza can be powered by propane or natural gas. It forms a perfect pizza baking chamber that entraps the heat in one place, which is great for making the pizzas brown and crusty. The KettlePizza Gas Pro offers an ample cooking space with three burners and a grilling area.
The entire Gas Pro unit is made from sturdy American Made stainless steel that offers a lifetime of durability and weighs about 16 pounds. It also includes carrying handles for ease of use, and a high-temperature thermometer mounted on the top. It comes in heavy-duty cardboard carrying case that can be used for storage.
What we like
Tastes close to a pizza made in a brick oven
Pizza crust comes out crunchy, not chewy
Protection gloves that come with the product are handy
Makes pizza faster and perfect every time
What we don't like
It has a learning curve so beginners have to be careful
More expensive than competitors
---
Love to go camping in the woods? Then check out this opened face Artisan pizza oven from the family of Camp Chef that can take your outdoor dining experience to another level. This Italia Oven comes with a pizza stone made from cordierite ceramic material that fully adjusts heat to cook different styles of pizzas with perfection.
The ceramic stone used for making pizza extracts all the moisture from the dough to give you an amazing crust while the inside feels fluffy and moist. The product also comes with a built-in temperature gauge and particularly designed heat-diffusion plates for the best results. It perfectly fits the Camp Chef 16″ Cooking System stove.
What we like
Pizzas turn out beautiful and crusts are perfect
Helps you recreate a traditional brick oven pizza
Comes ready to use with very little installation needed
What we don't like
Taking the pizza stone out to clean is a chore
No handles make it tough to carry
---
You can do much more with your gas grill if you have the Universal Stainless Steel Pizza Oven Kit by Only Fire. This kit can transform your grill into a professional pizza oven that retains heat good enough and makes pizzas that taste as good as the wood-fired ones.
With a base dimension of 17″ x 17″, this pizza oven kit fits most gas grills such as broil king, weber, char griller, and so on. There is a dual-wall ceiling to help maintain the heat within the chamber, and the round cordierite ceramic stone pulls out moisture from the stone to help you get the perfect crust on pizza.
What we like
Assembles and installs quickly
Easy to use for fresh/frozen pizza
Sturdy and heavy stainless steel chamber
Comes with an aluminum peel and thermometer
Heat remains constant throughout
What we don't like
Lacks instructions on how to use the kit
---
The fourth product on our list is the BakerStone Pizza Oven kit that boasts a patent-pending design that increases the temperature of the outdoor grill to achieve the heat of a wood-burning pizza oven. This results in an unparalleled baking performance that helps in baking a variety of food from making gourmet pizzas to searing or roasting steaks, vegetables, and meat.
With the BakerStone kit, you can convert all 3 burners into a pizza oven to churn out delicious pizzas within minutes. The oven is capable of achieving a temperature of 600 ᵒF to 800 ᵒF, plus the kit includes a pizza oven box, metal pizza turner, and wooden pizza peel for ease of use.
What we like
Create gourmet pizzas in 2-4 minutes
Portable box with handles
Transforms into a powerful oven that heats fast
Well-designed kit that is easy to assemble
What we don't like
Limits pizza size to 14 inches only
Thermometer is not much use
Final Words
There's a strange sense of accomplishment and joy in cooking outdoors and when it comes to making homemade pizzas, the ecstasy is unexplained. Choose one of the best gas grill pizza oven kits mentioned above to make the most of time spent in the backyard or camping. Have fun grilling!
See Also:
6 Best Pizza Stone For Gas Grill
Melt Vs Grilled Cheese
Difference Between Grill And Oven